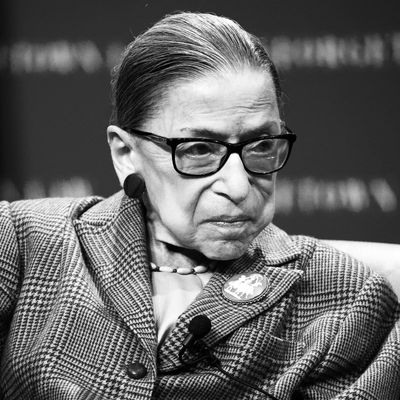 Ruth Bader Ginsburg
Photo: Patrick Semansky/AP/Shutterstock
Supreme Court Justice Ruth Bader Ginsburg has been released from the hospital, following a non-surgical procedure related to a benign gallbladder condition.
"She is doing well and glad to be home," the court said in a statement, according to CNN. "The Justice will return to The Johns Hopkins Hospital in Baltimore, Maryland, for follow-up outpatient visits over the next few weeks to eventually remove the gallstone non-surgically."
Ginsburg, 87, was hospitalized on Tuesday to undergo treatment for acute cholecystitis, according to the Court's office of public information. The office's statement read:
Following oral arguments on Monday, the Justice underwent outpatient tests at Sibley Memorial Hospital in Washington D.C., that confirmed she was suffering from a gallstone that had migrated to her cystic duct, blocking it and causing an infection. The Justice is resting comfortably and plans to participate in the oral argument teleconference tomorrow morning remotely from the hospital. She expects to stay in the hospital for a day or two.
Ginsburg did indeed join the Court's oral arguments on Wednesday, as they virtually heard a case pertaining to the rights of religiously affiliated institutions, like certain hospitals and universities, to deny women free birth control currently sanctioned under the Affordable Care Act. Ginsburg contributed the following from her hospital bed: "You are shifting the employer's religious beliefs, the cost of them, onto these employees who do not share the religious beliefs. … The women here are getting nothing. They are required to do just what Congress didn't want."
The justice has been hospitalized several times in the past few years. In November, she was admitted to Johns Hopkins Hospital after experiencing chills and fever related to an infection, for which she was given antibiotics and quickly dispatched. In August, she underwent radiation therapy to treat a tumor in her pancreas, and in December of 2018 she had surgery to remove cancerous growths from her lungs. A month before the surgery she was hospitalized after falling and fracturing three ribs. She has previously been treated for early stage pancreatic cancer, in 2009, and for colon cancer in 1999. In January, the justice kicked off the year by announcing she is cancer-free.