Sasha Velour, the American drag queen and 2017 winner of RuPaul's Drag Race, was on tour for her one-queen show Smoke & Mirrors when everything came to a screeching halt. On March 8, she played a sold-out show at the London Palladium; four days later, after her show in Dublin, she was heading back to Brooklyn with the tour postponed to 2021.
Life has continued on as fabulously as it can in lockdown. She's been watching drag shows online and getting creative in her own backyard. And her Quibi series Nightgowns premiered in April. Here's how Sasha Velour is carrying on.
Watching drag shows: I've been watching as many digital drag shows as I can. Queens and kings all over the world are creating impromptu drag shows from home, and we get to enjoy them through our phones and computers, while wearing pajamas! It's a reminder that even when our spaces and stages are closed, queer people always find the tools we need to adapt. Drag in particular uplifts people, shares resources, supports livelihoods, makes us smile, and teaches us that everything can be transformed into something more beautiful, even the very world we live in.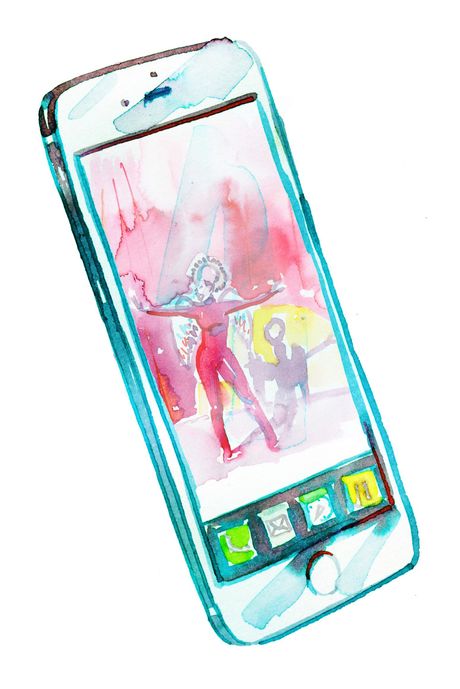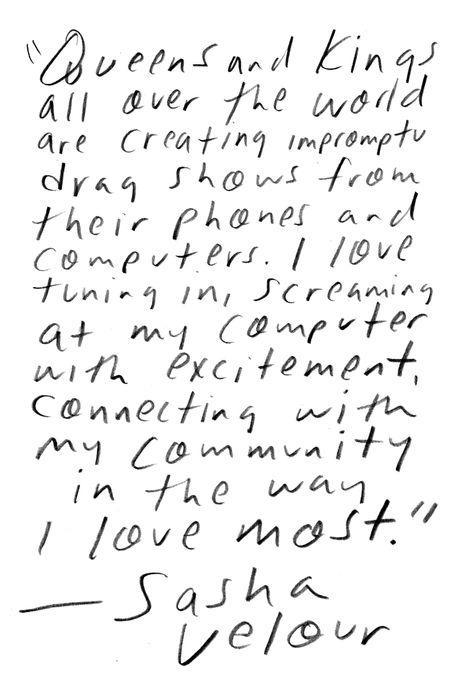 Digging up the garden: During the first week at home, I cathartically ripped out all the weeds from our tiny Brooklyn backyard. It had always been nightmarish back there, filled with thorny dry shrubs and overgrown rose bushes. We rarely went out. It was mainly a place for our dog Vanya to pee and jump after squirrels. But I needed a distraction, so I put on a Katharine Hepburn gardening look, grabbed a trowel, and went to town. Johnny [my partner] took a hand saw that we had painted bright orange for a photo shoot and started sawing down a rotting fence to reveal an extra foot of dirt up against our neighbors' walls. By the end, we had pulled up weed roots that looked like fantasy monsters, and our stripped yard looked double the size. We planted evergreens, holly, a flowering dogwood tree, and any perennials we could find that had pink flowers. It probably wasn't allowed, because we're just renting here. But we needed one transformation in the world that brought joy, and this did the trick.
Reconnecting with friends: It's been surprisingly easy for me to continue working. I've often had to work from home, and have an established schedule of waking up, doing lots of digital communication throughout the day, taking breaks for walks and coffee, and then doing completely solitary creative work at night. There has certainly been no shortage of busywork while rerouting the Smoke & Mirrors tour under self-isolation. But the harder part has actually been finding ways to turn all that off and just relax. How ironic in a time of social distance to suddenly be nostalgic for a social life I didn't really have.
So many times in the past, I've chosen work over a social life. Independence felt like the only path to success in a shaky industry. But I think when you see the world is falling apart, you crave joyful lightheartedness and emotional support more than anything practical, and there's nothing like your friends for that. In other words, I, too, am learning to get drunk while on FaceTime.