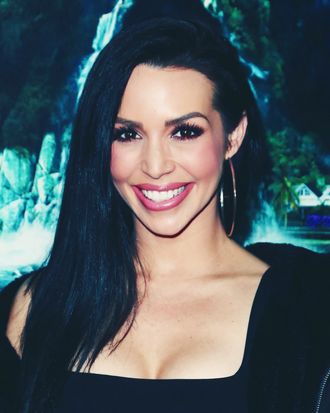 Photo: Matt Baron/Shutterstock
Let the bells of justice ring out for Scheana Shay, Vanderpump Rules cast member, for she has finally been redeemed after enduring a smear campaign targeting her for being extremely embarrassing. Which she is, she has been the first to admit — but she has also allegedly been victim to a reportedly extra-embarrassing editing campaign on her reality show, and that is simply not right.
To recap, Vanderpump editor Bri Dellinger went on a podcast and admitted openly that her "favorite game is finding all the embarrassing things that Scheana does and putting them all in." This season, she seemed to have ratcheted these tactics up a notch, as Scheana was seen asking people to watch her music video, which no one wanted to do; accused of harassing the shirtless star of said music video; and filmed talking to her co-star's much younger brother as if she were hitting on him. All of this heightens the effect of making Shay the "jesteriest jester," as my colleague Kelly Conaboy put it, on the show.
Needless to say that Scheana herself was not happy with the disclosure and tweeted a cryptic message about "tea" to Bravo Dad Andy Cohen, something that must happen to him thousands of times a day, and now Dellinger has reportedly been fired. Us Weekly claims that Dellinger, in a since-deleted open letter on a reality TV website, confirmed that she has left the show. "To any of the cast members who wanted me out: I'm out!" Dellinger supposedly wrote. "To the critics who have made it their mission to get me fired: You succeeded in your short-sighted mission and solved nothing. I've been removed from the show I love and, while it is a heart-break for me because I genuinely loved editing this show, it will not ruin me professionally, nor will it change the editing of the show at all."
What is also fascinating about this drama is that it is at least 60 percent more interesting than this season of Vanderpump Rules.