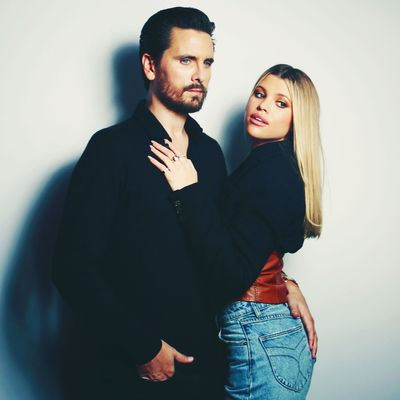 Scott Disick and Sofia Richie.
Photo: Rachel Murray/Getty Images for Rolla's
And another one: Scott Disick, 37, and Sofia Richie, 21, have apparently broken up after three years of dating, or approximately one-seventh of Richie's life.
According to an unnamed source who spoke to Page Six, Disick and Richie recently decided to call it quits after their relationship "ran its course," just like Cara Delevingne and Ashley Benson before them. Apparently, Disick "had gone back to his old ways" and Richie started to get "fed up." The source also told Page Six that Richie had grown increasingly tired of Disick's convoluted relationship with Kourtney Kardashian, his ex with whom he shares three children. "Kourtney didn't make it easy for her," the source told the outlet, adding, "you can only tolerate that kind of treatment for so long."
While the source's "reasons" behind the breakup are certainly plausible, they manage to spark more questions than they answer. First of all, what exactly are these "old ways" of Disick's of which the source speaks? Is the source referencing his struggles with substance abuse or with fidelity, which led to the couple's first split in 2018? Disick did go to rehab last month, though his attorney told Page Six that he checked into a facility to deal with "past traumas" — namely, the sudden death of his mother and then the death of his father soon thereafter — and not issues related to alcohol or cocaine use. Also, let's hear more about this seemingly exhausting "treatment" to which Kourtney apparently subjected her ex's significantly younger girlfriend. Hadn't the two made their peace?
Whatever the actual reasons may have been, it appears they had been sources of tension in the relationship for at least a few months. Per Page Six, Disick and Richie had not been quarantining together, which suggests their relationship was on the rocks as early as March.
Guest we'll see if this breakup takes!