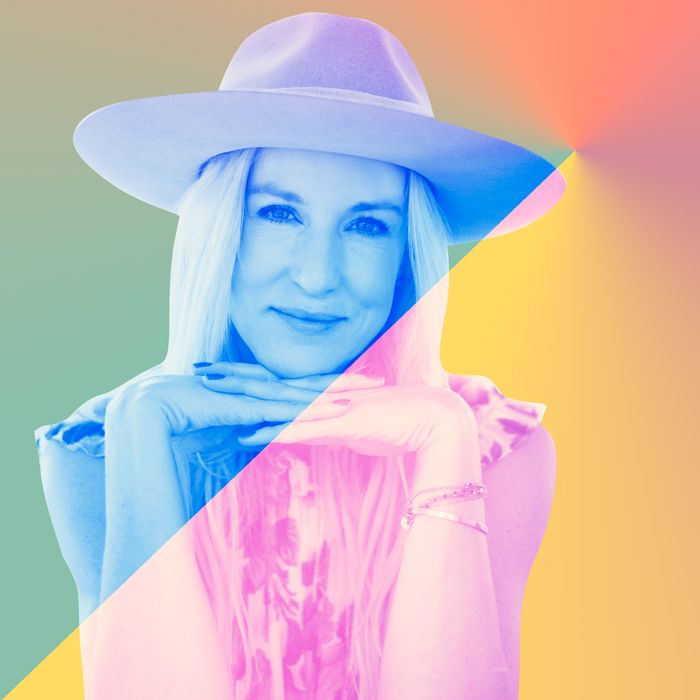 Photo: Courtesy of Renee Rouleau
Once a year, Renée Rouleau and her team do a S.W.O.T. analysis.
"It stands for Strengths, Weaknesses, Opportunities, and Threats," explains the facialist and founder of Renée Rouleau Skincare. "We look down the road, see what's on the horizon, then do a brain dump into those four categories. The minute the lockdown happened, we pulled out our S.W.O.T. analysis, and, as suspected, the longest of the lists was Opportunities."
Rouleau radiates optimism and a relaxed can-do attitude that never feels phony. She's always been ahead of the curve. The youngest of four knew that college wasn't for her, so she got her aesthetician's license and, after working in a salon for a while, she and her co-worker Elizabeth left and opened Elizabeth Renée Aesthetics in Boston in the early Nineties.
"All my Boston friends had just graduated from college and were still in party mode, and I'd already been running a business for five years," she remembers. "I wanted to reinvent my life."
She sold her half of the business and moved to Dallas in 1996 because she loved country music and Dallas Cowboys quarterback and heartthrob Troy Aikman.
"I figured if I was going to marry Troy, it would be convenient to live in the same city," she jokes. "What's crazy is he became a client."
She opened Renée Rouleau Skincare Spa three months after her move, drawing both locals and bold-faced names like Lisa Rinna, Cheryl Ladd, and Sean Avery. A year later, she launched skin care, having become frustrated by most brands offering products for only "normal, oily or dry." Rouleau identified nine skin types and created products accordingly. In 1999, her brother built her a website to help get the word out beyond Dallas.
"What really put our name on the map was when Heather Kleinman gave us a review in one of her Cosmetic Connection emails," says Rouleau. "Our website crashed in two minutes. It wasn't set up to handle that kind of traffic. These were the early days of e-commerce."
Rouleau was early on the blogging front, too. "We started pushing out content early, in 2009, and Google saw me as a trusted resource. To this day, Google just sends us love all day long."
In January, she shuttered her spa doors to focus on her line and "getting Renée out there more." These days, she's still blogging, but making more videos and doing Instagram Live Chats.
"People aren't wearing makeup, so by default, they're taking better care of their skin. Any time there's a change in someone's world, their skin can be affected, so they're buying products to solve problems. But people always want to look good because it makes them feel good. Even my mom, who's 83 and in assisted living, said to me the other day, 'I'm thinking about getting lash extensions.' It never goes away."
Rouleau spoke with the Cut about the benefits of Texas BBQ, achieving the perfect braid and the DIY treatment that's keeping her skin so soft.
What's your definition of beauty? Feeling good. Feeling confident.
What do you think when you hear the term "clean beauty"? Thoughtful and ethical choices based on actual scientific studies, the brand's own research, or simply a gut-feeling or opinion about certain ingredients.
Where, if anywhere, in your beauty (or life) routine are you not quite that "clean," "green" or "sustainable"? I slather Aquaphor (loaded with petrolatum) on my feet with socks at night.
Please fill in the blank as it pertains to your beauty or wellness routine: I think about ___ a lot: Putting my best self forward, both physically and mentally.
What is the opposite of beauty? Jealousy.
What is your morning skin care routine? I cleanse with my Moisture Protecting Cleanser .Within 60 seconds after cleansing, I'll wipe my skin over with Energy Boosting Toner, then I'll apply Vitamin C&E Treatment and follow with a generous application to both my face and neck with Weightless Protection SPF 30.
What's the last beauty product you use every night? I like Lano Rose Hand Cream because it's greaseless.
What, if anything, is usually on your lips? Byte Beauty Agave Lip Mask.
Mascara of choice: Benefit "They're Real." 
Foundation of choice: Chanel Ultra Le Teint Velvet.
Has your skin care routine revved up during this time of sheltering in place? Absolutely. I have been hitting retinol and professional salicylic acid peels harder at home. Peel, baby, peel.
Facial cleanser of choice: Renée Rouleau Rapid Response Detox Cleanser.
Fragrance of choice: Byredo Unnamed.
Bath or shower: Shower, with European SpaSource Eucalyptus Shower Spa Mist. I found it at this cool hotel called Flophouze, where the rooms are made from shipping containers. I spray it all around my shower. It's so strong, so potent. I also put a few drops in my hands in the morning and do inhalations to wake me up.
Deodorant of choice: Secret Invisible Solid.
Hand wash of choice: Byredo Vetyver.
Hand sanitizer of choice: Renée Rouleau! We made our own during this pandemic—kept some and donated the rest.
Most relied on hair product or tool? Overtone Daily Conditioner in pastel pink, used after every shampoo to keep my pink hair.
What beauty product still needs to be invented? A razor that hugs the knees perfectly so you don't cut them.
What was your first beauty product obsession? Bonne Bell Kissing Potion in Bubble Gum flavor. In 6th grade, shopping with friends at a drugstore. So shiny and gooey.
Daily carry-all of choice: I like to be hands-free when I can, so I keep it simple with a tote from CatBird NYC when I need one. But I do have my Gucci backpack for travel.
Who makes your eyeglass frames? Garrett Leight, for both glasses and sunglasses.
What's your bed/bedroom like? Very bright with huge windows but have black out shades for night and a white noise machine as I live in downtown Austin. My linens are from Design Within Reach, but it's time to buy new ones.
What's your living room like? Very modern with tons of light. I have a custom abstract art piece painted on my wall of a US map. It has copper wire strung through the various states showing my motorcycle travels. (Goal: Ride in all 50 states!).
Do you own your own motorcycle? Yes, a 2019 Triumph Bonneville. I had it completely customized at a motorcycle shop here in Austin to make it feel uniquely me.
What is your current 'sheltering' daily uniform? Moussy jeans and a cropped hoodie.
What do you own too many of? Hoodies.
Where do you store your ideas? Evernote. I have 73 notebooks in my Evernote app.
What new hobby have you picked or, or started doing again? Bicycle riding.
Are you cooking as much as everyone else seems to be? No. I'm ordering out from local restaurants now more than ever to be supportive.
Any hidden or secret talent or skill you possess? I got voted "Biggest Appetite" for the girls in high school. I can put down a lot! I think that's a skill?
What skill are you a consummate failure at? Ironically, cooking.
What was the most recent interesting conversation you had? A fireside chat on my patio with a friend playing the card game We're Not Really Strangers. One of the cards I chose said "Call someone who you admire and tell them why you appreciate them." So I called my dad. He appreciated the call and the kind words.
What song is usually in your head? "Chevy Impala" by Lolo Zouai.
What would the name of your autobiography be? Free To Be Me.
Who would you like to star as you in the film adaptation? Lili Reinhart.
Favorite smell? A wood fire.
Least favorite smell? Body odor—especially someone sitting next to me on an airplane.
What do you think Pantone's color of 2020 should have been? 701C, the official Renée Rouleau pink in our branding. It's such a pretty shade of pink.
What do you most often disagree with others about? Convincing friends about my desire to have a great company and not a big company. I have so many entrepreneur friends who would love to invest in my brand and know I have the potential to become a household name. I get way more joy following my own path.
What must you adjust or fix when you see it done incorrectly? I'm always seeking perfection when I braid my hair. I've been known to re-do a braid five times.
Comfort food: Texas BBQ, slaw, peach cobbler and vanilla ice cream.
Vice snack: Chocolate chip cookies.
What food would you never eat? Tuna fish from a deli.
What do you foresee as the top beauty trends for the second half of 2020? Products that address the skin's microbiome. There is a lot of scientific research showing the benefits it gives to improve all sorts of issues to keep the skin acting in a healthy way.
What product in your brand's product domain is misunderstood and should be a best seller? Overnight Eye Serum. A gentle under eye exfoliant to dissolve away dryness so the skin looks smoother and eye cream hydrates better. No one thinks to exfoliate under the eyes; they just moisturize.
What product in your brand's product domain is currently your favorite (understanding that this could change all the time)? My award-winning Rapid Response Detox Masque a hydrating, soothing, anti-redness mask for acne. Acne is an inflammation disease of the skin and this really helps to put the fire out in ways that other acne masks can't.
What activity do you do when this new stress becomes too much? Get outside to get some fresh air—even if it's just on my patio. Mother Nature always has her ways of calming the mind.
What has been an upside to this crazy time for you? Not traveling. Pre-Covid, I traveled every week, but now I feel like I can re-focus on both my personal and professional goals.
What beauty treatments should we give ourselves now that we've got all this extra time? A 2-step at-home facial. First, exfoliate with a gentle skin peel, rinse and then apply a mask for your skin type.
Conversely, now that we're in this isolated state, what in your own grooming routine are you less…on top of? Washing my hair. Dry shampoo for the win.
When this is all over, what are the first 3-5 things you'll do or places you'll go? Road trips/camping/swimming, hosting friends at home, live music in downtown Austin, weekly massages, head back to LA to give facials to my clients.