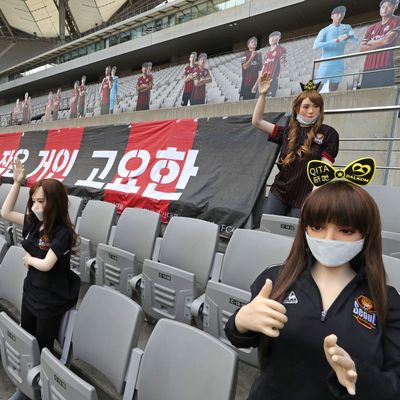 Photo: YONHAP/EPA-EFE/Shutterstock
A South Korean soccer team has apologized for using sex dolls as stand-ins for fans during a match on Sunday, as the country reopens from its strict coronavirus lockdown. FC Seoul, which won against Gwangju FC, said in a statement that it felt "extreme remorse" that the team had not noticed that mannequins placed in the stands for the spectator-less game were in fact sexual in nature.
"We had confirmed that although the mannequins were made to look just like real people, they had nothing to do with adult products," the team claimed, but it appears that they had indeed been given sex dolls by their supplier. Fans watching noticed on social media that some of the figures were wearing clothing with logos from sex-doll companies, and that they were bustier than the average mannequin. "We had tried to add some fun in the no-spectator match," FC Seoul said in a statement. "But we have not checked all the details, and that is clearly our fault."
However, it seems to me that the sex dolls did an excellent job holding up placards and appearing generally excited at the soccer match, bringing joy and enthusiasm to the event despite being hauled in for a task they had never, to my knowledge, performed before. Rather than apologizing for the sex dolls, who also clearly never pretended not to be sex dolls, perhaps the team should give credit to these silent actors for taking eagerly to a renewed purpose despite the uncertainty and fear of the coronavirus pandemic.