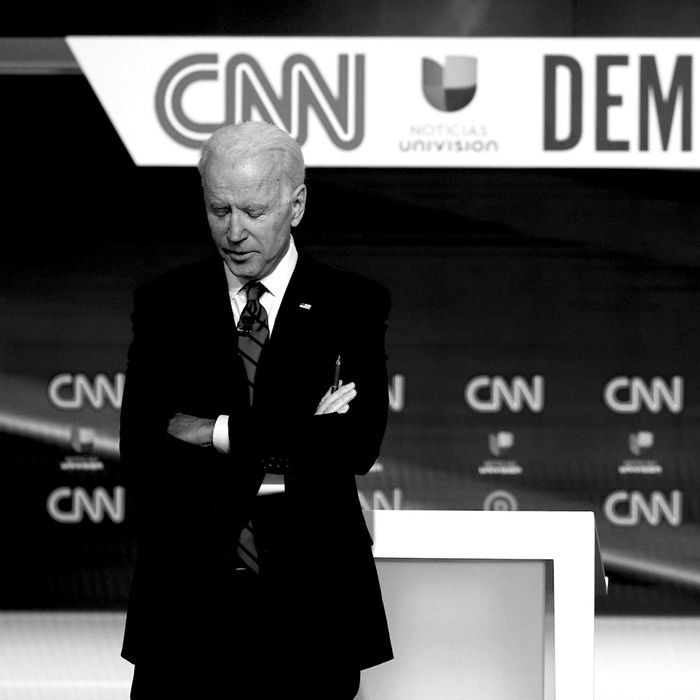 Joe Biden.
Photo: MANDEL NGAN / Contributor/AFP/Getty Images
In March, Tara Reade, a former staff assistant in Joe Biden's Senate office in the 1990s, went public with allegations of sexual harassment and assault against him.
Reade first accused Biden of sexual misconduct in 2019, telling a Nevada newspaper that he used to run his fingers along her neck and touch her shoulders. It wasn't until March that she shared a fuller account on a podcast, in which she accused the presumptive Democratic nominee of shoving her up against a wall and penetrating her with his fingers in 1993. She was later fired from her job. Since then, several news outlets, including the New York Times, have reported on her story, and four people have come forward to say Reade told them about a traumatic incident at work at or around the time she says it happened — most recently two friends who spoke on the record, one of whom recalled Reade saying she'd been sexually assaulted by a man she idolized. Biden strenuously denies the allegations. A spokesperson for him told the Times of Reade's claim: "It is untrue. This absolutely did not happen."
Here's everything we know so far.
What Tara Reade has said about Biden
In March of last year, Reade told the Union, a Nevada County, California, paper, that Biden had a habit of touching her inappropriately when she worked for him between 1992 and 1993. Reade also added that she was fired over her refusal to serve drinks at an event, after learning Biden allegedly wanted her to do so because he liked her legs. She said that many of the senior employees in Biden's office "protected" their boss.
In March 2020, she expanded on the allegation on The Katie Halper Show, telling Halper that Biden assaulted her when she was dropping off a gym bag with him in spring 1993 in a basement area of the Capitol. "It happened all at once," she said. "His hands were on me and underneath my clothes. And then he went down my skirt but then up inside it, and he penetrated me with his fingers. And he was kissing me at the same time." Reade said that after she broke away, Biden told her, "You're nothing to me." In her account to the Times, Reade added that Biden then took her by the shoulders and said, 'You're okay, you're fine.'"
Reade said she made harassment complaints to Marianne Baker, Biden's executive assistant, and two of his top aides, Dennis Toner and Ted Kaufman, without getting into specifics. When they didn't do anything, she says, she filed a written complaint with "a Senate personnel office," although the Times couldn't find a copy of the paperwork. Nonetheless, Reade alleges that she later experienced workplace retaliation — she says a number of her responsibilities, including intern management, were taken away — which culminated with Kaufman firing her.
On May 1, Reade spoke with the Associated Press about the nature of that complaint, saying that she felt "too scared to write about the sexual assault" at the time and left it out of her report. Instead, she said, "I remember talking about him wanting me to serve drinks because he liked my legs and thought I was pretty." Reade reportedly said that she used the words "uncomfortable" and "retaliation" to describe the sexual harassment she allegedly experienced, without using that phrase outright.
How Biden has responded
Biden firmly denies Reade's allegations, saying in a statement on May 1 that "this absolutely did not happen." Calling Reade's story "inconsistent," his statement — which marked the first time Biden addressed the allegations directly — went on to say: "While the details of these allegations of sexual harassment and sexual assault are complicated, two things are not complicated. One is that women deserve to be treated with dignity and respect, and when they step forward they should be heard, not silenced. The second is that their stories should be subject to appropriate inquiry and scrutiny." In a subsequent interview on MSNBC, Biden added that he was "requesting that the Secretary of the Senate ask the Archives to identify any record of the complaint she alleges she filed and make available to the press any such document," saying that he was "prepared" to release all complaints against him.
Biden's deputy campaign manager, Kate Bedingfield, previously told the Times:
Vice-President Biden has dedicated his public life to changing the culture and the laws around violence against women. He authored and fought for the passage and reauthorization of the landmark Violence Against Women Act. He firmly believes that women have a right to be heard — and heard respectfully. Such claims should also be diligently reviewed by an independent press. What is clear about this claim: It is untrue. This absolutely did not happen.
In the course of its reporting, the Times says it "found no pattern of sexual misconduct by Mr. Biden," nor any "other allegation about sexual assault." Kaufman told the paper that he "did not know" Reade and that Reade "did not come to" him. Toner called the allegations "preposterous" and uncharacteristic of Biden, saying of Reade: "I don't remember her. I don't remember this conversation. And I would remember this conversation." Baker said, via Biden's campaign: "I never once witnessed, or heard of, or received, any reports of inappropriate conduct, period — not from Ms. Reade, not from anyone."
What Tara Reade's friends and colleagues remember
Although the Times reported that none of Reade's former co-workers remember her saying anything about the alleged incident, two friends, who declined to speak on the record, recalled her talking about her "traumatic experience" while working in Biden's office. Two of the interns she supervised also said that while they don't remember her discussing any inappropriate conduct by Biden, she did "abruptly stop supervising them" in April 1993. Reade's brother told Business Insider that she told him about the incident and that she had said Biden "had his hand under her clothes at some point."
Reade says she told her mother immediately after the alleged assault. Though Reade's mother died in 1996, on April 24, the Intercept reported that she may have called into an episode of The Larry King Show in 1993. Archives show an anonymous caller telling King about her daughter who had just stopped "working for a prominent senator" after having "problems" with her employer but could not go to the press "out of respect" for him. After listening to audio of the call, Reade told Politico that it was her mother's voice.
Two women have since gone on the record with Business Insider to say that they remembered Reade telling them she had been sexually assaulted or harassed at work. Lynda LaCasse, who lived next door to Reade in the mid-1990s, told Insider that she recalled Reade saying there was "this person that she was working for and she idolized him, and he kind of put her up against a wall. And he put his hand up her skirt and he put his fingers inside her. She felt like she was assaulted, and she really didn't feel there was anything she could do." LaCasse is a Democrat and Biden supporter who said that while she will vote for him for president, "I have to support [Reade] just because that's what happened." The other source, Lorraine Sanchez, worked with Reade in the office of a California state senator in the mid-1990s and said Reade told her that "she had been sexually harassed by her former boss while she was in D.C., and as a result of her voicing her concerns to her supervisors, she was let go, fired."
The AP noted that it had "also spoken to two additional people," who asked to remain anonymous but "said Reade had told them about aspects of her allegations against Biden years ago." One, a friend of Reade's in 1993, confirmed that Reade told them about the alleged assault right after it happened; another, who met Reade years after the fact, said she'd mentioned in either 2007 or 2008 that Biden sexually harassed her when she worked in his Senate office.
Eight women have accused Biden of inappropriate behavior
Over the past year, eight women, including Reade, have recalled instances where Biden inappropriately kissed, hugged, and touched them. In an essay for the Cut last year, attorney Lucy Flores wrote that when she was running for Nevada's lieutenant governor in 2014, Biden came up behind her at a campaign rally and smelled her hair before kissing her on the head. Biden has since acknowledged that "social norms are changing," that he needs to "hear what [women] are saying, [and] understand it," and that he needs to be "more mindful about respecting personal space in the future."
Speaking to the Times, Flores noted that "Biden is not just a hugger. Biden very clearly was invading women's spaces without their consent in a way that made them feel uncomfortable. Does he potentially have the capacity to go beyond that? That's the answer everyone is trying to get at."
This post has been updated with new information.