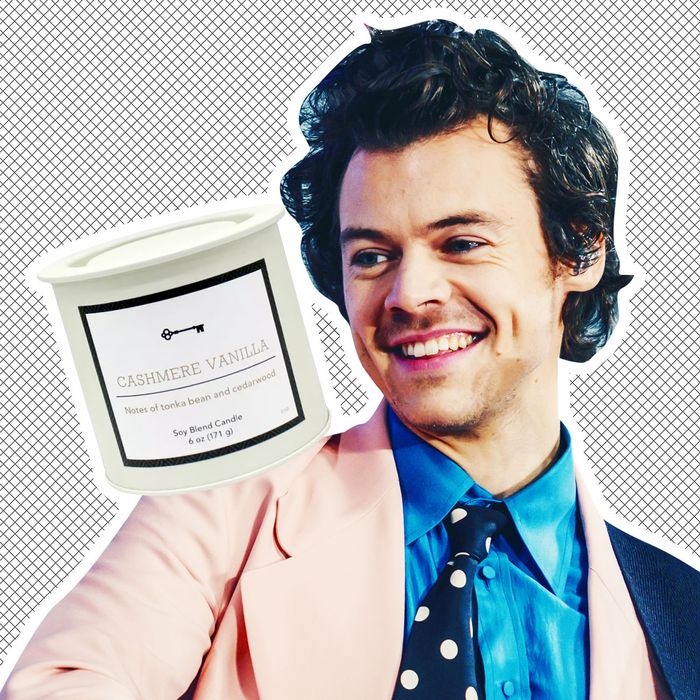 I must sniff them both to compare.
Photo: Getty Images, Target
What if I told you that, for the low, low price of $6.99, you could, theoretically, fill your home — or at least one room in your home — with the signature scent of a warm Harry Styles? That the purchase of one Target candle could allegedly transport you to the inside of one of our beautiful boy's beautiful seashell suits?
If you are the reasonable and horned-up person I envision you to be, I am guessing you would jump all over this opportunity, which is why I feel it's important to be transparent up front: The Target candle in question — the Cashmere Vanilla scent from its Threshold brand — is currently sold out, for reasons I suspect are self-evident. (People love a celeb-scented candle, and they really love Styles, so: duh.) But it does exist, and the company is allegedly making more. Something to look forward to.
The discovery comes to us via some enterprising TikTok teens, who somehow determined Target's Cashmere Vanilla to be a dupe for Tom Ford's Tobacco Vanille, a $240-per-1.7-ounce-bottle cologne rumored to be Styles's favorite. Now, I had been under the impression that Styles wears the Gucci scent for which he is the official face: Mémoire d'une Odeur. The singer himself has claimed that this "universal fragrance" "smells like … Joan Didion's house," leading me to believe/hope he smells vaguely of fried chicken. According to British Vogue and Harry's own Instagram, however, he uses Tobacco Vanille, or has, so here we are.
As to how the TikTok-ers made the connection in the first place, I cannot say, and because his fans appear to have wiped Target's shelves clean, I am also unable to confirm whether or not Cashmere Vanilla does actually evoke Styles's perfumed skin. I will simply have to sniff them both and then I will let you know.