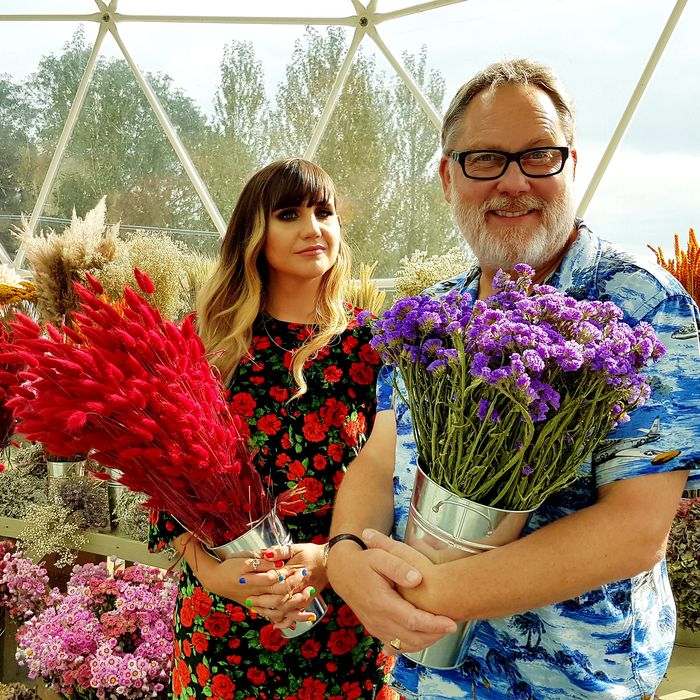 This week, Netflix released a new reality competition show about amateur florists. The Big Flower Fight is essentially the same format as The Great British Bake Off, but instead of treats, competitors must craft enormous floral structures.
So far, The Big Flower Fight has not received a very warm reception from critics. For a show that is about people who are obsessed with plants, it's been described in rather harsh terms: "faux-dramatic"; a "slavish yet limited copycatting of GBBO"; and "unnecessary." Some people have pointed out that gigantic flower installations are "not a thing," while others have decided that the word "fight" in the show's title is a gimmick, suggesting drama that ends up being "humdrum."
This is very sad, because faux-dramatic humdrum in service of creating something totally unnecessary (giant flower sculptures) is one of the reasons The Big Flower Fight is an excellent watch. I don't know about you, but my tolerance for any kind of serious drama is extremely low right now. I don't even know if I can stand to see lovely British bakers kicked off of GBBO for having a wet flan, or dropping their sponge cake.
Luckily, The Big Flower Fight has nowhere near that level of tension. The show involves ten teams of amateur florists who are competing for the opportunity to create a flower installation for London's Kew Gardens. The competitors are from all over the world: There are a few couples, a father-son duo, a pair of superhot Europeans, and two ludicrous Dutchmen, Yan and Henck, who wear kilts and top hats throughout the season.
These teams are given a new challenge in every episode. Using only plants, they make a bunch of useless and huge things: giant insects, animals, thrones, and at one point a wearable flower gown. The sculptures must be deemed good-looking, and they also get points for being sustainable (having an irrigation system, etc.) and attracting wildlife and insects. (I should note that this show offers wonderful lessons in horticulture.)
Much of what they build ends up looking strange, if not totally hideous, and it's wonderful seeing the judges offer thorough — and sometimes emotional — feedback. There is virtually no drama or fighting, and the contestants don't even talk that much, save to exclaim their delight over a plant they've never handled before, or to share the occasional laugh, like they do when Henck farts loudly in their shared hothouse. So if you're looking for low stakes and pure joy — and don't mind drama about which plants best attract butterflies — The Big Flower Fight may be the perfect show for you.