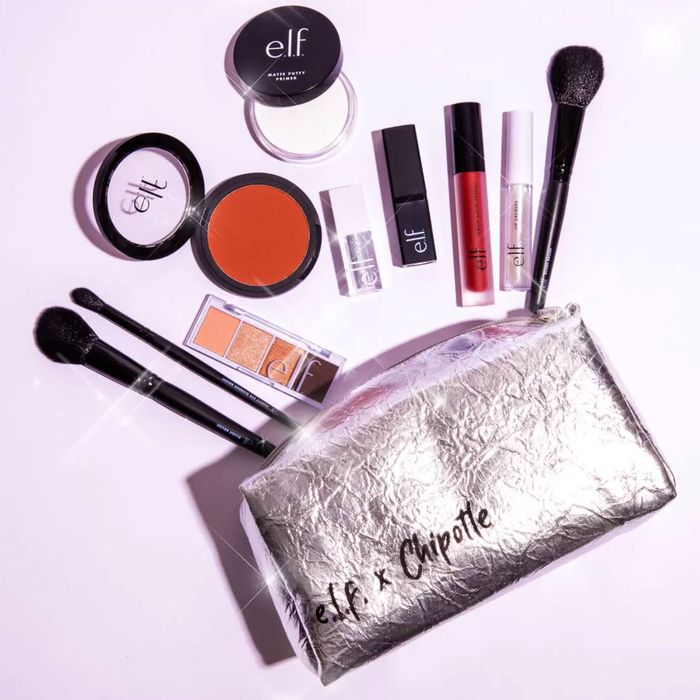 Drugstore makeup brand e.l.f. has released a new collaboration with none other than Chipotle, the embattled fast-food chain. It's an unexpected move for the franchise, which recently agreed to pay a $25 million fine to resolve criminal charges over food-safety violations.
A fun, affordable, burrito-themed makeup collaboration could be a way to try to distract people from the chain's history of E. coli outbreaks. The only problem is that the ten-piece collection, which Allure notes is "inspired by the restaurant's beloved Mexican-American menu," is, in fact, not very inspired.
While I agree that the makeup case does resemble a foil-wrapped burrito, the rest of the collection seems to be lacking in both creativity and thematic scrutiny. Per Allure, the collection comes with a lip scrub in "brown sugar," a "bite-size" eye-shadow palette, and a number of items whose relation to Chipotle is unclear: red lipstick and lip lacquer, an orangey blush, and a primer. An eye shadow and blush brush are passed off as "utensils."
The spiritless food puns are disappointing considering the wealth of colors and textures one might find in a Chipotle restaurant. My colleague, Bridget Read, suggested "a makeup applicator that's a chip, remover wipes that are napkins, or a lime-shaped blender." Meanwhile, it occurred to me that the menagerie of browns in a well-made Chipotle burrito bowl would make for a formidable neutral palette; we could have had chicken and carnitas, Sofritas and steak. Perhaps a contour-highlight duo of pinto and black bean. Consider, too, a red-chile lipstick, or a color corrector in "lettuce." And what about guac? Where is our creamy avocado face mask, to be followed by a light queso-blanco SPF-infused moisturizer? The opportunities are simply endless, and what a shame they have been overlooked.