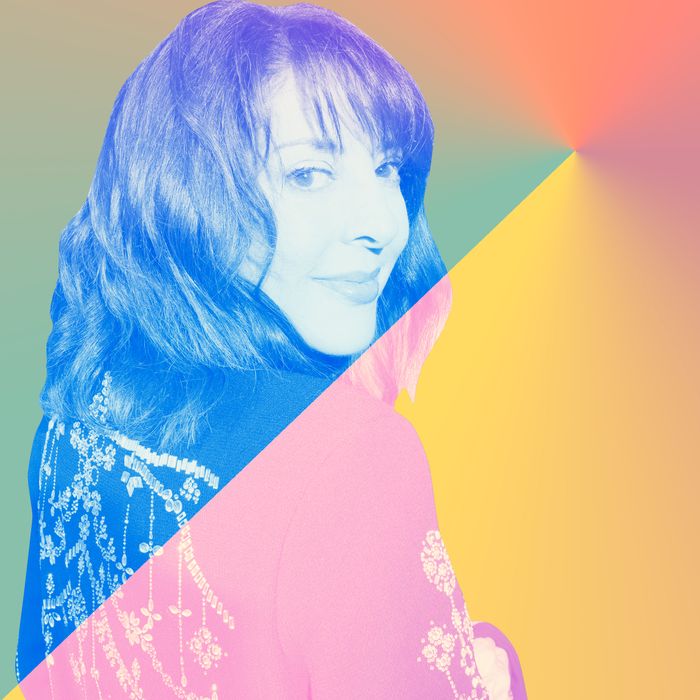 In Leslie Blodgett's new book, Pretty Good Advice, the founder of bareMinerals opens a chapter with the following sentence: "I'm still not sure what motivated me to send a memo outlining the astrological makeup of the employees at Neutrogena to the head of HR."
This is classic Blodgett. Outside-the-box thinker, maybe a little kooky, but definitely not wavy-gravy. To Leslie Blodgett, it has always been about connecting, and one specific connection in 1997 changed everything — not just for her, but for the countless women who hadn't been able to find a powder foundation that wouldn't flare up their sensitive skin.
Blodgett, who'd graduated from FIT's Cosmetics and Fragrance Marketing program, went on to work in product development at Max Factor and Neutrogena before taking over a fledgling brand called Bare Escentuals. As she went through its inventory, she came upon a finely ground mineral-based face powder that was made with only five natural ingredients. She fiddled with the formula, named it bareMinerals and excitedly relaunched it with four shades. No one bit.
With her company's struggles keeping her up at night, she turned on the TV and was met with two choices: The Texas Chainsaw Massacre or QVC. She chose the latter, bought a cubic zirconia ring, then mailed in an application for her brand to the shopping channel the following morning.
"I knew I just needed talk about the product," she remembers thinking before that first appearance in the summer of 1997. "If people didn't get it, I'd just hide myself away in the closet."
They got it. Her powder foundation kit (with application brush) sold out, and a bareMinerals chatroom, full of hundreds of excited voices, had subsequently formed within hours of her appearance.
"I'd never heard the word 'community' used as a business term," remembers Blodgett, who immersed herself in this community and became a relatable icon.
Thirteen years later, Shiseido acquired the company for $1.8 billion. Blodgett stayed on until 2016. Right now, she should be crisscrossing the country as part of a 22-city book tour, but instead she can usually be found leaning against her sofa, participating in Instagram Live chats. She says a new line is in the works, but she's taking her time with getting each formula just right.
"Just because I did something in my past doesn't mean I'm going to presume that people will care the next time," she says, adding, "And now that we're all at home — for those of us lucky enough to have a home — all companies, large or start-ups, are in the same place. We're all trying to figure out this moment in time, because nobody knows what the future holds."
Blodgett spoke with the Cut about the joy of tap dancing, the power of a colored wig, and a future without bottles.
What's your definition of beauty? Right now? A face with a mask in public.
What do you think when you hear the term "clean beauty"? You have to admit, it's a little confusing. Everyone has their own definition and their own set of guidelines. I think at a minimum it is a combination of formulating without certain ingredients and finding ways to protect the earth.
Where, if anywhere, in your beauty (or life) routine are you not quite that "clean," "green," or "sustainable"? Honestly, I have very sensitive eyes, so if a product makes my eyes burn I don't use it. That is how I decide. I have noticed that clean beauty products burn at the same rate as the others.
Please fill in the blank as it pertains to your beauty or wellness routine: I think about ____ a lot. How sunscreen really is the ultimate anti-aging product.
What is the opposite of "beautiful"? Malicious.
What is your morning skin-care routine? Please include products! At this moment in time: a cotton pad and bareMinerals Poreless Exfoliating Essence, EVER Youthful Quattro Peptide Face & Eye Serum, Dr. Hauschka Rose Day Cream.
What's the last beauty product you use every night? At this moment: High Beauty High Five Cannibis Facial Moisturizer and a small dab of Nest Midnight Fleur Body Cream on my décolleté and neck, Stoked Goods Lip Balm sits on my nightstand.
What, if anything, is usually on your lips? During the day, Sara Happ The Lip Slip.
Mascara of choice: bareMinerals Lashtopia.
Foundation of choice: bareMinerals Original, bareMinerals Complexion Rescue, bareMinerals Bare Pro. What I use depends on my mood. Every day it changes.
Has your makeup routine pared down now that we're sheltering? Nope, I'm all in on the makeup — all these Zoom calls and IG Lives.
Has your skin-care routine revved up or toned down now that we're sheltering? It's been simplified. I am skipping serum and hitting the moisturizers big time, and I think it looks better.
Facial cleanser of choice: Right this minute, KINSHIP Naked Papaya Face Wash.
Fragrance of choice: Currently, it's Nest Wild Poppy and Strange Invisible Libra (I'm a Virgo).
Bath or shower? Shower. I am a huge scented shower gel gal and I am out! If I could go shopping I would pick an uplifting scent – likely lavender based. I'm not loyal in this category. Also, see hand soap question.
Deodorant of choice: Lady Speed Stick.
Handwash of choice: My husband discovered Humankind Hand Soap and their story is very appealing to me. It's liquid soap in a bar (which just means it's a bar soap). The bar exists so they can avoid plastic. I love love this positioning and it is great marketing. So now I am considering using their product in the shower instead of bottled shower gel. From a new product launch perspective, I give them kudos for reintroducing a known form through the lens of sustainability. It is making me rethink my hand and body cleansing habits. Bars mean no bottles.
Hand sanitizer of choice: Purell because that's what we have.
Hand lotion that's getting you through all these washings? Neutrogena Hand Cream.  Just bought five new tubes.
Most relied on hair product or tool? Sebastian Whipped Creme Mousse. I wash my hair so rarely and mousse keeps it wavy and full for a longer period of time.
What was your first beauty product obsession? Gee, Your Hair Smells Terrific! Shampoo. Love's Baby Soft cologne. We were so obsessed with smelling good in the '70s.
When you were a kid, was there a famous person you wish you were, or were friends with?  No question, I wanted Jeanie's superpowers (from I Dream of Jeannie) and her hot-pink velvet sofa.
Daily carryall of choice: Clare V. black-leather fanny pack with my initials.
Who makes your eyeglass frames? Warby Parker.
What's your bed/bedroom like? Bright, with a view of Mount Tamalpais, the dreamiest mountain alive. Sky-blue stucco walls and hand-painted lacy ceiling. Male and female nightstand lamps. White sheets.
How would you describe your living-room vibe? In the round with four intimate gem-toned seating clusters and Italian–inspired painted ceiling. Rugs all over. Party room.
What is your current "sheltering" daily uniform? I basically sit on the floor all day. Spanx Perfect Black Pant, ADAY First Class T-Shirt in black or navy — and often a Libertine blazer for Zoom or IG Live.
What do you own too many of? Socks.
What beauty-related reality show, if not invented yet, would you love to watch? I don't watch reality TV but I would watch a show that features 5-year-olds applying makeup to either their mothers or their teenage sisters.
What TV shows have you been or are currently binge watching during this sheltered time? Netflix stand-up comics. My favorite is Mike Birbiglia.
What new hobby have you picked up again? I started crocheting again a few years ago but now I am a machine.  I made my first handbags and beanies. I am keeping all of my SIP work in a separate box.
Are you cooking as much as everyone else seems to be? Going nuts on the breakfast every day at 11 a.m. Blueberry pancakes or French toast or veggie scramble with tortilla and hot sauce.
Any hidden or secret talent or skill you possess? I can do a cartwheel and play "Oh Susannah" on the harmonica — not at the same time, though. I also have tap shoes and I  shuffle around in the backyard.
What skill are you a consummate failure at? Dropbox, LinkedIn, Spotify or anything that has to do with a computer.
What was the most recent interesting conversation you had? Speaking at Stanford GSB class with the students this week in the Humor: Serious Business class. The importance of humor and levity in times of fear and crisis.
What song is usually in your head? Blues Traveler's "Run-Around."
Who would you like to star as you in the film adaptation of your book? Julia Louis-Dreyfus.
Favorite smell? The rose garden in front of the Santa Barbara Mission.
Least favorite smell? Decay.
What can't you leave alone?  If I know you, I am picking lint off your clothes.
What calms you down? Nina Simone's "Sinnerman," crochet, rose scents.
Comfort food: French fries.
What food would you never eat?  I've eaten some crazy stuff, but I avoid cooked salmon.
What do you foresee as the top beauty trends for the second half of 2020? A lip balm that hydrates, nourishes, and protects against dryness and doesn't stick to the inside of a mask. A face mask with ingredients that brighten skin. Eyeliner. A new scent that embodies action, vitality, energy and optimism (less reflection, more tenacity).
What activity do you do when this new stress becomes too much? I lie down on the floor and close my eyes for ten minutes.
Aside from the obvious toilet paper, hand sanitizer and Clorox wipes, what has been your stress shopping item? Eggs.
Which website are you most often on during this time? Brainpickings.org.
What has been an upside to this crazy time for you? I'm back on social media because of the book launch. To be connected with people while we are all going through similar feelings has actually been energizing. I love having book events from my home. I would never have imagined how screen relationships could be so personal and intimate.
What beauty treatments should we give ourselves now that we've got all this extra time? Hand care. I am keeping my nails short and file a bit every day (I have nail files all over the place) and I buff my nails, too. I may never get another manicure again. I bought a nailbrush and use it regularly. Also, hand cream before bed! My hands are actually in better shape now.
Conversely, now that we're in this isolated state, what in your own grooming routine are you less … on top of? Hair. I wear hats every day and I just bought three colored wigs. I am creating additional identities.
Have you learned anything new about yourself or your sheltering housemate(s) that has surprised you, good or bad? My husband and I rarely watched TV together (he likes sports, I like binge shows) but now we watch a movie each night.
Can you share a few favorites? The Gentlemen, Good Boys, Dark Passage.
When this is all over, what are the first three to five things you'll do or places you'll go? I will fly to NYC to support stores and restaurants for a week straight. I will do the 22-city book tour that was canceled spring 2020. I will have a party.