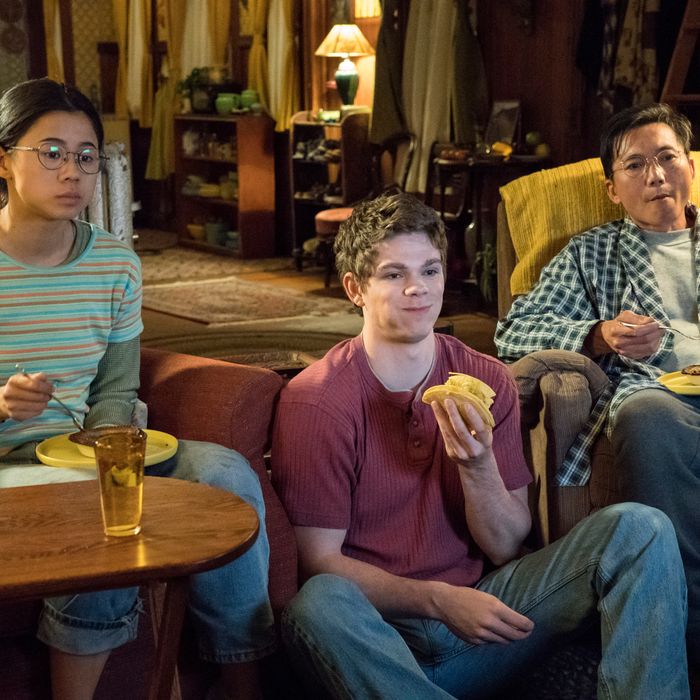 Photo: KC Bailey/Netflix / KC Bailey
Do you ever watch a movie and find that it just checks all of your boxes? It doesn't happen very often, and when it does, the moment stays with you forever. For me, this happened the first time I watched a paint-splattered Heath Ledger kiss Julia Stiles in 10 Things I Hate About You, and later at the moment when Meryl Streep ethers Anne Hathaway over cerulean blue in The Devil Wears Prada. They're the scenes that turn a film into your comfort food, into a lifelong companion. You revisit them when you move to a new town, or break up with someone, or spend a lonely night in a hotel.
I had another moment like this a few weeks back, when I first watched The Half of It, out now on Netflix. The film tells the story of Ellie Chu (Leah Lewis), a quiet, scrappy teenager who helps her single dad pay the bills by ghostwriting essays for her peers. One day, her services are solicited by Paul (Daniel Diemer), a bumbling jock with a crush on popular girl Aster (Alexxis Lemire). Ellie is also into Aster, and in spite of this (or perhaps because of it), she agrees to pen love letters to her on Paul's behalf. Paul and Ellie soon become unlikely friends: He cooks for her and defends her from racist bullies, and she drills him in art and philosophy. All the while, Ellie continues to fall even harder for Aster, as Aster does, unknowingly, for Ellie.
You might recognize the plot as a version of Cyrano de Bergerac, refashioned as a queer, YA love story. And while director Alice Wu imbued the film with all the sweetness of a standard coming-of-age rom-com, she also wove in commentary on race, class, religion, and gender in a way that is rarely seen in the genre. The film's setting was a deliberate part of this: Rather than the manicured California suburbs of so many teen dramadies, The Half of It takes place in the fictional rural town of Squahamish, Washington, which Wu portrays as an ultraconservative area; people engage in casual racism, there's a clear class divide, and pretty much everyone goes to church. Ellie's relationships — her friendship with Paul, and love for Aster — feel even more uncertain, and ultimately more poignant, as they unfold against this backdrop.
The Half of It just won Best Narrative Feature at the postponed Tribeca Film Festival, and it seems that critics agree that Wu has made something enduring. As for me, I won't be forgetting a scene between Paul and Ellie's dad, Mr. Chu (Collin Chou): Paul, an aspiring chef, brings him the ingredients to braised pork sausage, Ellie's favorite dish. Mr. Chu, wordlessly, begins making it, and Paul copies him, forehead creased in concentration.
The scene is simple and silent, but it was the moment I knew I'd be carrying The Half of It in my bag of beloved films forever. And I'm certain, after watching, it will join yours, too.
The Half of It is out on Netflix today, May 1.