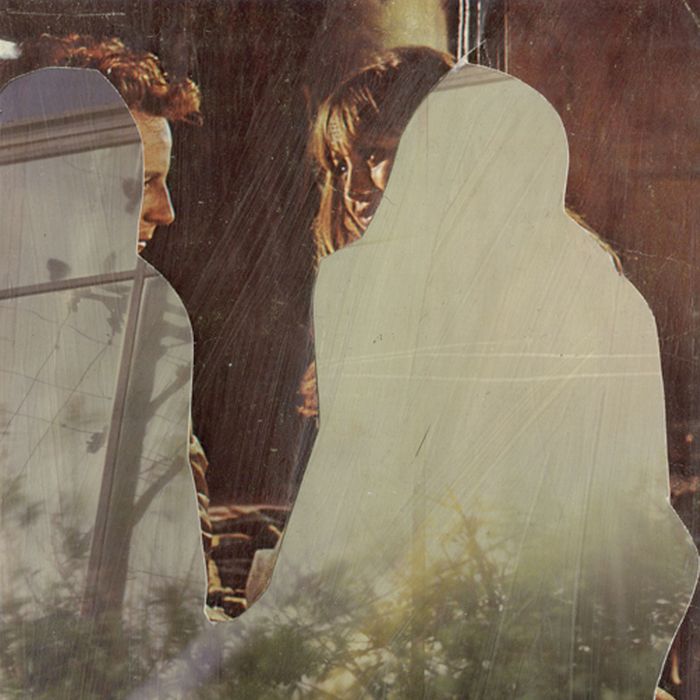 Photo-Illustration: James Gallagher
This week, a woman spending time with a new dog and a new boyfriend: 40, in a relationship, Midwest.
DAY ONE
8:00 a.m. I boot up my laptop, dreading what I might find in my email. It's finals week at the college where I work, and I have a part-time remote position as a fashion stylist as well, so my free time is limited.
9:30 a.m. I'm texting with Julian, who's also been working from home since March — he's employed in higher ed, too. We both used to work at the same college, actually — that's how we met nine years ago. He got married years ago, and I left that job not long after. Last fall, I saw his profile on Tinder — he'd gotten divorced — and we started dating. He told me that even though he'd never intended to get into a relationship so soon after his divorce, he was developing feelings and didn't feel comfortable continuing to see each other without exclusivity. At first, I was hesitant. But he's a decent, attractive, stable guy who genuinely liked me, so I figured, what did I have to lose by trying it out? Four months later, I'm glad I did. I don't think we'll be together for years and years, but for now, he's good company. I'd be going stir crazy if it weren't for him — he's the only person I've been seeing regularly during the pandemic. On top of that, my dog died right around the time the stay-at-home order was put into place, which would've been hard enough any time, but was magnified by the isolation of the pandemic.
9:45 a.m. On a work Zoom. There was previous talk about a certain co-worker — one of my former booty-calls — joining the meeting. He's not there though. He's dating someone now — at least, that's what he told me the last time I sexted him, in October. I don't think we would have made a good match in an actual relationship, but I still feel wounded that he never considered me as an option.
6:50 p.m. Julian invited me over, so I head over and we order food. Tomorrow I'm picking up the dog I adopted. It's been over a month since my previous dog died, and I'm excited to get another one, but also nervous. Julian says he's here for me tomorrow, if I need anything. I tell him I would rather pick up the dog myself and spend our first night together one-on-one, to establish myself as the primary caregiver. I've been reading about how to help an adoptive dog acclimate to its new home more easily.
10:30 p.m. The blanket on top of Julian's bed is incredibly soft. He takes off my pants and my underwear, lowers his head toward my open legs. When we started seeing each other, he couldn't keep it up. Part of it was the condom; part of it was just … him. Our first time, I thought it was just nerves. When it happened the next time we saw each other, I was a little more concerned. We talked about it; I tactfully inquired about what might help. Eventually, I asked him about Viagra. He said he thought that would be a Band-Aid, not a solution. He ended up getting the prescription. Now, there's no end to how long he can last. It's better this way, but I wish he could finish from intercourse. It's only ever happened when I'm using my hand or my mouth.
DAY TWO
6:50 a.m. My alarm goes off. It's never a single snooze. Julian gets up soon, and I ask him to wake me up in ten minutes. He takes a shower, comes back, lays down on top of me gently. "This is your ten-minute wake-up call." He leaves and goes downstairs to make coffee, comes back up a little later, lays down on top of me gently. "This is your 15-minute wake-up call." At 7:45, I'm finally on my way back home for an 8:00 a.m. log-on time.
11:00 a.m. I set up the dog crate in my bedroom. My previous dog never needed to be crated. I'm not crazy about using one, only because they're ugly, but my new dog is supposed to be crate-trained and it's probably best to start her out that way, at least.
3:30 p.m. Julian texts to ask if Saturday evening would be a good time to come over. I told him a few days ago that the nights we spend together will have to be at my place for the next week or two, so the new dog can develop a consistent routine. I know this will be a little difficult for Julian. He's an insomniac and typically averages about four or five hours per night. I think if I were willing, he would have us sleep at his place every night we spend together, but that's not going to happen. I have a visceral reaction to spending too much time in the suburbs, which is where he lives.
7:00 p.m. I'm texting pictures of my new dog to all my friends. Her name is Georgia, but I haven't decided if I'm going to keep the name yet. I like it, but she's only had it for a few weeks, and there's something about naming a pet that makes it feel more like yours.
DAY THREE
8:00 a.m. Georgia slept quietly in her crate throughout the night, but once she realizes I'm awake, she starts whining. I take her out, then we drive to Petco for a new collar. I notice a Starbucks at the next turn, so I head for the drive-through and take a picture of the short line of cars. Julian and I have gone for walks on a trail close to his house for the past couple weekends, and at a Starbucks close to the trail entrance, there's been a line stretched to the entire end of the parking lot, probably 25 cars deep.
11:00 a.m. Time to put in the first half of my stylist hours. Saturdays, I work four hours and try to break it up into two sections. Georgia alternates between softly whining and dozing on her bed.
6:15 p.m. "Any initial thoughts on …" Julian texts. He's asking me if he should take a Viagra to be prepared. I give him the go-ahead.
7:05 p.m. Julian arrives. We take Georgia for a walk and order curry for dinner. I try not to eat too much. Sex on a full stomach is never good.
11:00 p.m. Afterward, I'm lying with my head on his chest and his arm around me. He says tonight was as close as he's gotten to finishing during intercourse. We were doing it with him from behind. He asks whether, if he's that close again and I'm ready to stop, he should tell me he's almost done. I tell him yes. There have actually been times when I've been ready to take a break, but I've wondered how close he is to finishing — if he's almost there, I'd rather keep going. But I haven't felt right about asking whether he's close, because there's no mood-killer greater than feeling rushed to finish.
What's ironic about this is that I almost never come unless I'm masturbating. The last time I had an orgasm with a man was — and I have to stop and think about this — 2017. The thing is, it doesn't bother me. If I want to get off, I can do it myself. But being with someone, having that physical closeness, reveling in each other's bodies — that, for me, is the best part of sex.
11:30 p.m. We turn off the light and spend the next 20 minutes coming up with a list of possible names for Georgia. I dismiss Julian's suggestion of Dorothy.
DAY FOUR
11:00 a.m. Julian has a video "brunch" scheduled with his family. When he's done, we go get coffee, decide on Olivia (Livvie for short) from our list of names for Georgia, and spend the rest of the day hanging out on my patio, watching TV, and walking.
7:30 p.m.  He pulls out his key ring, which has a tiny silver pill holder attached to it, unscrews the top of the holder, takes out a pill, and looks at me with a silent question. "I could go either way," I say. We decide not to have sex and he screws the top back on. "I think that's the first time you've ever not been in the mood for sex," he says — an observation, not a criticism. What's funny is that whenever I'm dating someone, I tend to crave sex less than when I'm single.
9:30 p.m. Julian leaves for the night, and I start getting ready for bed.
DAY FIVE
8:30 a.m. I FaceTime with one of my grade-school friends, and we drink coffee together. We do this together every few days. I can't believe it's taken COVID to make me realize how much better video-chatting is than just voice-chatting.
2:00 p.m. It's rainy outside and I can tell Livvie wants to get out for a walk. In a single day, she's nearly destroyed the stuffed dog toy that my previous dog never touched her whole life.
7:30 p.m. I cook some chicken to mix in with what's left of the curry we ordered last week.
DAY SIX
9:00 a.m. Breakfast is Chex Mix and a makeshift mocha (powdered hot chocolate mixed with coffee — it'll have to do until the bakery reopens). These days, I'm disliking grocery shopping more than ever. Now it's not just a time suck, it's a health hazard too. So I've been cobbling together whatever I have left in the apartment and doing what I can to create healthy meals. Today's breakfast: fail.
3:30 p.m. I take Livvie for an afternoon walk to the wine shop to restock my fridge. Groceries can wait, but libations can't.
7:30 p.m. Julian arrives, to Livvie's great excitement. She loves everyone. We walk to a nearby bar/restaurant to get takeout. We've been spending so much money on this. It's helping the economy, right? I need to sit down and figure out exactly how much I've spent getting carryout — and clothes — over the last month.
9:30 p.m. I crate Livvie before Julian and I have sex. She seems to understand that this is Julian's and my private time, and not to disturb us with whining.
DAY SEVEN
6:30 a.m. The whining starts. Julian says Livvie sounds like a squeaky door.
8:15 a.m. Another FaceTime coffee date!
9:35 p.m. I'm on my couch doing my styling, and get I get a message from my sis. She ordered a shipment from the company I style for, and had requested me as her stylist. It was fun picking things out for her. "I just opened it and I love everything!" Yay! I'm so excited.
10:15 p.m. Finishing styling, get ready for bed. I leave the TV on in the living room, so I can listen to Frasier in the background while I drift off to sleep.
Want to submit a sex diary? Email sexdiaries@nymag.com and tell us a little about yourself.