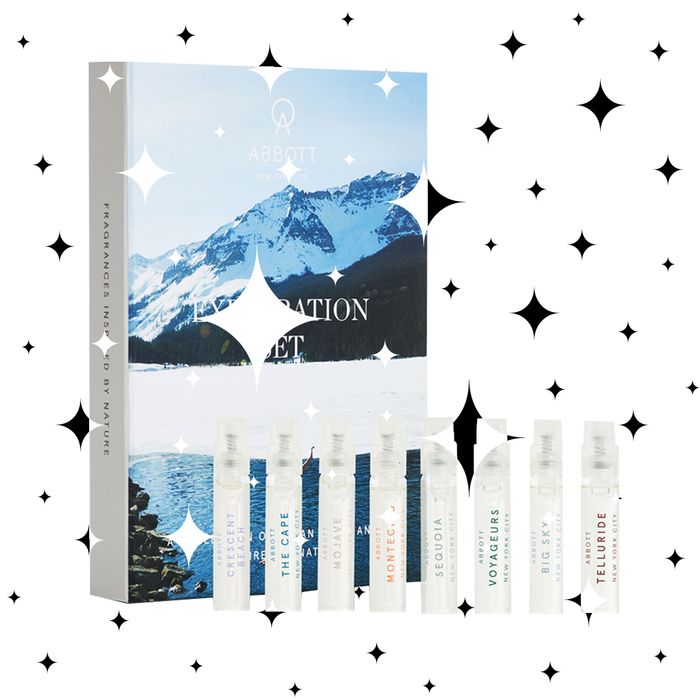 Photo: Courtesy of Abbott NYC
"Fragrance transports you." The words might sound like something out of a dreamy television ad, purred by a sexy woman's voice over an orchestration that's heavy on the strings, but darned if they aren't the truth. Whenever I smell a fragrance, it takes me somewhere. If it's one I haven't smelled in 20 years, it will deliver me right back to the person who wore it 20 years ago. If I smell a new fragrance and love it, a certain ingredient will plant me down in the place I'm smelling — a beach, a church, a garden during a rainstorm. Should I smell a new fragrance that I can't stand, it, too, will transport me … right out the door in record time.
Abbott NYC was born out of the business of scent transportation. The fragrance collection was founded by two New Yorkers, Michael Pass and Jose Alvarez, who became friends thanks to a mutual wanderlust. They skied in Telluride, hiked in Sequoia National Park, and surfed on Cape Cod.
The two started thinking about how to capture their favorite places through scent. Neither had a lick of experience in the field — Pass is an attorney and Alvarez is a banker — but a friend introduced them to perfumers Steven Caisse and Antoine Lie, who set about translating these locations into liquid.
In 2016, they launched the Cape, a minty moss scent; the leathery, creamy Telluride; the citrus and peppery Mojave; and, my personal favorite, Sequoia, an earthy, smoky blend. Two years later, Big Sky and Voyageurs were added, then Montecito and Crescent Beach brought the total to eight last fall. All but the last two also come in candle versions, and all formulas are clean.
 
Since we're currently advised against any travel but the essential kind, has there ever been a more apt time to try scents that conjure the vacation spots we might not be able to visit for a while? This set comes with all eight scents. Each mini-atomizer contains about 20 spritzes, more or less, so you can really take the time to decide where to invest in that amorphous real estate.