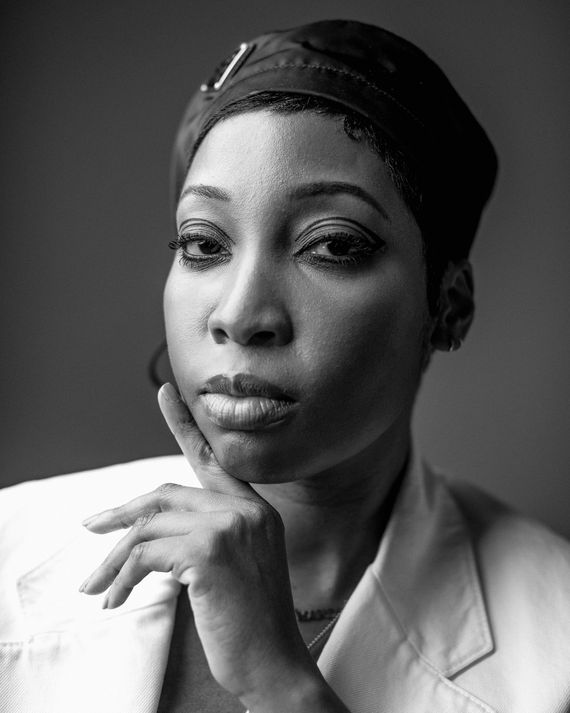 Amanda Murray estimates that about 70 percent of her wardrobe is Dries Van Noten." It's deep," she says. "I feel like I'm giving you all I have when I wear Dries." A personal stylist and creative consultant, Murray has worked with brands like Lacoste and Sies Marjan. She was born in Trinidad and raised in London, but says she's lived in NYC long enough to call herself a New Yorker. As a black woman in the fashion industry, one of her goals is to ensure visible representation of people who look like her. "I'm moved by stories of black culture," she says. "Representation is important, and kids are always watching and taking notes. Oprah walked so Wendy Williams could run." The Cut spoke with her about Christopher John Rogers, her perfect day, and Miss Piggy.
What would your Real Housewives tagline be?
"Don't ask me why I'm late to the party, just know that the sun rises when it's ready." [Hair flick.]
If you were running for office, what would your campaign song be and why?
"The Rent Is Too Damn High."
What kind of animal would you be and why?
A peacock. They resonate with me. A peacock shows up out of nowhere for five minutes, spreads its plumes, and exits. I feel like that's me. I get dressed up, I show up, and then I leave.
What are you excited about right now?
I'm excited about Christopher John Rogers, an extremely gifted young black designer who won the 2019 CFDA Fashion Fund. It's been amazing watching his story unfold. He has his own label but I'd like to see him at the helm of a major brand.
What's your idea of a perfect day?
Eating a coconut bake with saltfish with hot chocolate from Allan's Bakery in Flatbush, then I'd magically cross continents and end up at the Victoria and Albert Museum in London for a few hours, then a drink at Trailer Happiness in Notting Hill. I'd end my day at Pigeon Point Beach in Tobago at 5 p.m. when the water is warmest, then back to Brooklyn to watch Curb Your Enthusiasm, Sex and the City, and Succession on demand.
If you could master any skill (that isn't related to your current job), what would it be and why?
I love reading CB2 catalogs, LOL. I'd love to know more about interior design. A home is an entity. There's so much energy enveloped in the walls. I imagine it's like dressing a person but more intense, because whatever you choose is somewhat permanent.
What three fictional characters do you relate to most?
Miss Piggy, Larry David, and Carrie Bradshaw.
What piece of advice has had the biggest impact on you and why?  
Follow your gut instinct, your first feeling, in life, in love, in work, and with people. I pay attention to how someone's energy makes me feel. If I feel drained or uneasy in your presence, I will keep my distance. Our bodies give us warning signs. I've had people in my life who drained me emotionally and physically. The moment I cut them out from my life, things started to get better. Not everyone wishes you well, and deep down you know who does and who doesn't.