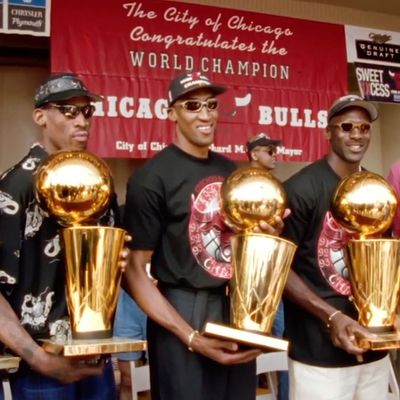 It's hard to pick my favorite detail from The Last Dance, ESPN's blockbuster, ten-part docuseries about Michael Jordan and the 1990s Chicago Bulls. Is it when Dennis Rodman took a two-day Las Vegas vacation in the middle of a season and Michael Jordan had to go pull him out of bed with Carmen Electra to get him to practice? Is it when President Barack Obama is referred to simply as a "former Chicago resident"? Is it every single one of Michael Jordan's reactions to watching other people's interviews on an iPad? Certainly, each of these moments is precious and deserves to celebrated. And yet, none of them can compare to the undisputed star of the series: the eyewear.
The '90 were a magical time for sunglasses. It was like everyone decided, all at once, that they were tired of looking like humans, and they wanted to resemble fun, sporty aliens instead. Sunglasses became teeny tiny. Lenses were colorful. Frames started to wrap around the sides of wearers' heads like goggles. And the Chicago Bulls, not satisfied apparently with merely dominating the decade athletically, also decided to dominate it optometrically.
There were still some classic shades, of course. Take the Ray-Bans Jordan wore during a TV interview with Ahmad Rashad of NBC Sports, after he was roasted in the press for taking a trip to Atlantic City with his dad to gamble during the 1993 Eastern Conference Finals.
"I do not have a problem. I enjoy gambling. I think people are trying to make it seem like I have a problem," Jordan insisted, his sunglasses speaking louder in that moment than his words ever could.
"The only thing I wished, I wish he had taken those glasses off," Rashad said later in an interview with the Los Angeles Times. "I said, "Mike, can you take off the sunglasses?' He laughed and said, 'Aw, man, let's just do this.' "
Jordan went with some more modern specs five years later, wearing small, rimless sunglasses while jamming out to an unreleased Kenny Lattimore CD.
The true sunglass innovator of the group, though, is indisputably Dennis Rodman, who explained in an interview on the Jordan Harbinger Show in 2019 that he started wearing sunglasses "because I've seen too many people lie to my face."
Just as the whole series was building up to the Bulls' 1998 final win, though, so was the eyewear. After defeating the Utah Jazz in Game 6, the Bulls returned, victorious, to Chicago, where at a rally in Grant Park, the team shared with thousands of fans the fruits of their years of hard work in the field of sunglasses.
Here's Scottie Pippen, beaming in a slick pair of silver Oakleys.
Here's Dennis Rodman, pairing what can only be described as "a pair of cat-eye sunglasses that recently took up snowboarding," with a pair of his signature PJ pants.
And then, of course, there's the GOAT.
When Michael Jordan appeared on the screen wearing these incredible, round, steampunk-esque glasses, I gasped. They were so out of place with Jordan's T-shirt and baseball cap, and yet the ensemble worked perfectly. After all, it was on a man who had won six NBA championships, and is widely considered the greatest basketball player of all time. He can do whatever the hell he wants, even if that means looking like the eccentric captain of a zeppelin.
The glasses were, in fact, Jordan's own design: a pair of Oakley Mars Michael Jordan Gold Iridium Leather sunglasses. Jordan was a board member of Oakley, and the glasses were only produced in small quantities at the end of the '90s. According to freshnessmag.com, the five metal alloy of the frame required Oakley build "a new facility with a 6-ton, 425,000 watts generator on site and five-axle machining tools for an optimal precision of 0.0005-inch, unheard of at the time for eyewear."
Sadly, Jordan's Oakleys didn't withstand the test of time as well as his sneakers, and getting a rare pair of the glasses could set you back over $1,000. When you're pining for gorgeous, tiny eyewear in your life, though, you can always just rewatch The Last Dance for free.