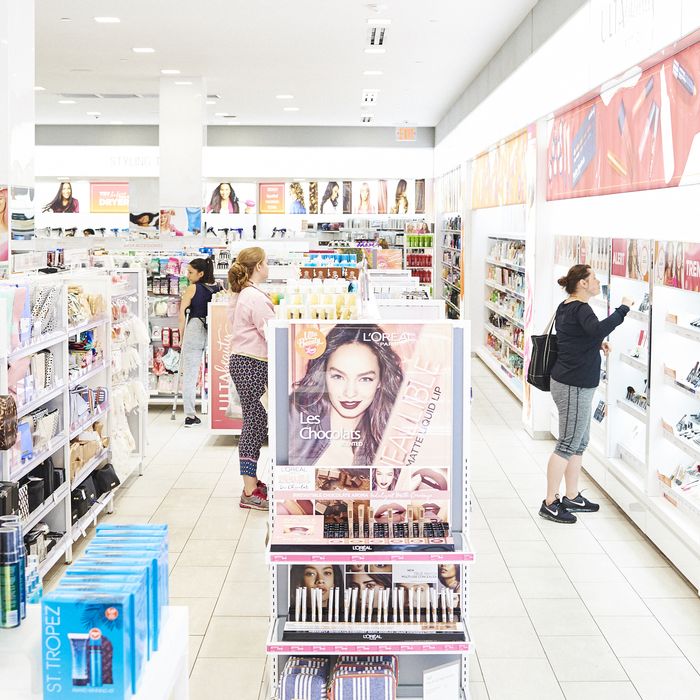 Photo: Bloomberg via Getty Images
Did you miss Ulta? It's missed you. After being closed since mid-March, 180 locations of the beauty retailer are reopening this week in states such as Arkansas, Nebraska, Oklahoma, South Dakota, Tennessee, Texas, and Utah.
The store will have a few special things to celebrate reopening. Among them are increased safety measures. Associates will wear masks (customers are not required to wear them, but Ulta does "ask"). They will also undergo "wellness checks" at the beginning of their shifts. Hand sanitizer and curbside pickup will be available, and cleaning and disinfecting will occur multiple times throughout the day. Guests will be encouraged to practice social distancing. Ulta salons will also be open, by appointment only and offering hair services only (health-care heroes even get 50 percent off if they show their badge). According to the Daily Beast, which spoke to an Ulta public-relations person, salons in Texas stores were about "90 percent booked." The website has even been updated with a picture showing a mask-clad client and hairstylist.
However, if you wanted to once again feel the touch of an eye shadow you didn't purchase across your wrist, you will be out of luck. Testers will be for display only, so no swatching allowed. You can look, but you can't touch it unless you buy it. No word on when Sephora will reopen, but according to Dissent magazine, employees were told "they would be expected to return to work as soon as the city allowed them to reopen."