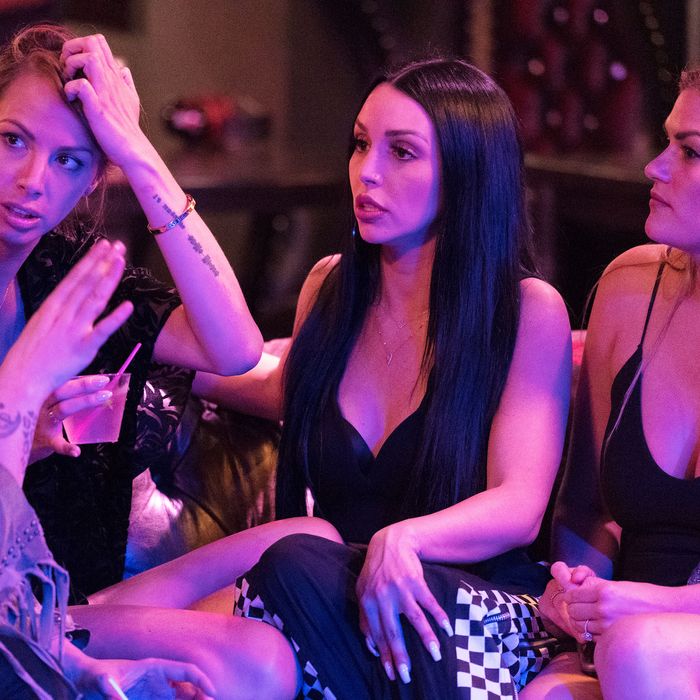 Photo: Bravo/NBCU Photo Bank/NBCUniversal via Getty Images
You'd think it would be hard to pinpoint the Vanderpump Rules cast member portrayed in the most embarrassing way.
Is it James, the waifish English DJ who loudly and regularly refers to himself as "white Kanye"? Is it Jax, the 40-year-old who, in a recent episode, rage-texted a group of his baffled friends to tell them they were no longer invited to his pool party? Is it Kristen, who has on several occasions been shown toppling over due to drunkenness, a cartoonish scene exaggerated by her modelesque height?
No. It is, of course, Scheana. Poor Scheana. The outcast, the Malibu resident, the thirsty unrequited sex hound, the one who "adopted" a "penguin" (she didn't), the jesteriest jester in a show packed full of them. And now we know why.
"If Scheana knows what's good for her she'd befriend me," Vanderpump Rules editor Bri Dellinger said on a recent episode of Twisted Plot, a reality-TV podcast, according to "Page Six." "Because my favorite game is finding all the embarrassing things that Scheana does and putting them all in."
Speaking as a viewer, this does not seem like a particularly difficult task. (She recently released this music video of her own volition.) Still, it's obvious that Scheana is the only cast member without an ebb and flow. There is no growth for Scheana, there are no grounding moments. There is only desperate attempts at making men horny, and transparent and futile attempts at subterfuge in order to elevate her status among the newer class of SUR servers. Oh, Scheana.
In a recent episode, at Stassi Schroeder's engagement party, Scheana was sat at the dinner table next to Stassi's teenage brother Nikolai. Of course, she was edited to look horny for him, even though he is a child and a particularly geeky one at that. "It was so funny," Dellinger said, of the scene. "We were watching the scene and were like, 'Okay, this is over the top, I realize that, but how can we resist?'"
Following the scene, Scheana was shown in a talking head interview. "We asked her in the interview, 'How young would you go?'," Dellinger said. "We didn't tell her it was for the Nikolai scene, of course."
An "insider" told "Page Six" that the unflattering edit hadn't gone unnoticed by Scheana. "Scheana's definitely frustrated with how she's been portrayed," they said. "She's not the type to pop off when she feels slighted by an unflattering edit. She signed on to be a part of a reality show, which requires her to share her life highs and lows; she just wishes audiences got to see a bit of a more balanced view of her life, not just the most cringe-worthy moments."
According to "Page Six," the podcast episodes featuring Dellinger have been removed from Apple Podcasts. Could this be some redemption for Scheana, finally? Or was the entire story planted by Scheana to begin with, in order to offer a nefarious explanation for her unflattering portrayal? Ah. Either way, you might just say … it's all happening.