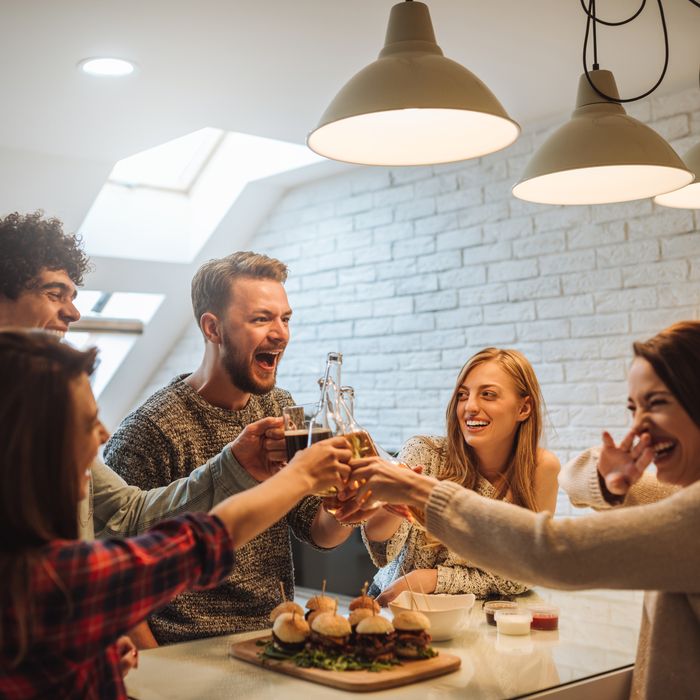 Parties: So not hot right now.
Photo: Getty Images/iStockphoto
In keeping with social-distancing mandates, you really shouldn't be attending any parties of any kind right now, and especially not parties where the main activity on the agenda is deliberately exposing yourself to coronavirus.
To the horror of public-health officials, not everyone is using such caution — in particular, residents of one county in southern Washington state. "Walla Walla County health officials are receiving reports of COVID-19 parties occurring in our community, where non-infected people mingle with an infected person in an effort to catch the virus," the county said in a press release yesterday. Unsurprisingly, people are falling ill. In an interview with the Walla Walla Union-Bulletin, the director of the county's Department of Community Health said that around 25 infected people in the county have confessed to going to a COVID-19 party. As of today, the county has 94 confirmed cases.
"We don't know when it is happening," director Meghan DeBolt said of the parties. "It's after the fact that we hear from cases."
These parties aren't the first of their kind. A little over a month ago, a group of 20-somethings held a similar fête in Kentucky, where at least one person became infected with the coronavirus. In fact, this grim genre of party — where you intentionally infect yourself with a virus in order to immunize yourself — has long existed. Before the introduction of the chicken pox vaccine in 1995, some parents would bring their children to "chicken pox parties," so they could become infected and then immune. In more recent years, amid measles outbreaks, state officials have had to explicitly caution against "measles parties." Time and time again, health officials have warned that these parties are not only dangerous and unnecessary, but potentially deadly.
But what makes coronavirus parties particularly bad is that we don't yet know whether you develop immunity to coronavirus after infection. Also, even "mild" cases of coronavirus aren't exactly mild. Hypothetically, there's a chance you could attend a coronavirus party, fall so ill you struggle to breathe for weeks, recover, and then become reinfected all over again. Attending a party is "not an innocent endeavor, by any means," DeBolt continued. "It really sets us back."