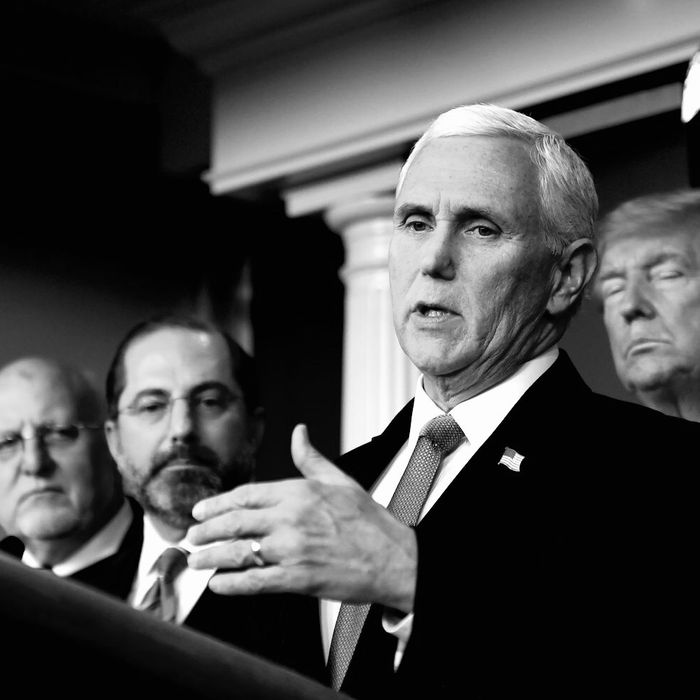 Mike Pence, commander of the U.S. coronavirus task force for some reason.
Photo: ERIC BARADAT/AFP via Getty Images
We're committed to keeping our readers informed.
We've removed our paywall from essential coronavirus news stories. Become a subscriber to support our journalists. Subscribe now.
In February, the Centers for Disease Control and Prevention warned that the United States should brace for a domestic coronavirus outbreak. Throughout March and April, the number of confirmed cases of COVID-19 in the U.S. rose dramatically, and the U.S. now has the highest confirmed case count in the world. As of May 25, more than 1.6 million people across every state, Washington, D.C., and four territories have tested positive for the disease, and more than 97,000 people with the virus have died in the U.S. Fatalities have been confirmed in all 50 states.
Globally, more than 5.4 million confirmed cases of COVID-19 have been reported in at least 177 countries, with at least 344,943 deaths so far. In March, the World Health Organization officially declared COVID-19 a pandemic, and President Trump declared a national state of emergency.
Here's everything we know about the spread of the virus in the U.S. so far.
How many new coronavirus cases have been confirmed in the U.S.?
As of May 25, there are at least 1,651,000 confirmed cases of COVID-19 in the U.S., and at least 97,684 people with the virus have died. The national death toll is expected to pass 100,000 in the coming days, and President Trump has called for flags to be flown at half-staff over the weekend to honor the victims of the coronavirus.
Over the past month, the national death toll has increased by over 1,000 people almost every day. Even as President Trump has encouraged states to begin reopening their economies, the New York Times reports that privately, his administration is projecting that the worst of the outbreak is still to come. According to internal documents, the Trump administration predicts that the number of cases and deaths will continue to rise steadily in the coming weeks, and that by June 1, there may be as many as 200,000 new cases and 3,000 deaths each day.
At the same time, rates of testing still vary widely from state to state: Heading into May, just over 6 million people had been tested in the U.S., according to data from Johns Hopkins — less than 2 percent of the population. As a result, epidemiologists estimate that the true number of cases may be ten times the official count, and that several thousand more people have died from the virus than is reflected in the official death toll. Additionally, research suggests that COVID-19 cases were spreading rapidly in the U.S. far earlier than was reported: researchers at Northeastern University estimate that on March 1, when New York confirmed its first case of coronavirus, more than 10,000 people in the state may already have been infected. Preliminary results from antibody tests suggest that as many as 2.7 million New York City residents may have been infected with the virus without realizing it.
New York has had by far the largest outbreak in the country, though the number of new infections and deaths have declined in recent weeks. As of Monday, the state had 366,346 confirmed cases and 29,046 deaths, including those presumed to have died from the virus who had not tested positive. New Jersey and Massachusetts are also among the states that have been hardest hit by the virus. Though the vast majority of confirmed cases and deaths from COVID-19 have been in cities and suburbs, the New York Times reported in early April that coronavirus has reached more than two-thirds of the country's rural counties, where cases are growing fast. And now, as some big cities are starting to see the number of cases level off, a number of small Midwestern factory towns are experiencing outbreaks.
In recent days, the numbers of new cases and deaths have started to decline, suggesting that the widespread lockdowns in March and April were effective in slowing the spread of the virus. Additionally, a new study from researchers at Columbia University found that if the U.S. had implemented social-distancing restrictions a week earlier, in early March, about 36,000 fewer Americans would have died. Now, as many states have lifted stay-at-home orders and reopened nonessential businesses, public-health experts have cautioned that the situation remains dire, and that we could still see a second wave of cases.
The Trump administration announced in early May that it would disband its coronavirus task force in the coming weeks, a decision Vice-President Mike Pence said was a "reflection of the tremendous progress we've made as a country." However, Trump reversed the decision a day later, saying that the task force would continue "indefinitely," but would pivot its focus to reopening the country safely. Meanwhile, the University of Washington's Institute for Health Metrics and Evaluation has nearly doubled its fatality projections, and is now predicting that more than 134,000 people in the U.S. will die from COVID-19 by August.
How long will the stay-at-home orders last?
As the number of confirmed cases of COVID-19 has continued to rise, many states have urged or ordered residents to stay at home to slow the spread of the virus. As of mid-April, 316 million Americans in 42 states were under orders to stay at home except for essential activities, which include buying food, seeking medical treatment, and exercising outdoors, provided they stay six feet away from anyone not part of their household. Medical professionals, caregivers, public-safety officials, sanitation workers, and other essential workers, such as those who work in grocery stores and pharmacies, are exempt. Currently, 48 states have suspended in-person classes for the rest of the school year.
The widespread lockdowns have had serious economic consequences: More than 38 million Americans have lost their jobs since the outbreak began, and retail sales fell a record 16.4 percent in April. This week, the chair of the Federal Reserve said that the U.S. economy is in a "downturn without modern precedent," and economists are increasingly concerned that many lost jobs may never come back.
Last month, the Trump administration issued a set of federal guidelines for states to begin slowly reopening their economies, recommending that they not do so until the number of coronavirus cases has steadily declined for at least 14 days. President Trump declined to extend the federal guidelines on social distancing, which expired on April 30, instead leaving the decision to ease restrictions up to the states.
The Times reports that all 50 states have now begun to reopen in some way, though public-health officials have warned that reopening too soon — and without widespread testing available — could lead to a resurgence of cases. According to Politico, only two states — Kentucky and North Dakota — have met the White House criteria for reopening. Meanwhile, as states lift their stay-at-home orders, about 25 million more people left their homes each day during the week of May 4 than during the previous six weeks of lockdown.
Testifying before the Senate on May 12, Dr. Anthony Fauci, the nation's leading infectious disease expert, warned that reopening too early could lead to needless suffering and death as well as further economic setbacks. "The real risk is that you will trigger an outbreak that you may not be able to control," Fauci said. His characterization of the situation is a stark contrast to President Trump's, who recently said, "We have met the moment and we have prevailed." Trump also criticized Fauci's testimony, once again pushing for a swift reopening of businesses and schools.
What is the federal government doing to fight coronavirus?
In March, President Trump declared a national emergency over the coronavirus pandemic, effectively freeing up to $50 billion in federal funds to help states and territories fight the spread of the virus, which he said would include expanding access to testing.
Still, there have been many issues with the availability of the coronavirus test. Though testing capacity has improved, there are still widespread shortages. In many areas, state health officials and medical providers say they are unable to test as many people as they would like to, and tests remain available only to those who meet specific criteria. Public-health officials say that far more testing — for both the virus and antibodies — will be needed in order to safely reopen the economy.
Speaking April 27, President Trump announced a plan to increase federal support to states to provide increased testing, saying that the U.S. would "double" the number of tests it had been conducting. Currently, the U.S. is conducting about 300,000 tests a day. While an improvement, experts say this still falls far short of the number of tests needed, which is more like 5 million tests a day by June and 20 million tests a day by late July.
On March 19, Secretary of State Mike Pompeo announced that the U.S. would close its borders with Canada and Mexico, barring entry to all nonessential travelers. President Trump has also barred entry of all foreign nationals who have been in high-risk countries, including China, Iran, and much of Europe, within the last 14 days. The CDC has advised against all nonessential travel throughout most of Europe, South Korea, China, and Iran and has advised older and at-risk Americans to avoid travel to any country.
On March 27, President Trump signed a $2 trillion stimulus plan, the largest in modern American history, which will send direct payments of around $1,200 to millions of Americans who earn less than $99,000, along with an additional $500 per child. The first round of deposits went out on April 11. The plan also substantially expands unemployment benefits, including extending eligibility to freelance and gig workers, and provides aid to businesses and companies in distress. Treasury Secretary Steven Mnuchin has extended the tax-filing deadline to July 15, and President Trump signed another $484 billion relief package in late April, which will provide aid to small businesses and funding for hospitals and testing. On May 15, the House approved a new $3 trillion relief package, which would include nearly $1 trillion in aid to state and local governments, as well as another round of $1,200 payments to Americans.
Researchers have made a number of early steps toward a vaccine that look promising. A coronavirus vaccine that has been tested in eight people appears to be safe and effective, according to the manufacturer, Moderna, which plans to begin additional tests soon. On May 5, Pfizer and the German pharmaceutical company BioNTech announced that they were beginning human trials for a possible coronavirus vaccine in the U.S., and the U.S. government has pledged to provide up to $1.2 billion for vaccine research to the drug company AstrZeneca. However, U.S. government officials have said that producing a widely available vaccine could take a year to 18 months.
On Monday night, President Trump threatened to permanently cut off U.S. funding to the World Health Organization, which he has accused of failing to act quickly and aggressively to stop the early spread of the virus — a criticism that has been leveled at his own administration. Trump halted funding to the WHO last month in an apparent attempt to shift the blame for the fallout from the pandemic, a decision that was met with widespread criticism from global leaders.
What should I do to minimize my coronavirus risk?
In most cases, COVID-19 is not fatal, but it appears to pose the greatest risk to elderly people and those with preexisting conditions that compromise their immune systems. According to the CDC, eight out of 10 deaths from COVID-19 in the U.S. have been adults age 65 and older. Doctors and medical workers may also be at greater risk, due to their higher-than-average odds of exposure, and data shows that in many areas, including New York, black and Latino Americans have been dying at disproportionate rates.
On April 10, President Trump said that the CDC is now recommending that Americans wear masks when they are out in public, though he stressed that the guidelines were voluntary, and said he would not wear a mask himself. On April 15, Cuomo signed an executive order requiring New York residents to wear face coverings in public settings where they are not able to stay six feet away from other people, including buses, subways, sidewalks, and grocery stores. Los Angeles has also ordered residents to wear masks when visiting essential businesses. The guidance on masks seems to be driven in part by concern about the number of asymptomatic individuals who may be infected and transmitting the virus. Speaking on April 5, Fauci estimated that between 25 and 50 percent of those infected with the virus may not experience any symptoms.
If you have symptoms associated with coronavirus — coughing, fever, respiratory issues — call your doctor before showing up at their office: The virus is highly contagious and you want to limit the possibility of spreading it. If you are sick, the CDC recommends that you stay home and self-isolate, confining yourself to one room as much as possible and wearing a face mask when you have to interact with others. Wash your hands frequently — soap and water and at least 20 seconds of scrubbing — and avoid touching shared household items, cleaning "high-touch" surfaces (like your phone) regularly. Your health-care provider and even local health department will help you determine how long it's appropriate for you to keep up these precautions.
Regardless of whether or not you have symptoms, though, keep your hands clean, and seriously, stop touching your face and just stay home.
This post has been updated.