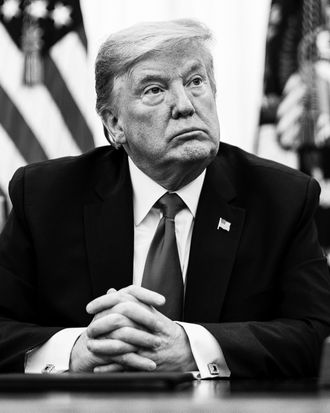 Oops.
Photo: Pool/Getty Images
One of President Donald Trump's personal valets has tested positive for the coronavirus. According to the White House, this person is a member of the U.S. military who serves the president food. Trump is reportedly "upset" — or "lava-level mad" — at this development, although, according to deputy press secretary Hogan Gidley, both he and Vice-President Mike Pence have been tested and "remain in great health."
As NBC notes, it's presently unclear exactly when the valet started showing symptoms — although CNN reports that he was definitely symptomatic as of Wednesday morning — and when he last came into contact with Trump. The president says the White House will now ramp up testing: "So we test once a week, now we're going to go testing once a day," he said during an Oval Office appearance with Texas Governor Greg Abbott on Thursday, according to NBC. "But even when you test once a day, somebody could — something happens where they catch something."
What's more, Trump's valets, much like the president and his vice-president, reportedly do not wear masks, so you can see where our commander-in-chief might worry: The available evidence suggests that wearing a mask might mitigate the risk of a contagious person spreading the virus. But before we get ahead of ourselves, what even is a presidential valet? What do they do? How much face time does this person get with Trump? Let us investigate.
What is a presidential valet?
If you are familiar with Downton Abbey, then you will also be familiar with a valet's role: They are personal assistants tasked with very personal duties. In other times, the president's personal valets have reportedly functioned as "messengers, confidants, nurses, barbers, bartenders, waiters, public-relations agents, and companions."
Our current president apparently has two office valets and three residence valets: "Valets who work in the Oval provide anything Trump requests, such as coffee, food, or whatever else he might need during the day," according to Politico, which spoke to a former White House official. "The president can call this valet whenever he wants using a button, making frequent daily interaction common."
Residential valets, meanwhile, do Trump's "laundry, iron his attire for the day, and pack his suitcases," Politico's unnamed ex-official explained. "These employees also interact regularly with the president, delivering his newspaper or any other messages he might need. The valets are told to give him his space and not touch him, since he doesn't like that."
What are this presidential valet's duties?
According to NBC News, this particular presidential valet — whose name has not been disclosed — serves Trump his meals. Per CNN, he is also a member "of an elite military unit dedicated to the White House," as all the valets are.
How much contact do they have with Trump?
The president said Thursday that he has "very little contact, personal contact, with this gentleman," although NBC's source intimated to the outlet that "the unknowingly infected valet was close to the president throughout the day on a consistent basis" before his diagnosis. This makes sense for a person whose job is to feed his boss at regular intervals. And to judge from various reports about Trump hitting the ceiling when he found out about the test on Wednesday, it would appear they are familiar enough for the president to be concerned for his safety and, relatedly, enraged.