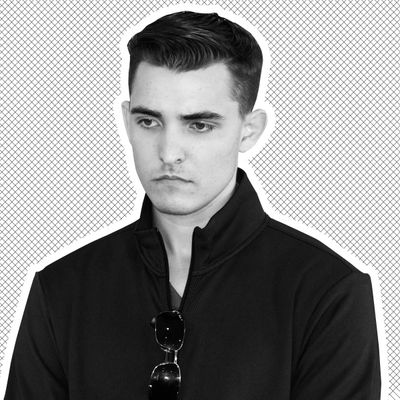 Jacob Wohl.
Photo: John Middlebrook/CSM/Shutterstock
Sparkling-water enthusiast and recent fitness influencer Jacob Wohl is simply unparalleled in the field of failed smear attempts. He's best known for staging slapdash, surreal press conferences, ostensibly to unveil proof of some outlandish claim against a prominent Trump opponent, which never materializes. Along with his partner-in-crime Jack Burkman — literally, the pair is likely under investigation by the FBI — the MAGA-loving freelance "intelligence" operative has tried and failed to take down Robert Mueller, Pete Buttigieg, Elizabeth Warren and more in the last year alone. So far, the duo have only managed to expose themselves as two men with the know-how and subtlety of two children in a trench-coat trying to buy a dirty magazine.
For their most recent stunt, the pair reportedly hired a woman to say that Dr. Anthony Fauci, the director of the National Institute of Allergy and Infectious Diseases, had attempted to assault her in a hotel in 2014. This scheme fell apart, in a typically Wohlian fashion, after the woman in question reached out to a journalist to say Wohl and Burkman had paid her to make the claim, and that it was untrue.
Below, a rollicking tour through all of Jacob Wohl's spectacular résumé of failed smear attempts, including this most recent twist:
The failed Anthony Fauci assault smear
On April 21, Wohl and Burkman sent members of the press one of their "media alerts," teasing an allegation against Dr. Fauci. It said that a woman named Diana Rodriguez was coming forward to say she'd been sexually assaulted by Fauci in a room at the Four Seasons Hotel in 2014, when she was 20 years old. Very few outlets covered the allegation, as it immediately was suspect. Wohl and Burkman ended up holding a conference call in which Rodriguez told her story again, with several different details from the media alert, offering no additional evidence to bolster the claim. They claimed they had originally booked the Chinese embassy as the venue to hold their press conference.
Ten days later, the woman reached out to journalist Nancy Rommelman to say she was really named Diana Andrade, that she had been romantically involved with Jacob Wohl, and that she'd received five figures in cash from him and Burkman to say she had been assaulted by Fauci. "The reality is that I've known Jacob since 2018 and that he charmed me into taking money to do this (see attached picture of us together)," she wrote. She also said that she believed the notorious pair are "trying to get another girl to do it, too," and had asked her if she knew anyone. That seems to have been the case — the day before Andrade reached out to Rommelman, Wohl and Burkman had sent another email saying they had an additional accusation against Fauci from a "former assistant" named "Karen Draper."
In a recording Rommelman received from Andrade, Wohl reportedly tells Andrade, "You did a good job, you got paid. What's the problem? What seems to be the issue?" as she tells him and Burkman she feels guilty. He offers some disturbing explanations for why Fauci should be blamed for his thorough response to coronavirus, like "Mother Nature has to clean the barn every so often."
Wohl responded "no comment" to Rommelman's story about Andrade, and Burkman replied, "We stand by Diana and her allegations."
The failed Joe Biden health smear
In March, Wohl circulated a fake coronavirus lab test, saying that Democratic presidential candidate Joe Biden had tested positive for the virus — and, dramatically, that he would die in 30 days.
The Biden campaign denied the story from the "tinfoil hat crowd." This was only a month after Wohl alleged that Biden was the member of a member of a Parkinson's disease support group, also unsubstantiated.
The failed Elizabeth Warren smear
In October of 2019, Wohl purported to have evidence of a recent "long-term sexual relationship" (lasting several months?) between Elizabeth Warren and a 24-year-old bodybuilder Marine.
At a hilariously ill-conceived press event, which featured a TV screen on a table, displaying the incredible graphic, "Elizabeth Warren Cougar?" Burkman and Wohl disseminated a"bombshell" document containing accusations by a man named Kelvin Whelly, who actually showed up to the event, unlike other "witnesses" of Wohl's in the past. The document claimed that Whelly met Warren on "COWBOYS4ANGELS," which bills itself as "a site for attractive young men who provide companionship escort services to well-heeled women," and that, in August of 2018, Warren flew him to Massachusetts, where met her at a Hilton Hotel in Woburn. He also claimed, with no evidence, that she asked him to participate in BDSM play, and told him "You wouldn't believe how many studs like you show up to the Congressional retreats."
Needless to say, it was a fiasco. Whelly couldn't stop cracking up while he spoke about the "ordeal," according to bystanders. He also took off his shirt at some point to reveal a supposed "sex scar," which was swiftly debunked via his public Instagram, on which he'd posted a photo of the same scar with the much more plausible explanation that he "hit [his] back with a chain trying to take down a swing." It all, of course, made Elizabeth Warren seem cooler, especially after her tweet response.
The failed Robert Mueller assault smear
In October 2018, in the midst of his investigation of Russian meddling into the 2016 election, Wohl and Burkman tried to accuse Special Counsel Robert Mueller of sexual misconduct. The plot failed almost immediately, as journalists began connecting Wohl to a company called Surefire Intelligence, which claimed to be "investigating" the claim of assault regarding Mueller. Wohl's email was actually used to register Surefire's domain name online, and the office number directed to his mother's voicemail. Most enjoyably, the LinkedIn profile pictures of Surefire's staff included pictures of celebrities like Christoph Waltz, as if no one would, um, figure that out?
The Mueller episode also introduced us to the Wohl-Burkman press conference, a hallmark of their wildly ill-conceived smear strategy that has now been repeated in several iterations. These events are characterized by personal appearance blunders (Burkman's fly was down this time), lackluster settings (it was a Holiday Inn), and absent witnesses (Mueller's accuser didn't show up).
The failed Kamala Harris birther smear
In January of 2019, shortly after California senator Kamala Harris announced her bid for president, Wohl began tweeting that she was not eligible to run because her parents were not born in the United States. He claimed that neither of Harris's parents had been "a legal resident for 5 years" prior to her birth, and that she was raised in Canada. Despite the fact that Harris is an American citizen born and raised in Oakland, Wohl stuck to his guns, also engaging in some more well-worn birtherism about Barack Obama.
The failed Ilhan Omar incest smear
In February 2019, Wohl and another far-right conspiracy theorist and fellow banned Twitter user Laura Loomer traveled to Minnesota to "prove" that Representative Ilhan Omar had married her brother in order to get him U.S. citizenship, a racist, fully-debunked attack that has long been made on the Somali-American politician. Wohl claimed he had to travel with security because of "Somali jihadists" who had threatened him, but refused to show any of these armed bodyguards on his livestream.
Burkman and Wohl then attempted to hold another press conference revealing their findings at the 2019 Conservative Political Action Conference, before being asked to leave the grounds. Not to be deterred, they held it in a nearby hotel lobby, with Wohl flanked by a "security guard" wearing a single AirPod.
Wohl and Loomer then released a "documentary" on their investigation, in which they showed Wohl supposedly filing a police report about death threats he had received from an account that was later revealed to be a fake profile. The man whose photo was used to create it has since sued Wohl.
The failed Pete Buttigieg assault smear
In April of 2019, Wohl and Burkman tried making false sexual-assault allegations against 2020 Democratic presidential candidate Pete Buttigieg. This time they published claims on Medium that a Michigan college student named Hunter Kelly had been a victim of Buttigieg's, and held a press conference in May in the driveway of Burkman's suburban home. By this point, Kelly had already recanted the allegations, and said Wohl had contacted him via Instagram to pitch the fake plot under the auspices of a "'task force' set up by the Donald Trump administration."
As "evidence" that they had not coerced Kelly into making the claims, at their press conference, Wohl and Burkman showed footage of him drinking coffee with the statement, "Most forced coercion attempts do not involve caramel frappucinos." The footage was shown on a television that had been wheeled onto the house's front steps that initially said "PRESS CONFERENCE" on its screen; a garbage truck very noisily drove by.
They also claimed that detractors were planning a "Protest Against Homophobic Bigots" in reaction to their press conference, and that "hundreds of leftist protestors" were "set to descend." Soon after, it was revealed that attendees who RSVPed to the protest event online had received confirmation emails containing the email address "wohlthinktank@gmail.com."
The failed Trump whistle-blower reveal
As recently as this past Tuesday, October 2, Burkman and Wohl were yet again holding a press conference in Burkman's Arlington driveway. This time, they promised to reveal the name of the whistle-blower who had revealed Donald Trump's phone calls with the Ukrainian Prime Minister, for which he is now facing calls for impeachment. (Notably, Burkman's home was the only one outside of which trash cans were visible.) Of course, they were "unable to release" the name of the informant, and still haven't.
This post has been updated with additional failed smear attempts.