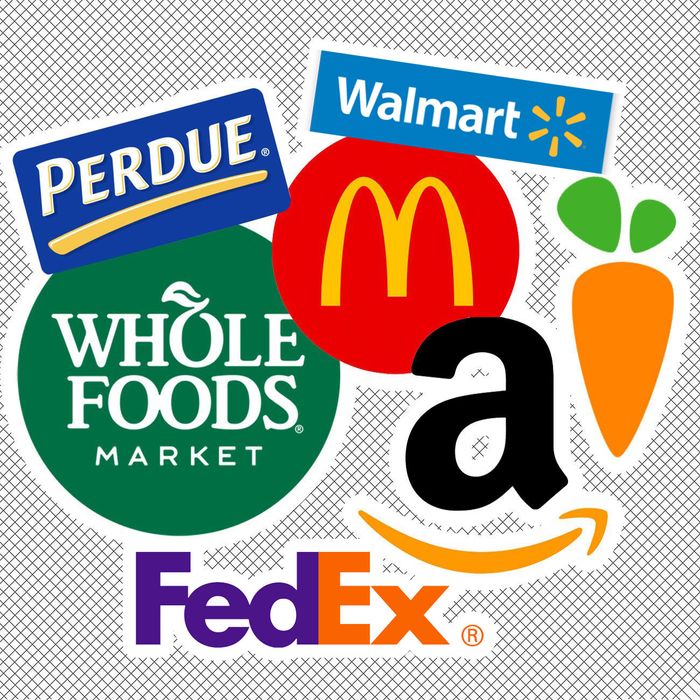 Photo-Illustration: The Cut
We're committed to keeping our readers informed. 
We've removed our paywall from essential coronavirus news stories. Become a subscriber to support our journalists. Subscribe now.
Millions of Americans are self-isolating at home to stop the spread of the coronavirus — but many are still required to go to work, at great risk to their health. These are the people deemed "essential workers," who provide vital services and have been exempt from stay-at-home orders, including doctors and other health-care workers who have been publicly begging for personal protective equipment and other resources for weeks.
They also include grocery-store and fast-food staff, delivery people, warehouse employees, and other food-service-related workers who have seen the demand for their labor skyrocket in the last few weeks while working conditions get more dangerous. As online stores and delivery services, like Amazon and Instacart, have more users than ever, the conditions of workers who pack, ship, and deliver orders have also come under more scrutiny.
Companies that employ these types of essential workers have reacted to the coronavirus crisis in different ways. Several have instituted paid sick leave of two weeks, but in many cases an employee only qualifies if they have tested positive for COVID-19, despite notorious testing shortages. (The new emergency federal coronavirus law passed by Congress mandates two weeks of paid sick leave for the first time in American history, but companies with over 500 employees are exempt.) Others have instituted "hazard pay" raises, but with many workers designated as gig employees (a.k.a. independent contractors) rather than full-time staff, they remain without health insurance benefits should they fall ill.
In response to increasingly precarious working conditions, workers across the country have staged strikes, either by walking out on the job or by staging "sick-outs," in which they call in sick en masse to protest labor conditions. Their demands include access to more masks and hand sanitizer, as well as better protections for seasonal employees. As more workers follow suit, we could see companies that have long profited from the gig economy forced to make some real reforms.
Below is a running list of recent and ongoing strikes:
McDonald's
Twenty-two workers at a McDonald's on Telegraph Avenue in Oakland did not go into work on Tuesday, May 26, striking to demand a two-week paid quarantine period, company-paid medical costs, and a deep cleaning of the store, plus proper personal protective equipment, the Los Angeles Times reported. Organizers and workers said that they had been told to make masks out of coffee filters and unused dog diapers when they ran out of coronavirus masks from management. At least four workers at the restaurant have tested positive for coronavirus, according to worker's rights organization The Fight for $15. "McDonald's is treating us like dogs," said worker Delia Vargas in a statement. "We don't want to die for their hamburgers so we are going on strike, to protect ourselves, our families and our communities."
The Oakland strike came a week after McDonald's workers in 20 cities planned a nationwide strike timed to the company's annual shareholder meeting. Citing new safety procedures including masks and gloves, McDonald's disputed organizers' assertions that workers are reporting feeling unsafe at restaurants around the country, and feeling afraid of being disciplined if they objected to conditions. "I don't think there would be strikes happening on 20 cities all on the same day (Wednesday) if this was not a widely experienced condition of all workers in fast-food restaurants," one union representative said.
Strikes have been ongoing at various McDonald's locations for more than two months. In April, cooks and cashiers at a Crenshaw Boulevard McDonald's in Los Angeles announced a strike after a co-worker tested positive for COVID-19. In March, McDonald's workers in Tampa walked out of work after being told not to wear masks and gloves in their store because it made customers uncomfortable, before workers in St. Louis and Memphis similarly walked out when they found out their hours were dramatically cut.
McDonald's is offering two weeks of paid sick leave for employees who need to quarantine, but only for those in their corporate franchises. They say they are not able to enforce sick leave policies at their independently owned locations.
Amazon, Instacart, Whole Foods, Walmart, Target, and FedEx (May Day strike)
Workers at some of America's largest companies joined in a May 1 strike at Amazon, Instacart, Whole Foods, Walmart, Target, and FedEx, timed to International Workers' Day. The Intercept reported that their demands included: "compensation for all unpaid time off used since the beginning of the COVID-19 crisis in March; hazard pay or paid sick leave to be provided for the duration of the pandemic; protective equipment and all cleaning supplies to be provided at all times by the company; and a demand for full corporate transparency on the number of cases in facilities." Workers either called out sick or walked out on their lunch breaks.
At Amazon, the $2 additional hazard pay for employees is still scheduled to end after the month of May, despite stay-at-home orders remaining in several states. An Amazon told the Cut, "To thank employees and help meet increased demand, we've paid our team and partners nearly $800 million extra since COVID-19 started while continuing to offer full benefits from day one of employment. With demand stabilized, next month we'll return to our industry-leading starting wage of $15 an hour. We're proud that our minimum wage is more than what most others offer even after their temporary increases in recent months, and we hope they'll do the right thing for the long term and bring their minimum pay closer to ours."
Trader Joe's (May Day strike)
A Twitter account associated with unionized Trader Joe's workers posted on April 28, "If Trader Joe's workers have organized their locations (brought on multiple people to join in) we encourage you to join the general strike" on May Day. It urged workers at other locations to support their colleagues and customers to boycott Trader Joe's stores on May 1.
As of mid-May, Trader Joe's has clarified that there is currently no end date to its $2 "thank you" pay for workers.
Amazon
Amazon has seen a rash of strikes around the country since the coronavirus pandemic drew attention to conditions in warehouses. On April 26, workers at a Shakopee, Minnesota, warehouse ended their shift early in protest after a worker was fired. Organizers said that Faiza Osman had worked at Amazon for three years and was "terminated for staying home with her two children during the pandemic." Amazon said only 25 employees participated in the walkout (organizers said 50) but reportedly reinstated Osman the following day. Amazon would not confirm to Vice that Osman had been fired but confirmed she is employed by Amazon.
Earlier in the month, more than 300 Amazon warehouse workers pledged to stay home in a sick-out to protest working conditions, according to workers'-rights group United for Respect. "We are calling out because Amazon is putting its revenue above our safety," Jaylen Camp, an Amazon worker at a fulfillment center in Romulus, Michigan, told the Guardian. "We are not essential to them — they just think of us as numbers and quotas. They are not protecting our health." The workers have demanded that Amazon "immediately close down" any facilities with coronavirus cases and provide testing and two weeks of pay for workers during that time. More than 130 warehouse employees have reportedly tested positive for the coronavirus, says United for Respect. (In a statement, an Amazon spokesperson called reports of strike participation "grossly exaggerated" and insisted that the company is providing adequate protections for workers.) On April 1, workers at a Detroit fulfillment center said they were planning to walk out because Amazon was not being transparent enough about two confirmed coronavirus cases among their colleagues. They were calling for Amazon to immediately close the warehouse for sanitizing, as well as more cleaning supplies, improved safety measures, expanded health benefits, a reduction in the pace of work, and greater transparency.
Warehouse workers in Staten Island, New York, walked off the job on March 30 to demand that the facility be closed for sanitation after an employee tested positive for COVID-19. Chris Smalls, one of the organizers of the walkout, said that around 100 employees participated. While Amazon said it was following proper protocols and had asked anyone who had come in contact with the sick worker to quarantine themselves for two weeks, Smalls said that fellow employees were worried about spread at the facility, which employs 4,500 people and had not closed.
A few hours after the walkout, Amazon confirmed it had fired Smalls, purportedly for failing to follow social-distancing guidelines, and disputed the number of people who participated, saying it was only around 15. Smalls released a statement, saying, "Amazon would rather fire workers than face up to its total failure to do what it should to keep us, our families, and our communities safe." An Amazon spokesperson said, "We respect the rights of employees to protest and recognize their legal right to do so, but these rights do not provide blanket immunity against bad actions, particularly those that endanger the health, well-being or safety of their colleagues."
Despite public pressure, Amazon has yet to release comprehensive data for coronavirus cases at its warehouse facilities, maintaining that it keeps tally at sites, but that "the actual — sort of total number of cases — isn't particularly useful because it's relative to the size of the building and then the overall community infection rate," according to Dave Clark, Amazon senior vice president of global operations.
McDonald's, Burger King, Taco Bell, Pizza Hut, Checkers, Starbucks, Subway, Popeye's, El Pollo Loco, WaBa Grill, Domino's (California and Florida)
Workers at 30 fast-food restaurants across California walked out of work on April 9, citing a widespread lack of protections against COVID-19. According to Vice, they wanted McDonald's and other employers to give exposed workers two weeks of paid sick leave, and all workers masks, gloves, soap, and $3 an hour of hazard pay. Cooks and cashiers at a Los Angeles McDonald's went on strike Sunday for a two-week quarantine, after finding out one of their colleagues had tested positive for COVID-19.
A similar strike occurred among fast food workers at 50 restaurants including McDonald's, Burger King, Checkers, Pizza Hut, Popeyes, and Starbucks in Florida on May 6, organized by The Fight for $15.
Target/Shipt
Workers announced the first walkout at Target's delivery service app Shipt on April 7. They demanded $5 of hazard pay per order, 14 days of paid sick leave for all workers regardless of whether they've received a positive coronavirus test, personal protective gear for all gig workers, and a return to a clear, commission-based pay model (Shipt changed over to an opaque algorithm system recently, which some workers say decreased their pay). They also asked customers to boycott the app on Friday, April 10 in solidarity.
Shipt previously offered two weeks of paid sick leave to workers, but they are required to provide the positive results of a coronavirus test. On April 8, the company announced it would be giving out $100 bonuses to shoppers who completed between 50 and 100 orders during the previous month, and $200 bonuses to shoppers who handled more than 100 orders. Workers said those bonuses amounted to less than the $5 hazard pay increase they asked for.
Domino's Pizza
Inspired by striking McDonald's workers on April 5, a worker at a Domino's Pizza also on Crenshaw Boulevard walked out to protest conditions at his store after a co-worker tested positive for coronavirus. "We have no masks and no gloves and will no longer put our lives at risk for pizza," he said. "I'm joining our colleagues at McDonald's in demanding two weeks of self-quarantine, with full pay, and for Domino's to pay health care costs if I, or any of my immediate family members, get sick with the coronavirus."
On April 15, the owner of the location announced he would be closing the store temporarily for thorough sanitization.
Family Dollar, Food Lion, Walmart
On March 27, fast food workers at McDonald's in North Carolina were joined by employees from Family Dollar, Food Lion, and Walmart in a "digital strike," after the state issued its stay-at-home order for workers at non-essential businesses. Strikers said the were protesting being forced to remain "on the front lines of a spreading public health crisis" without proper protective equipment, paid sick leave or health insurance, per a press released from the local union chapter NC Raise Up that helped organize the one-day strike.
Whole Foods
Workers in a group called the Whole Worker's National Organizing Committee at Whole Foods, which is owned by Amazon, announced a strike for Tuesday, March 30, in protest of their own working conditions. According to an email from Whole Foods CEO John Mackey that leaked on March 13, Whole Foods workers were previously offered unlimited unpaid sick leave during the month of March — and encouraged to "donate" their paid time off to co-workers with sick family members.
Strike organizers asked workers not to go to work in order to demand guaranteed paid leave for workers who are self-isolating after they believe they have been exposed; reinstatement of health-care coverage for part-time and seasonal workers; increased FSA funds to cover coronavirus testing and treatment; double pay during scheduled hours; new policies and sanitation at stores; and the shutdown of any store where a confirmed case has occurred, with pay for workers during closure.
Like Amazon, Whole Foods' hazard pay for employees is scheduled to end May 31.
Instacart
A group of shoppers for the grocery app Instacart announced a strike for Monday, March 30, if the company did not meet demands including: hazard pay of an additional $5 per order; free hand sanitizer, disinfectant wipes, and soap, as well as expanded paid sick leave to include workers with preexisting conditions who have been told to stay home by their doctors. Instacart responded within a few days, saying that it would provide hand sanitizer and make it easier for workers to set a default tipping average. Workers called the response a "sick joke" and said the strike was still on.
On April 2, Instacart announced that they would be providing shoppers with free "health and safety kits," which will include a washable and reusable face mask, hand sanitizer, and a thermometer. Many shoppers were still waiting for their kits two weeks later, according to Wired. Instacart has still not addressed hazard pay, while its workforce has ballooned to 500,000 people, outdoing even Amazon's increase in hires during coronavirus.
Perdue
A few dozen poultry plant workers at Perdue in Georgia walked out on March 23 to demand that the company sanitize the factory, which they said was not being cleaned properly. They also said that people working the production line said they had been exposed to coronavirus but were not sent home.
"To provide perspective on what happened Tuesday (March 24), two dozen of the approximately 600 total associates who work at our Georgia facility walked out," Perdue responded via a spokesperson. "After speaking with management, the majority of them returned to work. We know that many are feeling anxious during these uncertain times and we're doing everything we can to take good care of our associates while continuing to produce safe and reliable food."
This article has been updated with more information.