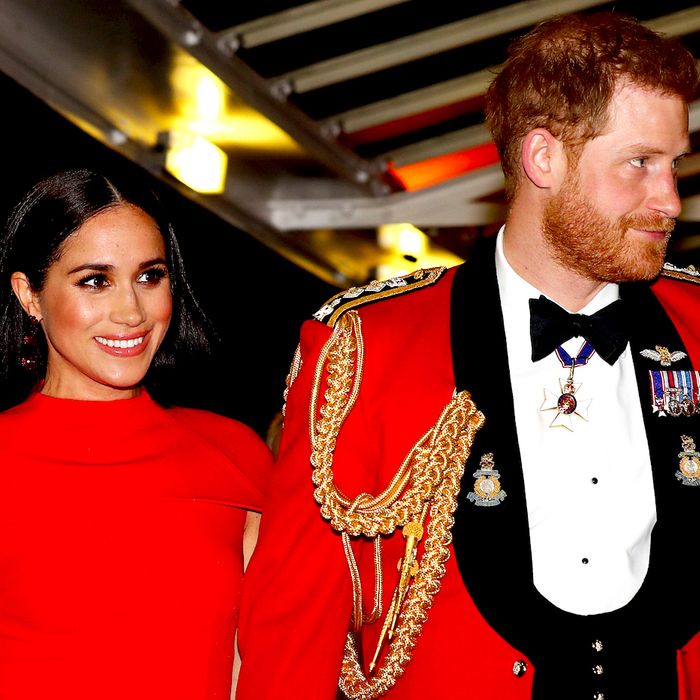 Looks like "Megxit" was actually more of a "Hexit."
Photo: SIMON DAWSON/POOL/AFP via Getty Images
When Prince Harry and Meghan Markle announced that they would be "stepping back" as senior royals earlier this year, the U.K. tabloids surprised absolutely no one in racing to blame the decision on Meghan. Immediately, the press branded the departure "Megxit," despite ample indications that Harry had long felt uncomfortable with his role in the monarchy and the relentless scrutiny that came with it. The tabloids' treatment of the Duchess of Sussex (which as been described as racist and generally "vicious") certainly did not seem to help the situation. And now, after months of "Megxit" speculation, it appears the split wasn't even Meghan's idea; according The Sun — notably, one of the tabloids with which the couple recently broke up — it was Harry's.
The Sun cites a "publishing insider," who reportedly told the outlet that the upcoming biography of the Duke and Duchess, Finding Freedom: Harry and Meghan and the Making of a Modern Royal Family, will correct the record. "That word 'Megxit' in particular has always angered Prince Harry," the source allegedly said. "It gives the impression that the decision to walk away from the Royal Family was Meghan's."
"The reality is Harry drove that decision," they continued. "The book will make that clear and explain why it had to happen. The truth is Harry had been unhappy for a long, long time." According to this insider, Harry had been "considering" the move for over the year, and while Meghan supported him, "there was more than one occasion where she asked him if he was certain it was what he wanted."
Given The Sun's relationship to the couple, skepticism would be warranted. Finding Freedom is set to publish in August, though — reportedly, with the Sussex's cooperation. So perhaps it is time to start calling "Megxit" what it really was. Maybe "Hexit," although it looks like that term has already been claimed by computer science. Whatever. Give credit where credit is due.