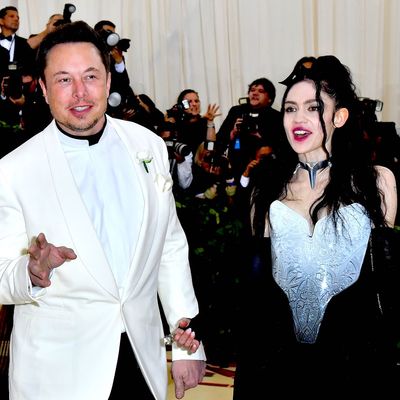 'Kay!
Photo: ANGELA WEISS/AFP via Getty Images
On Monday, Grimes gave birth to her first child: a baby boy called, according to his father — SpaceX CEO and unholy dancer, Elon Musk — X Æ A-12 Musk. The proud dad shared this inexplicable choice of names on Twitter, shortly after confirming the birth with a chill "Mom and baby all good" fired into the ether, and after posting a photo of his slumbering son with a face tattoo filter.
So, given the context in which the name announcement was made, I can see where you might have thought Musk was fucking with you. X Æ A-12 isn't not a name that really rolls off the tongue. And yet, against all odds, it appears to be legitimate (though perhaps not technically legal). On Tuesday, Grimes herself stepped in to explain how they settled on the moniker: "X," Grimes tweeted, stands for "the unknown variable." Æ, meanwhile, is her "elven spelling of Ai (love &/or Artificial intelligence.)" Moving right along, A-12 equals the "precursor to SR-17 (our favorite aircraft). No weapons, no defenses, just speed. Great in battle, but nonviolent." And then, of course, "A=Archangel," Grimes's favorite song.
On Thursday, Musk explained the choice further; in a typical Elon Muskian fashion, he went on the Joe Rogan Experience podcast and outlined how to pronounce the inscrutable name. Apparently, you say X "like the letter" and pronounce Æ like "ash," meaning the baby's name sounds something like Exash A-12. "She's great at names," Musk said of Grimes, adding that she's the one who came up with the Exash part. But Musk did help out: He says he picked the "A-12" aspect, which is based on the CIA reconnaissance aircraft. "The coolest plane ever," he proclaimed.
When you actually think about it, this all makes perfect sense for this couple. Never forget, Grimes's pregnancy announcement was basically just a photo of her gestating a little baby alien. So, welcome to the world little X Æ A-12 Musk, and best of luck.