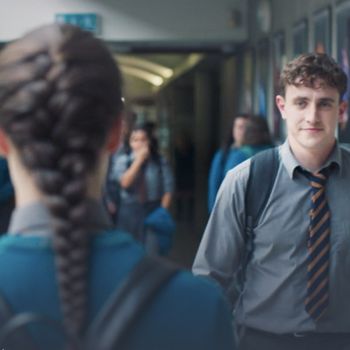 Where are we and what the hell is going on, indeed.
Photo: Hulu
Almost exactly 15 years ago, The O.C.'s Marissa Cooper pigeonholed Imogen Heap's "Hide and Seek." In the series' explosive season-two finale, she picked up a gun and fired a bullet into Trey Atwood's shoulder, the kickback cuing a now-notorious bridge — "mmmmwhatcha say" — and, for me, a Pavlovian response: I hear Heap's auto-tuned drone, and Trey's spectacular 20-second fall replays in my brain.
So imagine my confusion when I ran headlong into "Hide and Seek" during the second episode of Normal People, 2020's Hulu adaptation of Sally Rooney's 2018 highly acclaimed literary novel.
Granted, Normal People does not go so far as to involve the line "mmmmwhatcha say" in repurposing "Hide and Seek," but nonetheless, the track was the last thing I expected to hear in a cerebral setting: Encountering "Hide and Seek" here, out of context, felt disorienting and distracting, like running into your dirtbaggiest ex with an elegant, academic new partner. What unhinged matchmaker decided this was a good idea? This is a song for audible gasps and overwrought blockbuster cliffhangers — music for shooting your nemesis to. It is not for award-winning fiction and stirring nuance.
In Normal People, "Hide and Seek" scores an egregiously sexy montage that walks us through a very delicate and, initially, very secret relationship between our protagonists: Marianne — when we meet her, a bookish teen outcast, played by Daisy Edgar-Jones — and Connell, a quiet guy who appears to have defaulted into the popular crowd by virtue of playing sports, played by Paul Mescal. Here they are passionately making out, naked in bed; then barely acknowledging one another with fleeting eye contact and half-smiles in the hallway of their Irish high school; now asleep in one another's arms after emotionally connective car sex on the side of a secluded road. The vibe is all muted earth tones and meaningful, furtive glances, a viable spark both ignited and defused by overthinking — Rooney in a nutshell. Normal People is composed of minute and devastating details. It runs on subtle, skilled acting; its story line was built by a writer hailed as "the first great millennial author" and "Salinger for the Snapchat generation." Rooney's dialogue is intricate and discerning; the meat of conversations often lies in what goes unsaid. The characters confront relatable, accessible, even familiar events and situations.
The O.C., meanwhile, was made of moments like Marissa shooting Trey. Despite some legitimately good performances and snappy writing, no amount of prime-time gloss could obscure the big soapy heart beating at its center. While many any of us will have at least one Normal Person in our rearview mirrors, not so many of us will have seen our dad get punched out at cotillion, or discovered that our boyfriend is sleeping with mom, or overdosed in an alley in Tijuana, or shot our boyfriend's brother in the shoulder.
Which is not to suggest that the The O.C. and Normal People can or should exist in any kind of dichotomy, simply to say that they live worlds apart from one another, and one leans on musical cues to evoke intense emotional reactions where the other doesn't need to. To some degree, I blame neurochemistry for "Hide and Seek's" ability to kneecap me with nostalgia. It's not the song's fault, but the team responsible for The O.C.'s legendary mixes.
I'm sure that everyone working in television soundtracks is aware of the The O.C.'s precedent, particularly the use of "Hide and Seek." It is, as Vox correctly notes, "infamous," a status arguably cemented by SNL's 2007 O.C. parody, "Dear Sister," and the decade of internet analysis that followed the episode's premiere. In selecting "Hide and Seek" for a new show, I suspect you would know you're picking a song with deeply entrenched connotations. I suspect this all the more because "Hide and Seek" isn't even the only instance of Normal People dipping into The O.C. songbook. See also: "Into Dust" by Mazzy Star, which, in The O.C., signals Marissa Cooper in mortal peril, and in Normal People, scores Marianne and Connell feeling alone even in the presence of others.
Did the music supervisors simply assume that enough time had passed? Do they know that I am hamstrung by my own memories, that there will never be a time in my life where "Hide and Seek" doesn't catapult me backwards through time to land on Trey Atwood's dingy carpet? Are they fucking with me? To quote the song itself: Where are we and what the hell is going on, indeed.