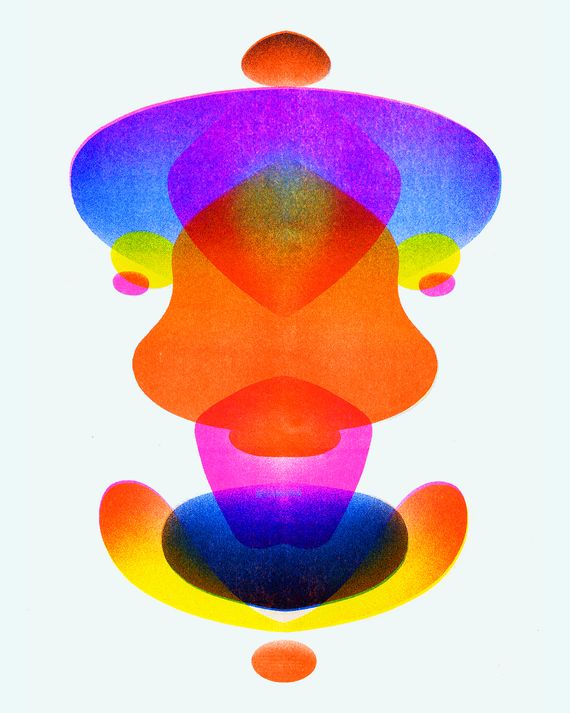 Illustration: Simone Noronha
Livia, 23, London
I'm an admin in a queer nudes chat. People just share whatever they want, whenever they want. Nipples and butts are allowed, but no full-frontal stuff. So it's quite PG content, really. There's just so much love — it's not about posting nudes or that everyone's really horny. I have posted videos of myself kneading dough in there, and people are just like, "Yes, this is great. This is what I need right now. Please do that to my shoulders." I know I don't know these people, but it's such a positive space. I don't even really feel nervous sharing a picture that has my face in it. Being in a community, it just feels safe.
I've always been very, very not into sharing pictures and things with people whom I don't know. But now I'm engaging in this group of 40 or 50 strangers, which is ridiculous. I never thought I would end up being someone sending pictures of my boobs to chat — for free. It just feels like, Oh God, the world is ending. Nothing matters. I'm just going to go with whatever happens to me right now and see how everything ends up in a few months.
I've been talking to this one girl from Paris who's in the chat. I posted a picture, and she replied directly to me. And then we sexted a bit. Then after that, I was like, "I know this is really lame, but I kind of want to just get to know you." We've shared more pictures with each other, and we've had two virtual dates over Houseparty. I got ready. I put makeup on. I did a whole little look. I wore a cute dress. We talked for four and a half hours, and it was just really nice. Now we talk almost every day. We follow each other on Instagram and send each other things. I'll send her pictures of my dog, and she just made a recipe of a cake that I sent her.
Usually with dating, I'm so lazy. If they're not close by, I'm not going. My ex and I live a five-minute walk from each other. I'm also a very physical person. I really like hugging people, and I really like, you know, scooching closer on the sofa or whatever. Obviously I can't do that here. I just want a back scratch and a cuddle, honestly. But I have a really good vibrator, so it's fine.
Interviews have been edited and condensed for clarity.