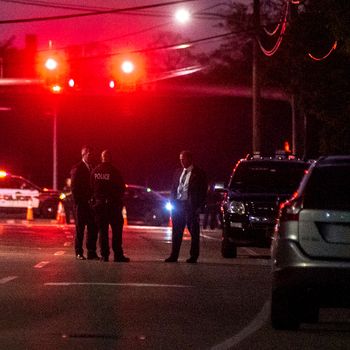 Police officers in Amityville, N.Y., the scene of the fatal stabbing.
Photo: Johnny Milano/The New York Times
On Thursday afternoon, a 72-year-old Long Island man was stabbed to death during a Zoom call with about 20 other people, the New York Times reports. The main suspect, police say, is the man's 32-year-old son, who has since been arrested and charged with second-degree murder.
Dwight Powers of Amityville, Long Island, was on a video call at 12 p.m. on Thursday when he was attacked by his son, Thomas Scully-Powers, the Suffolk County Police Department said in a statement. "We don't know what they witnessed," Detective Lt. Kevin Beyrer told Newsday of the participants on the call. "They just noticed him fall off the screen and then they heard heavy breathing. It was horrible that they had to witness this."
The Times reports that several Zoom participants called 911, and later gave authorities a description of the suspect. Less than an hour later, police found and arrested Scully-Powers, who had fled the scene after jumping out of the second-story window in the apartment where he reportedly lived with his father. (According to online records, the apartment is in a senior living community.) As of Thursday night, Scully-Powers was being treated at a local hospital for minor injuries, and investigators were searching for the knife used in the stabbing.
A motive has not yet been announced, and Zoom has not yet publicly commented on the stabbing. Per the Times, Scully-Powers will be arraigned once he is discharged from the hospital.
This story is developing and will be updated as more details emerge.