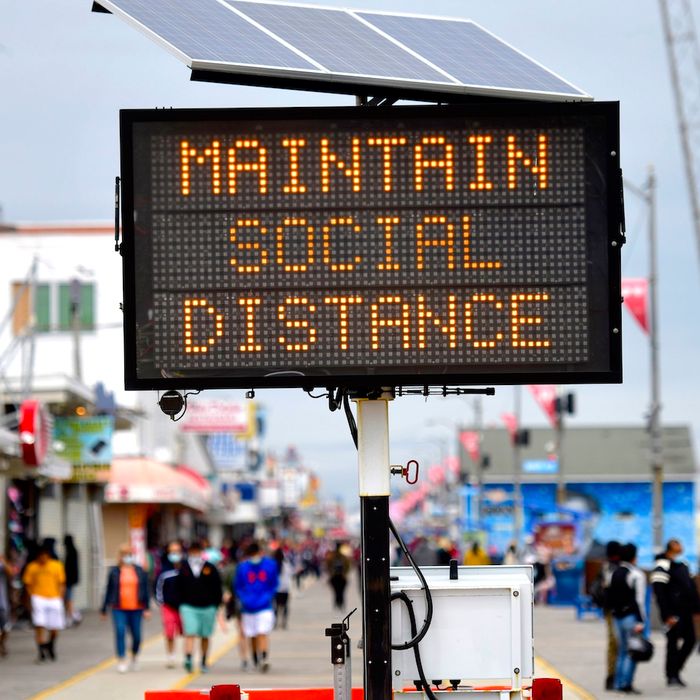 A gentle reminder to Jersey Shore visitors over Memorial Day weekend.
Photo: MARK MAKELA/Getty Images
Pennsylvania health officials are urging caution after beach house parties on the Jersey Shore translated to 12 new coronavirus infections in Bucks County over the past two weeks. It appears that these cases all traced back to a single New Jersey man who attended a party in Cape May County over Memorial Day weekend and has showed up at several others since.
"This is exactly why we can't let our guard down now, even if it feels 'safe' to be at the beach," Bucks County Health Department director Dr. David Damsker said, reportedly adding that he expects yet more infections among the partygoers' family members. "One unlucky exposure can lead to a large cascade of cases down the line. We want everyone to enjoy the warmer weather and have fun, but let's keep in mind that COVID is still circulating the community at baseline levels."
According to NJ.com, the new infections occurred among "college-age students," all of whom have "mild" cases. Contact tracing is underway, and New Jersey State epidemiologist Dr. Tina Tan said the health department there is "gathering information to understand who was the initial source of exposure that caused the outbreak."
It's not presently clear whether the New Jersey patient was symptomatic at time of partying. Though the World Health Organization said on Monday that it believed asymptomatic transmission of the virus may be "very rare," it changed course dramatically on Tuesday, saying that up to 40 percent of transmission may occur via individuals with no symptoms. Health experts have warned that easing social-distancing guidelines too early could lead to a resurgence in coronavirus cases, and since Memorial Day, new infection rates do appear to be up in many parts of the country. New Jersey — whose leaders recommended but did not require mask use as they began reopening beaches — was far from the only state to see large crowds pack into public spaces. Maybe you remember the scene at that Lake of the Ozarks swim-up bar on May 23? Hm, yes, harrowing. And perhaps still a bit too soon to corral so many bodies into such close quarters.
This post has been updated with new information.