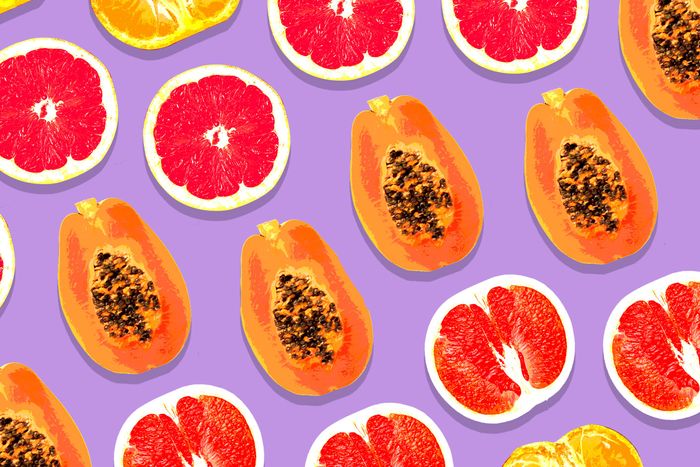 Photo Illustration: Julia D'Orazio/The Cut
Photo: Shutterstock
Excuse us for being bold, but may we humbly suggest you buy a sex toy? Many of us are navigating a socially-distanced sex life for the first time ever, or we're posted up with our partners 24/7 — in which case, a new toy can provide a welcome reminder of the non-coworking-in-sweatpants aspect of your relationship. In general, 2020 has us navigating a new world of stress and uncertainty — and hey, an orgasm is a better escape than most.
In honor of this all-important method of self-care, we bring you our 15 favorite products from Bellesa Boutique. Bellesa is a carefully curated shop that sells a multitude of brands, all neatly organized, with lots of info and reviews. It's the opposite of the cliché chaotic, low-rent sex shop: Bellesa feels accessible and sex-positive, with a distinct cool-kid vibe. It looks like a place you'd buy your makeup.
To help find Bellesa's best, we tapped our favorite sex- and body-positivity activist, Laura Delarato. A creative director at Vox Creative by day, Delarato began her career as a sex educator, and loves that Bellesa products are curated with the highest quality and safety in mind. "A lot of people don't know that sex toys are an unregulated market, so some toys are made from materials that aren't body-safe," she says. "Bellesa only uses high-grade materials, everything is ergonomically designed, many toys feature waterproofing and multiple speeds that in other toys would cost twice as much."
Delarato also believes deeply in the link between pleasure and liberation. As she puts it: "Prioritizing yourself is so important. It lets you get intimate with yourself, make space for experimentation and pleasure, and get in the habit of telling your truth. It's a self-care thing that you carry into your relationships, your career, the rest of your life." Well said — now, let's get shopping.
Exclusively for the Cut readers, get 20% off your purchase and free shipping at Bellesa Boutique: Enter THECUT at checkout, or shop below.
Best Beginner Toys
Delarato says the Nirvana is "an excellent first-time vibrator for anyone not sure what type of pleasure they're seeking." It's a classic wand shape, built for clitoral stimulation with seven vibration modes, and it's fully waterproof, so you can take it in the tub with you. Delarato points out that you don't usually find features like the Nirvana's at this price, noting: "It's a luxury toy in terms of the look, material, rechargeability, and the waterproof aspect, but it's incredibly affordable for a toy that will last."
If you're seeking sensations beyond the standard vibration, the Satisfyer Pro 2 is the way to go. The toy's soft silicone head surrounds your clit, while the "pressure-wave technology" delivers a mix of sucking and caressing sensations. Delarato says it's "ideal for vulva-owners looking for simulated oral sex." As one reviewer said: "Just WOW — it provides quick, satisfying orgasms without a ton of effort."
This simple, beginner-friendly vibe might be small, but it packs a punch with four different pressure intensity levels. "It's perfect for individuals, or as an introduction to sex toys in a relationship," Delarato says. She also loves that "it's compact and easy to store if you're visiting a lover or if, say due to a pandemic, you've moved back into your parents' home!"
Best Toys for Couples
Delarato recommends this toy for hands-free fun for partners of any gender. "The Halo is a great couples' toy for anyone. It can be used externally on any genitalia, or be worn at the base of a penis or silicone toy." Reviewers report that it greatly increases pleasure for both: "We thought Halo would make it feel better for only me, but I swear he loves it just as much or more."
Delarato likes this hands-free couples' vibrator with a techy twist, which can be worn during sex, or enable socially-distanced play. "It allows for couples to feel connected even at a distance with the We-Connect app," she says. "You can control the vibration pattern, play virtually, or even use it as a way to introduce power dynamics into the sexual relationship."
Best Toys for Anal Play
If you're newer to sex toys, or just want one that can do it all, check out the all-powerful Gaia. Per Delarato, "it's a versatile toy that you can use for clitoral stimulation, or penetration, and it allows for both front and back play due to its flared base." With seven different vibration modes, it's a very solid addition to your bedside drawer.
This anal bead set "allows user to experiment by playing with depth, width, and texture," says Delarato. "For vulva-owners, it's an ideal toy to pair with a vibrator or dual stimulator to experience fullness, or act out the fantasy of double penetration."
The Best Dual-Stimulation Toys
The Dea features two separate motors, and offers both internal and external clitoral stimulation. If the possibility of a blended orgasm isn't enough to interest you, it also looks mighty stylish, like the superhero of sex toys. It's also ideal if you want to keep things hush — Delarato points out that, "since it's rechargeable, the motors are much quieter than a battery-operated toy." As one 5-star review put it: "This thing is getting me through quarantine!"
Delarato's other pick for best dual-stimulation toy is the ergonomic, elegant Air. "It's a hands-free product that stimulates the external clitoris, and the clitorourethral complex — AKA, the infamous G-Spot — at the same time." And unlike many toys that are vibrate-only, this one features Bellesa's patented suction technology, which one reviewer said "brings you to orgasm faster than ever before." Sold.
Best Accessories
A water-based lubricant is a must-have because "it's safe to use on all types of toys and with all condom materials," Delarato says. "It's also glycerin- and paraben-free, is ideal for people with sensitive skin, and it won't stain your sheets!"
"Kegel balls help strengthen the pubococcygeus (or PC) muscle that supports the pelvic organs, helps reduce incontinence, and gives vulva-owners more control over their orgasms," Delarato says. One reviewer also reported that these "increased my orgasm level more than I expected." Each ball in this set of three is weighted differently, so you can build up strength over time.
Delarato recommends this fragrance-free, "sex toy and body-safe" antibacterial spray for the all-important step of keeping your toys clean: Just spritz directly on your toys, rinse with water, and allow to air-dry. Delarato recommends cleaning after each use, and before storing your toys.
The Best Internal Toys
Can a dildo be a statement piece? The Legendary Eleven (as in, inches) certainly comes close. This sculptural toy is made of stainless steel, which provides pressure and possibilities for temperature play. It can be used for front or back play, and as Delarato says, it just looks good: "It's luxury in quality and in style — it begs for users to leave it out."
Another great vibe for beginners is Bellesa's best-selling Aurora. "It can be used externally on all people," Delarato says, and for vulva-owners, its shape is perfect G-Spot play. "It puts pressure on the walnut-shaped gland along the clitoral complex to potentially prompt internal orgasms and ejaculation — yep! That's a thing!" As one reviewer said: "Best orgasm I've ever had in my life, hands down."
Another dual-stim vibrator for simultaneous internal and external play, this one means business. "This toy has strong vibes and thrusts up and down in short, powerful bursts up to 850 times per minute," says Delarato. It's also rechargeable and fully waterproof — your tub's calling.
This advertising content was produced in collaboration between Vox Creative and our sponsor, without involvement from Vox Media editorial staff.