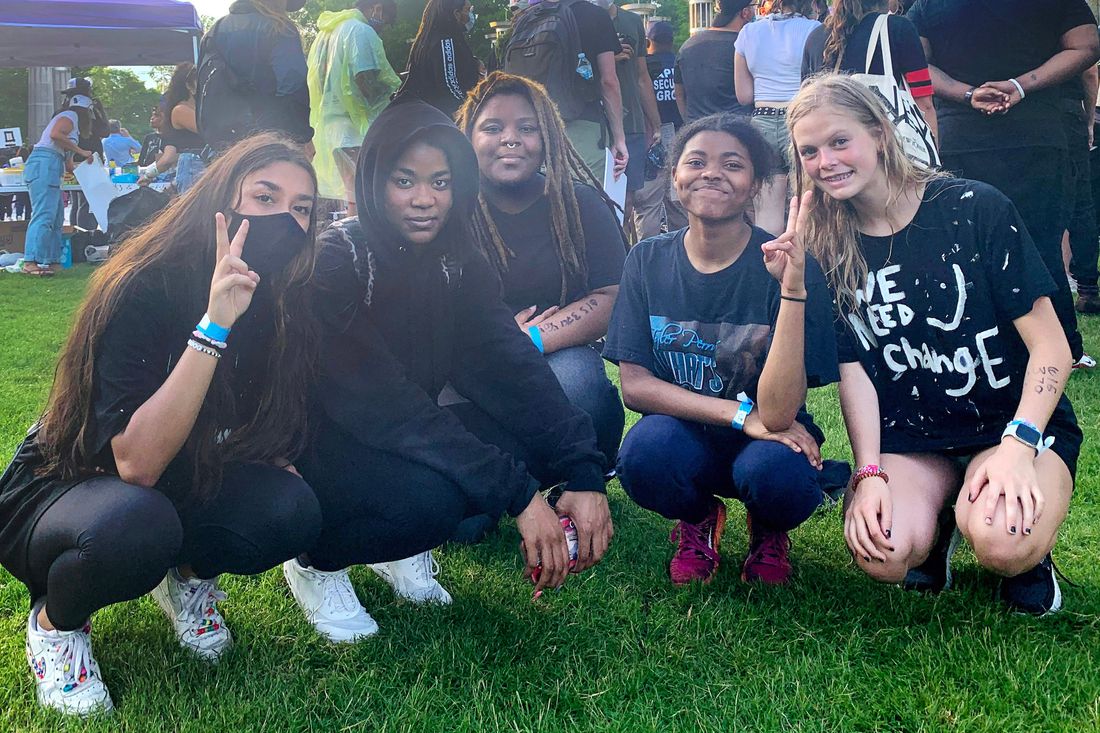 Photo: Brinley Hineman / The Tennessean/USA Today Network
As protesters across the country — and world — continue to march against and raise awareness about the racial injustice and police brutality facing Black people in the U.S., much attention has been paid to the big cities where the movement began, like Minneapolis and New York City. But on June 4, in Tennessee — a largely conservative and white state that voted overwhelmingly in support of President Trump in 2016 — a march in Nashville became the "region's largest protest against racism and police brutality in recent memory," according to The Tennessean. The protest drew an estimated 10,000 people. And it was organized by six teenage activists who met on Twitter: Nya Collins, 16, Jade Fuller, 15, Kennedy Green, 14, Emma Rose Smith, 15, Mikayla Smith, 16, and Zee Thomas, 15.
One of the young women, Fuller, attended a (much smaller) protest immediately after the May 25 death of George Floyd, but said she was afraid the momentum might die out in Tennessee's capital. That's when she began connecting with other outspoken young people on Twitter, including Zee Thomas, who had created a protest flyer for a June 4 march in downtown Nashville, and around the state's Capitol building. Soon after, they recruited friends and younger siblings and began planning on FaceTime and in group chats.
They called themselves Teens 4 Equality and set up an Instagram page where they spread word about future protests, encourage local politicians to remove statues of Confederate soldiers, and discuss police brutality in-depth. They've even caught the eye of President Obama, who tweeted about their efforts, and the Tennessee State House of Representatives, who formally honored them on June 16. In an op-ed for the New York Times, Margaret Renkl declared them new members of a "long tradition of youth activists" alongside the Parkland survivors, Greta Thunberg, and Malala Yousafzai. Like other teen activists, they are unhappy with the world they inherited, and they have expansive visions of what society could be — and how to create that change with whatever tools they have at hand, including TikTok and Instagram. Already they are helping to spark change: On June 8, the Nashville mayor announced wider use of body cameras by the city's police department, starting next month. But that won't be nearly enough for these teens, who are insistent on defunding and reforming the police, drawing inspiration from Minneapolis, where the city council voted to dismantle the police department earlier this month.
Three of the young organizers, Jade Fuller, Kennedy Green, and Emma Rose Smith, spoke to the Cut about how they pulled it off, what it means to be doing this work around racial justice in the South, and the need to keep educating their peers, not to mention their very own parents.
Brock Colyar: I was born and raised south of Nashville, and lived in Tennessee until I left for school in 2016. One minute I wasn't paying any attention to what was happening in my home state, and the next minute every headline out of Nashville was about six teen girls who organized a massive protest. What was the organizing like? How did 10,000 people show up?
Jade Fuller: I think it was because we had a lot of other organizations and people, like Black Lives Matter Nashville, who were willing to support us and repost our flyer. It was basically just social media people reposting it and spreading the word.
Emma Rose Smith: We just put the idea out there with a time, date, and location, and then we bought the supplies, and people came.
BC: What was it like getting there and seeing so many people then? 
Kennedy Green: It felt good that people actually saw the problem with the system, because the South? I didn't really know there were that many people [here] who would support the Black Lives Matter movement.
Emma Rose: When we were at the bottom of this highway, you could see [people] almost a mile back. We felt like a thousand or so people were there. [Editor's note: There were in fact 10,000.] It was just insane. And I was happy to know that we were actually going to make change.
BC: What inspired you to really get involved in this fight? 
Jade: I don't think a lot of the students who go to my school are very supportive because of their privilege. Because I go to a predominately white school. And the reason I have the morals I have now, and the reason I support the Black Lives Matter movement, is because I'm a person of color, and seeing everything that's going on in the world just really shows you why you need to be supporting the movement.
Kennedy: I wanted to support the movement because I have a brother, and when he grows up he'll be a Black male in America, and you see a lot of police officers killing Black men or brown men, and I don't want that to be my brother. Because we are the future. We need to do what the older generations couldn't do. I'm just here to make a change for everybody.
BC: How important do you think the social media aspect of the movement is, especially since it was such a useful tool in organizing your protest?
Kennedy: I think posting on social media is good — you're bringing awareness. But I feel like if you're not going to go to the streets, you should also sign petitions and try to talk to your state representative or try to to talk to people who have a bigger platform, or you can send emails, or try to educate people. You don't always have to protest, but you can educate people.
Jade: If the things that are happening to Black people in America were not recorded and put on social media, there would be hundreds of deaths, and nobody would even know about it.
Emma Rose: I developed most of my political views on social media. I watch TikToks and Instagram. I feel like people are using [social media] to educate themselves and learn more about the movement that they can't get on the news media. Because the news media is not showing what people need to know and what people need to understand about what's happening.
BC: Have you faced any backlash since the protest? And what does it mean to you three to be doing this work in the South? 
Kennedy: I was actually surprised that we had a lot of support, because we do live in the South, and I've encountered various types of racism from people in the South. We did get backlash from a lot of people saying we're brainwashed or that we're being paid to do this or that we're secret people the Democrats are using to win.
Emma Rose: We're not even Democrats.
Kennedy: I'm not even a Democrat. I'm a radical.
Emma Rose: We're liberals and leftists.
Jade: Yeah!
BC: What do you say to those people that accuse you of being paid or being Democratic operatives? 
Emma Rose: We don't even respond.
Jade: Or, if we respond to hate comments with love, I think they feel taken aback. And they're like, "Oh. What I just said didn't even get to them."
Kennedy: Kill them with kindness.
Jade: There's no changing our views.
Emma Rose: Yeah. There's no changing who we are.
BC: How do you respond to friends who might be negative about the work you're doing? 
Jade: I'm not friends with those people anymore. 'Cause it was actually really disappointing to see a lot of the people who I thought were my "friends" who did not post about it. They're the types of people to be like, "Oh! I'm not racist. It doesn't matter if I don't post." I'm like, honestly at this point you're either racist or anti-racist because there's no neutral ground in this anymore. You can't just be like, "I want to ignore this because this is politics." This isn't politics. It's human rights.
Emma Rose: Ignoring something like this isn't going to make it go away. People need to stop being like, "Oh I'm going to get judged if I post." You're not going to get judged! No one is going to judge you for having your own views.
Jade: And if they do, why do you want to keep them as your friends? Why do you want to be friends with someone who wants to yell at you because you say you stand with the Black community? Why would you want to be friends with racists?
Kennedy: If they judge you, tell them to come to me.
BC: Have your parents been supportive of your political engagement? 
Jade: I started educating my parents. My dad is still a little skeptical, and so is my mom, but I've been trying to educate them more and more.
Emma Rose: My mom finally agrees with ACAB ["All Cops Are Bastards" – a controversial acronym that likely emerged in England in the early 20th century. In the current movement, it has become common parlance on protest signs and on social media. 747.2M TikTok videos are labelled #acab]. It took her a long time. My uncle's a cop — her brother — and finally she was like "Okay, I understand now." Because people are like, "Oh it means all cops are bad." We're not saying that they're bad people. We're saying that there are bad cops.
Jade: Because they work for a bad system.
Kennedy: When you think about police officers, this system used to be used to catch slaves and other people of color. You have to realize this system was created in the 19th century. It was highly segregated and really racist. So you have to realize that there is racism [built into] the system we have today. It needs to be reformed. Make it new. Make it good for all people.
Jade: Also, for people facing domestic abuse, there are so many cases of women and men who say they would never call the police again if they were ready to leave their abusive relationships. Because they do not help.
Emma Rose: We need to disband them and then rebuild. Take away the funding and rebuild the system — every system.
BC: What would you say to the governor of Tennessee [Bill Lee, a Trump acolyte] if you could talk to him?
Jade: I want him to reform the police, defund the police, put the money back into communities of color, especially into education and public housing. We all know that teachers don't get paid enough. And less money into literally militarizing the police.
Kennedy: I would like for him to schedule me a meeting [with our state politicians]. They need a child to break it down for them because they do not understand.
BC: What's next? What are your future plans?
Jade: Just this morning, we were making bracelets for Pride. We got them from Turnip Green Creative Reuse — kind of like a Goodwill for crafts. We've been making different colors for the different Pride flags. We're going to sell them and donate the money to LGBTQIA youth. And then, we have a Fourth of July protest.
Emma Rose: We're trying to get a local, Black-owned barbecue restaurant [to serve food]. We feel it's not a time to be celebrating the country, because we don't really have anything to celebrate right now. The country is broken, shattered, and I don't want to celebrate my country as it is because I don't like my country right now. We're also planning a candlelight vigil for Daniel Hambrick [a Black man killed by a white police officer in 2018], the day before his murderer's trial.
Jade: This happened in Nashville.
Emma Rose: He was shot in the back three times. How could you feel threatened if someone's walking away from you?
Kennedy: You said you would protect and serve the community. We are the community, so why do you feel so threatened by us?
BC: I think things do feel more hopeful now than before. There have been people protesting in my tiny, conservative hometown in Tennessee. Certainly, they should've been doing this for a long time, but it feels like a sea change. What has been each of your most hopeful moments?
Jade: We were at the very front with megaphones, and I loved when I would say a chant, and I would hear hundreds of people behind me saying it. And then I also loved when we went to the Capitol, and we were all sitting down or laying down in memory of George Floyd and all the victims of police brutality, and it started raining. Somebody said, "These are the tears of our brothers and sisters." And I feel that so hard. It was really magical and inspiring. And then there was a rainbow at the end of our protest. And at the end of the rainbow it hit a Black Lives Matter poster.
Kennedy: I was like, "Oh. Something goofy's happening."
Emma Rose: There's an MLK quote: "The arc of the moral universe is long, but it bends toward justice." God is on our side. And we're going to win this battle.
Kennedy: The best part of the protest for me was just feeling like a community. Right now the country is divided, and I feel like we really showed them what being united looks like. But something that really irritated me was when we were sitting right there in front of the riot police for eight minutes and 46 seconds [the amount of time a white police officer pressed his knee on George Floyd's neck]. And only when the media showed up did the cops decide to take a knee. Are you serious? You had nine minutes to take a knee.
Jade: They were literally holding their guns up at us while we were laying on the ground. People had their hands behind their backs.
Kennedy: I'm 14. What am I going to do? They showed the police officers kneeling, but they didn't show 45 minutes after that when they were shooting rubber bullets and teargassing people.
BC: Are any of you interested in staying in politics or activism? And what advice would you give to other teens who want to get involved in the movement?  
Jade: I want to stay in this. I think all of us want to. The boycotts in the past that actually reformed things, like Martin Luther King Jr.'s activism, took over a year. So this isn't something that we're going to stop doing. And to all the young people like me: I just want you to spread awareness. It's the least you can do. Talk to your parents, your friends, your community, your schools. Start with the uncomfortable conversations with your family and your friends and then just keep going and educating and learning and improving.
Kennedy: I will definitely be running for president or some type of government official when I get older. So I want to tell the youth: Be loud, and do not let them silence you.
Emma Rose: Don't even think about it. Just do it. Change comes from everyone's community working together. And don't burn out. Don't make this a one-week hashtag. This is not a hashtag, it's a human.
Kennedy: Please do not stop protesting. I'm begging you. This isn't about your comfort. This is about human rights.
Emma Rose: You shouldn't be comfortable during this. And you shouldn't be comfortable with people dying.