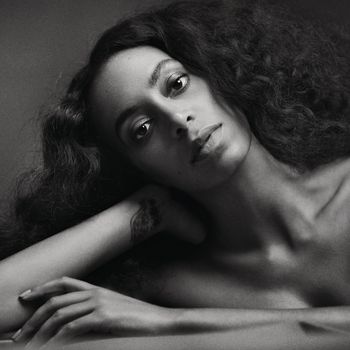 Photo: Mikael Jansson / Trunk Archive
Few love Black people quite like Solange.
All parts of us. That means our flaws and our faults and our joy. That means our beauty and our fury and our grace. In Solange, we find an artist not afraid of sharing our whole essence with the world. In Solange, we find someone willing and eager to reveal that which is true about Black life, not what is palatable.
It is an example all can embrace, especially now, when a radical, much-needed uprising is underway in America and around the globe. After years centuries of neglect, subjugation, degradation and discrimination, Black voices are front and center. From engaging with anti-racist reading lists to removing racist statues and dismantling institutions fueled by systemic inequality, society is finally grappling with its relationships to Black people.
Solange is an artist's artist, utilizing music to tell the story of Black womanhood, of Southern culture and glory, of what it means to be free and not free all at once. In 2020, during the pandemic and the uprisings and the great awakenings we find every day, her vision is a blueprint for how to move forward and keep going. It is a guide for how to operate and love blackness completely.
Solange has always made room for the pain, beauty, and joy of Black people in her work. Her attention to detail — from her hairstyles to the many iterations of her creative collective Saint Heron — can't be understated. I am reminded of the night she headlined the Pitchfork Music Festival in 2017, when Solange and her brand threw an after-party in a cavernous warehouse on the West Side of Chicago. It may have been an unusual choice for an after-party to the eclectic array of festival goers, but for the legions of young Black folks who had embraced Solange, the artist, and her celebrated album, A Seat at the Table, it was a perfect choice.
Situated in West Humboldt Park, a historically Black neighborhood, the event, titled "SEPTEMBER," was a welcome celebration in a part of Chicago sometimes forgotten or ignored. As Solange and her fans danced into the early morning hours, what became most clear was her unwavering support of, dedication to, and expression of Blackness. So much so that even here, on the West Side of Chicago, a Black girl from Houston's Third Ward could find comfort and kinship with other Black folks halfway across the country.
Solange's music has always been explicitly Black, both in sound and imagery, but never was it so clear as on A Seat at the Table, where the entire structure of the record was a reflection of our collective experiences. Most of all, it spoke truth to the lived reality of Black women in America. Songs like "Weary" and "Mad" reflect the overwhelming and sometimes debilitating feeling of living in a country that pretends to have healed and righted the wrongs of its racist origins.
"Cranes in the Sky," her Grammy Award–winning lead single from the album, tapped into the more subtle, but still omnipresent ways in which we navigate our blackness in a cruel world. The systemic overwhelm of racism means a solution won't be found in empty, temporary pleasures. It is too insidious to "drink it away" or "sex it away." But tracks like "Junie" and "Borderline (An Ode to Self Care)" also make space for Black joy. Through this pain we find purpose and relief.
To speak truth to power is to shine a light on others, too. Chicago-based artist and braider Shani Crowe crafted the intricate braided and beaded hair styles she wore throughout the promotional cycle of A Seat at the Table. The styles illuminated the precision, care, and tenderness Black women give to their hair and to each other. "I didn't revere braids as a high art because of what other people thought about them so with Fingerwaves Saint [a black-and-white photo of a Black woman in the hairdo that Crowe had done] I wanted to depict them in the highest form, which is as a divine being, the height of how someone can be represented," Crowe told i-D.
During a 2016 performance of "Cranes in the Sky" for Saturday Night Live — her first on the show — that hair became a literal "crowning glory," a halo of our own making. Crowe spent more than 50 hours crafting a web-like headpiece comprising a hundred feet of braided hair wrapped around an armature and featuring more than 5,000 Swarovski crystal beads. The result was both striking and all-knowing, celestial and proud.
On her next album, 2019's When I Get Home, Solange hones in on a more specific Black experience — her own — and she chose her hometown of Houston to serve as backdrop. Considered the first Black city in Texas, it wove its way into the record, from the screwed production elements of "Almeda" to the visuals (featuring Black cowboys) of the album's accompanying film project. "Blackness will never go away," she said about making the record. "It's who I am. It's what I know. I'll always be a Black woman, and I'll always create work from this Black woman's body. I'll always be from [the] Third Ward."
A'Ziah King, otherwise known as Zola Moon, briefly stars in the When I Get Home film.
King is best known for her epic viral Twitter thread (and upcoming film) about getting trapped in an involuntary road trip and a wild money-making scheme with a fellow stripper she only recently met. But unlike King's viral story, filled with numerous characters, she is flying solo in When I Get Home, and it is more than fitting for the writer, performer, and mother. Solange has honed in on the woman behind the story, her strength and resiliency despite her unusual circumstances, her unburdened self rising above and through the challenges before her.
It is a perfect representation for Black womanhood, through the past and in the present. These grittier narratives like King's own don't have to be tragic. They can, and often are, stories of hope and power. If those things will not be given to us as Black women — as Black people — we will claim it ourselves and survive.
Even during Solange's earlier years, the very purpose of her label Saint Records and collective Saint Heron were to be places of discovery. Artists as eclectic as Kelela, Sampha, and Petite Noir first found exposure through Saint Heron. In an increasingly competitive music industry, Solange embraced other artists, gave them a platform and a mic, and let them shine. The role of curator is precise. By amplifying the talents of Black creators, she helped eschew the mainstream ideas of what Blackness should sound like.
If art is inherently activism, then Solange's art is a call to love all the iterations of blackness. We hear this in all of her work, from the doo-wop throwbacks of SoL-AngeL & the Hadley Street Dreams to the simplicity of True to the groundbreaking breakthrough of A Seat at the Table. Each is distinct in their sound, their tone, their purpose. And yet all embody a singular spirit of Black creation. Everything is connected. She embraces our Blackness completely. And she forces her listeners to too.