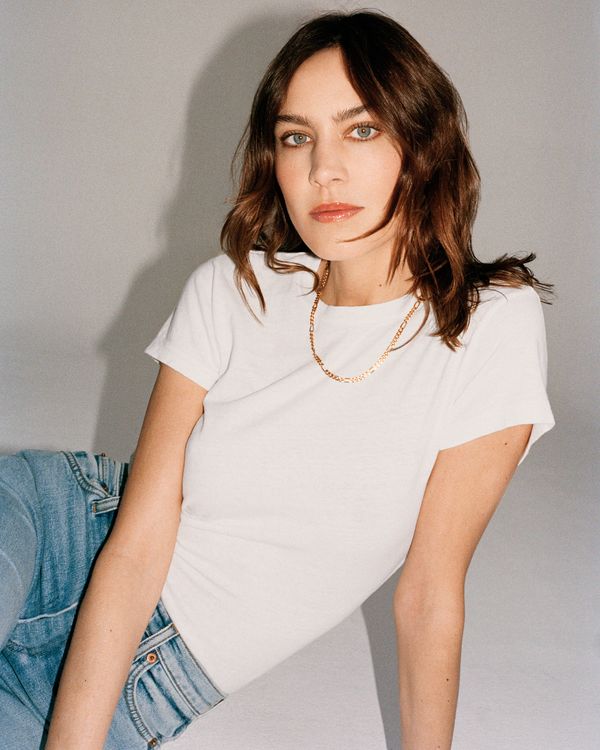 Photo: Letty Schmiterlow / Courtesy of Code8
Alexa Chung has a new job. The model, designer, Next in Fashion host, and excellent Met Gala photographer is joining London-based makeup brand Code8 as the company's first-ever global ambassador. Calling from East London, where she's quarantined with her boyfriend since the beginning of the coronavirus pandemic, Chung told us all about what she's been doing, reading, wearing, putting on her face, and watching in lockdown.
On her support system: "I've been leaning on my family WhatsApp group; the local coffee shop, which is now serving cappuccinos out of a hatch; my brother; and a group virtual exercise class — it's just a class that my friend Pixie leads for three or six of us, depending on how hungover people are. She does mat work with stretchy bands and lots of squats."
On virtual hangouts: "I don't mind Zoom for an office catch up, but I think as a social hangout, it's really a dry format. Especially quizzes. Lockdown has taught me that I don't like quizzes very much. That said, my friend did one the other night where we had to match the first Facebook profile picture you had to the person on the Zoom, and it reminded me, we didn't used to be as vain as we are now. My profile picture used to be a taxidermy bear."
On what's keeping her entertained: "I've been trying to read The Glossy Years by Nichols Coleridge, which is a really fun read, but I seem to get distracted and turn to the news. I bought Little Women to watch, which was DELIGHTFUL. Hot professor is hot. I also watched Normal People and galloped through the first few episodes but force-fed myself the last couple — I think because I did it in one gigantic chunk, my attention span drifted by the end. I actually only read half of the book, but that's more a comment on my darting focus than it is the quality of the work.
Music-wise, it's been love songs because my boyfriend is writing about them at the moment. It's actually really hard to find very good love songs because all the best ones are about heartbreak. I suppose when you're in love you don't feel like sitting around writing about it. Also, my friends Harley Viera-Newton and her husband Ross [Schwartzman] have been hosting a really good party every Saturday night called Homefriends, where Ross spins excellent tunes to dance to."
On her new job: "The whole Code8 vibe felt very appealing to me. They make straightforward, unintimidating makeup that seemed like a refreshing counterpoint to how much contouring is going on at the moment, or other things that I simply can't master. Plus, the founder, Sophia Chikovani, was wearing very chic Row boots, so I felt like she knew what was up."
On her at-home style: "Every day I make an effort to get dressed. It's keeping me sane. Before we went into lockdown, my brand ALEXACHUNG launched a capsule of cozy essentials, so I've mostly been living in a navy-blue cardigan and jeans, and I just change the shirt out.
I haven't worn a pair of heels for a long time, but I've been arranging them in my attic so they're ready to go when the time is right. My faves are a sparkly, strappy silver pair of Saint Laurent heels that I haven't had the opportunity to wear yet but like to stare at.
I've also been making really weird shopping decisions. I bought some knitted hot pants from Zara and a far too large bucket of paint from Little Greene in Stone Pale Warm."
Read on the products Chung has been relying on lately, from her favorite serum to a bra for lounging around the house.
Hair
"I use this instead of shampoo probably every other week to really cleanse my hair of any product buildup. I also love the David Mallett shampoos, which smell amazing and are very gentle."
"This is quite minty and refreshing. I just put it on the ends as it's very effective at hydrating."
Body
"This is plain and unfussy but really turns my dry skin into something well-moisturized and healthy-looking."
"I often add rose oil to my CeraVe moisturizer because I love the smell, or Aesop's Geranium Leaf Hydrating Body Treatment, again for the smell but also because it adds a sheen to the moisture. I like to be as slippery as possible."
"I love this soap to scrub my hands with every time I return from food shopping."
Face
"It's sort of burnt brown in color and smells a bit like an old-fashioned cocktail but less sweet, but it's great. The packaging is serious and white and looks like a Celine shopping bag."
"This is genuinely fantastic. It provides long-lasting hydration, but it has no fragrance. After I use it, I feel I look younger, which probably isn't true, but that's what it feels like."
Makeup
"This balm gives a nice even but light coverage. I just use my fingers to apply it. I'm currently using shade N10 because I have a light tan from walking in the sunshine."
"This gloss gives a sort of peachy sheen. It's a bit gloopy but not sticky. It's like a more syrupy Vaseline."
"I've been using Rosé, which I also use on my eyelids. I like it because it makes you look perky and fresh — English Rose style."
"I curl my lashes, but I don't put any mascara on because whenever I do, I forget and end up smudging it everywhere because of hay-fever eyes."
Underwear
"I love Yasmine Eslami for comfy but cute knickers and bras!"
Home
"I'm just doing design work over Zoom and counting down the hours until it's wine o'clock. I think 6 p.m. is probably the earliest I can crack open a bottle, and I've become obsessed with this one called Lo Sfuso Di Collina. It's like fizzy Ribena in a good way. I also like Bird in Hand Rosé."
Photo: Courtesy of the Retailer
"I think it's important for the house to smell nice currently because I'm basically locked in it at all time. It's discontinued now, but I light a Byredo Altar candle, which smells like a fragrant church from olden times. I also love the Santal 26 candle by Le Labo. A girl at work bought one for me for my birthday, and they printed a little note on it, so when I light it I think of her and how nice she is."