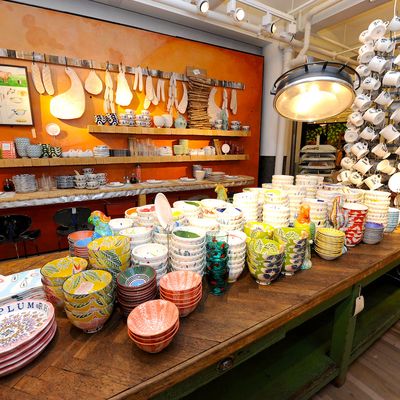 The inside of a Manhattan Anthropologie.
Photo: Jason Kempin/Getty Images
Twee goods emporium Anthropologie allegedly uses a codename to flag Black customers for in-store surveillance: "Nick" or "Nicky," according to the Instagram account Diet Prada.
The fashion industry watchdog compiled comments former employees left on a June 1 post from the retailer, which — in whimsical font characteristic of the brand's "boho-kitsch" aesthetic — used a Maya Angelou quote as a "call for equality." As Diet Prada pointed out, the post did not mention the Black Lives Matter movement or racial justice at all, and it angered former employees and customers alike.
"Comments from multiple employees confirm that stores in California, Chicago, Seattle, NYC, and Canada use the code name 'Nick' to refer to Black shoppers," Diet Prada's caption reads. "Associates report being told to watch Black shoppers, and Black shoppers also commented confirming having been followed while shopping in their stores." (Anthropologie has denied the claims.)
Anthropologie's post was still up at time of writing, as were comments accusing the company of racial profiling. Diet Prada pulled a number of screenshots detailing strikingly similar allegations: "I thought Chicago was the only one who used 'Nick' as a form of saying 'watch that Black woman who just walked in.' Fucking shame," one person said, in response to an Instagram user who recalled the "many times management told us to watch people of color over the headsets and I refused to follow around mostly Black people who were just minding their own damn business and respectfully shopping."
Other workers reported similar experiences — at Urban Outfitters and Free People as well, which all belong to the same parent company — while Black customers said they had been "followed throughout the store" on numerous occasions, at numerous locations. "I was followed by one of your sales associates in your Harbor East Baltimore store for no reason," one person wrote. "The sales associate told me that her managers told her to do so! You are part of the problem."
On Wednesday, the company posted a statement to Instagram. "Regarding allegations of racial profiling," it reads, "we have never and will never use a code word based on a customer's ethnicity. Our company has a zero-tolerance policy regarding discrimination or racial profiling in any form. Employees who do not adhere to this policy are subject to disciplinary action which may include termination."
The statement also addressed Diet Prada's contention that the company asked Black queer creator Lydia Okello to contribute to its Pride campaign for free. Okello says the brand told them that, aside from an outfit, there was no budget available for "micro" influencers, and therefore it would not pay Okello's regular fee. Anthropologie insisted that it "compensate[s] all partners with whom [it] contract[s] services," which may include "product" and/or "financial payment" for influencers. "We support and stand with the Black community," the statement concluded. "We are listening, learning, and reflecting on how we, as a brand, can improve diversity and combat racism."
As Diet Prada points out, Anthropologie's alleged practices are not exactly uncommon. In 2019, Moschino was sued over accusations that it identified Black shoppers as "Serena" — an apparent reference to tennis great Serena Williams — while Zara and Versace have, allegedly, deployed similar practices.
The Cut has contacted Anthropologie's parent company, URBN, for comment.