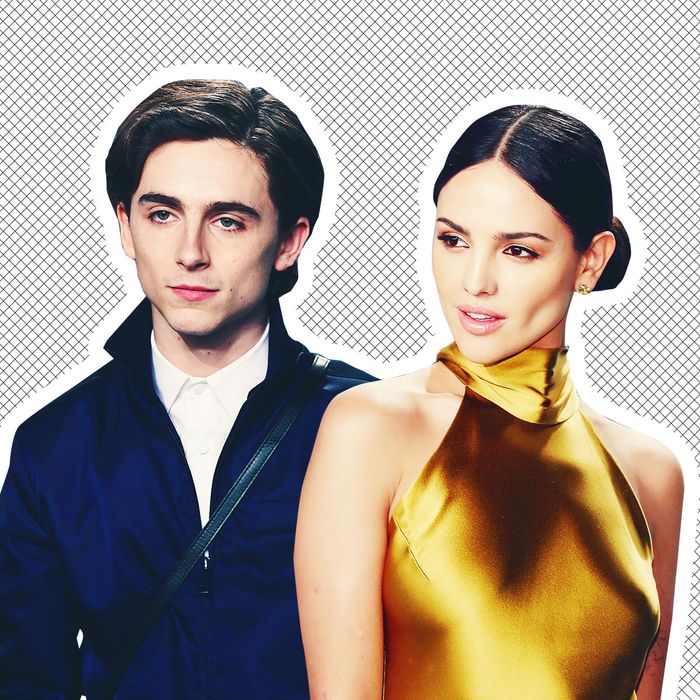 Photo: Getty Images/Shutterstock
In the absence of the more robust social lives we once enjoyed, many have cultivated private pursuits, whether bread-baking, practicing a new language, or concentrating hard on imagining what being in isolation with Timothée Chalamet would be like. Meanwhile, Timothée, about whom little has been heard in several months, may have pulled off the greatest socially distanced accomplishment of them all: getting into a new relationship. He also appears to have boned up on his guitar skills.
On Tuesday the Daily Mail published photographs of the 24-year-old Call Me by Your Name actor kissing 30-year-old Baby Driver star Eiza González during a getaway in Cabo San Lucas, Mexico, with some friends. Neither party has commented on the status of this affair, but clearly they are engaging in the early stages of the classical celebrity courtship ritual, which are (1) making out (2) in bathing suits (3) near a pool. If all goes well then one day soon they will self-consciously walk the streets of a major metropolitan center holding hands and drinking matching Starbucks orders.
Shortly after the Daily Mail published its report on this possible new coupling, photos of González wearing blackface on a 2007 telenovela began circulating online. She apologized, saying she is "deeply sorry and ashamed" and that, "as a 15-year-old child actor on [her] first job," she "was pressured" into it and "could not advocate" for herself.
The news comes after Timothée's relationship with Lily-Rose Depp, his co-star on The King, ended in April. Eiza reportedly dated Australian actor Luke Bracey previously and was last photographed with him in December 2019.
This article has been updated with new information.