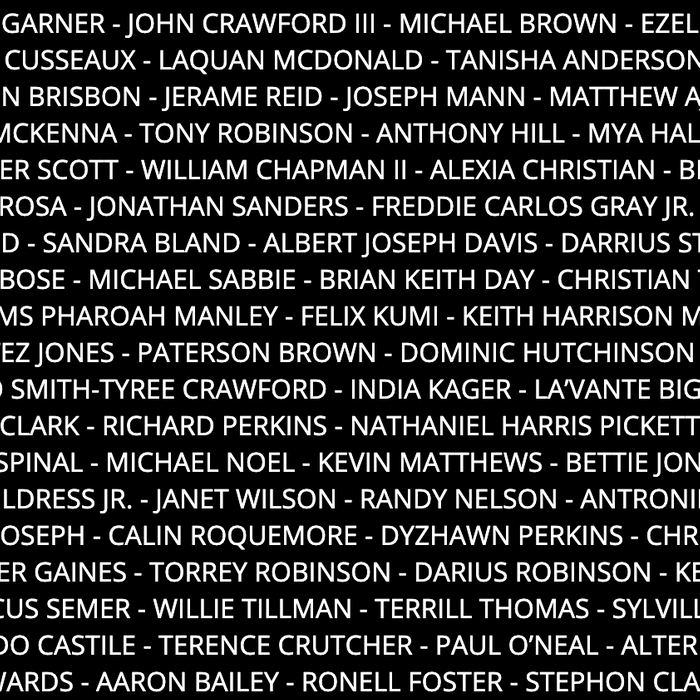 "Each one of these names," as BabyNames.com rightly points out, "was somebody's baby."
Photo: Screenshot/BabyNames.com
If you know the website BabyNames.com, you probably know it for its wealth of etymological information on your name or any other you type into its search bar, and not for its stance on any social movement. But after weeks of protests demanding racial justice and police reform, BabyNames.com will remain silent no more. BabyNames.com "stands in solidarity with the black community," according to its homepage, which currently features a graphic listing the names of more than 100 black people whom U.S. law enforcement officers have killed nationwide.
As BabyNames.com rightly points out, "Each one of these names was somebody's baby."
Lots of brands have, of course, declared themselves allies in recent weeks, pledges of support that often ring hollow and, one suspects, profit-driven. But I bet you did not expect a peep from BabyNames.com, because when has BabyNames.com ever? It is, remember, basically a detailed encyclopedia of baby names.
BabyNames.com founder Jennifer Moss told HuffPost that she saw a similarly designed image on NPR. Reading all the names "broke my heart," Moss said. "I knew then I wanted to include them in our company's statement. I am a parent, and it just came from my heart." The people on that list, she added, "are human beings and were loved."
"The statement we're making is that these are not just names on a page, but loved ones," a BabyNames.com representative told Jezebel, adding that — while no decisions have yet been made as to how long the graphic will remain up — BabyNames.com is "planning on making a donation to BLM in honor of those names." Their pinned tweet currently links to an ActBlue donation page for Black Lives Matter.
What's more, to judge by BabyNames.com's recent Twitter activity, someone at the site appears to be regularly updating the list with more names, and also, to be listening to user feedback. BabyNames.com, everyone!