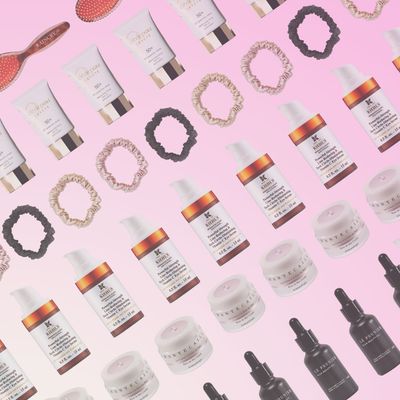 Photo: Courtesy of Saks Fifth Avenue
We beauty-lovers are always on the hunt for the best and most effective ways to get the results we're seeking, and with a little more indoor time on our hands, many of us are searching for routines tailored to our new inside lives. We crowdsourced your questions on the Cut's Instagram for Saks Beauty to solve — and they didn't disappoint. Many, many, many questions rolled in, but five common themes kept popping up. From redness-reducing serums to the best zinc-tastic sunscreens, these products are here to help, according to Saks Beauty Buyer Joanna Kennedy. Read on for her go-to product list, plus tips on giving your skin and hair some extra care.
"I've tried every SPF under the sun. Can you recommend a sunscreen that won't cause breakouts? And should I still be wearing SPF inside?"
Sunscreen is here to protect you, not cause more stress. In situations like this, it's important to understand the type of sunscreen that works with your skin. There are two ways sunscreen-related breakouts can occur: blockage of the pores by minerals in the sunscreen that sit atop of your skin (aka comedogenic materials), or a reaction to chemical UV-blocking agents that [can] irritate and cause breakouts. If this is a case for you, consider lightweight, oil-free, and non-comedogenic formulas. And then, we can't say this enough: test, test, test! Test each one at a time to see how it reacts to your skin.
And yes, wear that highly-tested sunscreen indoors! While we might be more inside than outside lately, it's important to remember that standard glass windows block UVB rays (the type that cause redness and burns) but do not protect against UVA rays, which penetrate deeper into the skin and play a major role in causing discoloration and wrinkles.
"What's good for calming down redness on the face?"
Glad you asked! Typically, redness is attributed to sensitive skin, rosacea, or eczema, [which] are highly common skin woes — they just need a little extra care to sooth and chill out.
Take a peek at products with niacinamide in the ingredient list. This water-soluble ingredient is a form of Vitamin B3 that prevents skin from flushing and reduces redness. Plus, niacinamide helps reduce the effects of UV rays. Niacinamide is kind of like a superhero that helps ward off any issues at microscopic level. Not only will you see a visible reduction in redness but also premature aging of the skin.
"I have more intense dark circles due to irregular sleep patterns. What should I do?"
In order to take care of the problem, we must go to the source: your sleep pattern. Sleep is the ultimate in skincare cures because it allows your body to rest, it keeps your circulatory system in check, and it allows the blood vessels under the eyes to properly drain. While you get your beauty rest, treat the optical area with retinol-formulated eye creams and hyaluronic acid serums. Both can help rebuild collagen and help fill out the thin skin under the eye. Plus, this helps strengthen the skin's foundation and makes the blood vessels in that area less visible. As for the root issue of getting enough rest, Saks can also help you get those 8 hours: we have sleep supplements and little treats, like aromatherapy mists and silky pillowcases, that can help turn your room into a sanctuary.
"I'm not using heat on my hair while I'm staying at home. How else can I make it healthier?"
While you're putting away hot tools, go one step further by reducing the amount of hot water your hair is exposed to in the shower. The heat allows the hair cuticle to swell, making follicles more susceptible to split ends. Instead of blasting the heat, use cold water to rinse and close off the hair's outer layer, then help strengthen each strand by adding argan oil-infused hair masks or deep conditioning treatments to your routine. These treatments are designed to keep hair damage at a minimum, as the oil molecules are so small that they can permeate the shaft of the hair to treat those pesky splits. Also while you're at it, upgrade your usual brush to a detangling version that's kinder to wet hair, and swap out regular hair ties for Slip scrunchies, which are less prone to snagging.
"What are some indie brands you like — smaller brands that we can support?"
Good news: Saks Beauty's The Apothecary is a great place to identify independent beauty brands you might not have heard of. For example, there's Epara Skincare, a luxury line founded by Ozohu Adoh to specifically serve the skin needs of women of color. There's Helmm, whose team has made an incredibly conscious deodorant — from the paraben-, phthalate-, talc-, triclosan-, sulfate-, and aluminum-free formula to the eco-cognizant packaging, it's a prime sweat-stick with four designer scents to boot. Le Prunier comes from a California sister trio dedicated to unlocking the beauty power of plums and creating a plum-based beauty oil through sustainable farming practices. Lesse, whose mask and serum are made without chemicals or toxins, is perfect for stress acne. And, of course, SOH Melbourne, whose candles are designed to burn 70-plus hours of the most clean, dreamy scents your home will love.
All images courtesy of Saks Fifth Avenue.
This advertising content was produced in collaboration between Vox Creative and our sponsor, without involvement from Vox Media editorial staff.