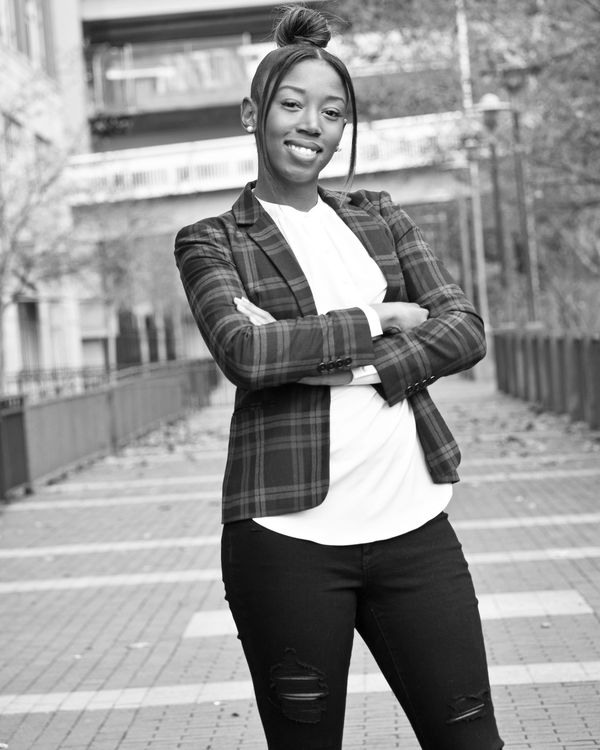 Alexis Johnson
Photo: Shantale Davis
In late May, as massive protests against police brutality were erupting across the country — and some pundits and cable-news anchors chose to focus their coverage on the specter of looting and property damage instead — Pittsburgh Post-Gazette reporter Alexis Johnson saw an opportunity for a satirical tweet. "Horrifying scenes and aftermath from selfish LOOTERS who don't care about this city!!!!!" she wrote on Twitter, alongside four photos of the city parking lots strewn with Solo cups, overflowing trash bags, and a man seemingly passed out in the back of a red pickup truck. "…. oh wait sorry. No, these are pictures from a Kenny Chesney concert tailgate."
The tweet went viral. The next day, Johnson says she pitched four protest-related stories and was told by her editor to hold off; at the end of the day, three Post-Gazette editors told her that she was barred from covering the demonstrations because her tweet showed "bias." Johnson says it was unclear what the implied bias was, but as a Black woman, she had her suspicions. That same day, managers at the Post-Gazette had a similar conversation with a white staff member, Joshua Axelrod, about his social-media use, and he wasn't barred from covering the demonstrations — "They basically said, 'No, this is just a teaching moment,'" Axelrod told the New York Times."
In the ensuing days, the decision drew the ire of the newsroom — and later, the public at large. Days after Johnson was pulled from protest coverage, more than 80 Post-Gazette staffers tweeted #IStandWithAlexis, including Pulitzer Prize–winning photojournalist Michael Santiago, who is also Black. Everyone who participated in the social-media action was allegedly told they had "conflicted out" of covering the protests as a result. The Newspaper Guild of Pittsburgh, which represents the publication, demanded that Johnson and Santiago be reinstated to cover the protests. The backlash mounted: Some local elected officials vocalized their support of Johnson, and a major advertiser pulled a full-page ad. Santiago has since left the publication; Johnson says she still cannot write about the protests.
All the while, the Post-Gazette has maintained a defensive stance. On June 10, executive editor Keith Burris fired back against what he characterized as "a great deal of disinformation" in an open letter, claiming that the publication did not retaliate against Johnson and Santiago because they are Black. Two days later, NewsGuild-CWA president Jon Schleuss called on Burris and managing editor Karen Kane to immediately resign, saying, "Their mistreatment of Black employees, their lack of empathy, and their retribution when confronted with criticism make them simply unfit to lead." (Neither Burris nor Kane responded to the Cut's request for comment.)
We spoke to Johnson about the past few weeks and what it's felt like to be prohibited from covering one of the most crucial moments for race and police violence in recent history.
When management reached out, how did you react?
I was very upset. Like, this tweet, of all things? I felt like I was being singled out because I'm Black and I was talking about a Black issue. I kept asking them to prove to me how this tweet violates our guidelines or how it shows any opinion, and they told me that my opinion comes through in the tweet. But they could never really explain my "stance" or "bias" that they took issue with.
In a virtual panel about diversity in media with 1Hood, you mentioned that you received pushback when you tried to report a story about black-owned restaurants in February. What has been your experience trying to center the voices and experiences of black people in your writing?
I've been at the Post-Gazette since October 2018, when I was hired as a digital news editor, but in February I got switched to a reporting role. I have gotten pushback when I've tried to pitch stories around a black protagonist or culture. For example, that story about the black-owned restaurant list — that was a huge discussion behind it. My digital editor told me they were cool with the story, so I started working on it — until I told my managing editor Karen Kane, and she was like, "Hold on one second. Did you run this by our restaurant editors?" She mentioned that it was Black History Month and that she didn't want it to seem like we were pandering. But I almost had to pitch this story in February, because had I pitched it in November, would they have let me publish a random Black restaurant list just because? We do lists all the time, but centered around white topics and businesses. But we just call those lists.
As soon as the incident with George Floyd happened, guess what began trending on our website? My Black restaurant list — because now everyone wants to support Black businesses.
So getting back to the current story about racist police brutality: It's hard to imagine a white writer being told they're being prohibited from covering issues that affect white people because they're biased. Do you think your Blackness was used against you instead of being considered expertise? 
That's exactly what happened here. When the Tree of Life synagogue shooting happened in Pittsburgh, where a white supremacist murdered 11 people in their place of worship, a Jewish reporter on staff was very instrumental in that coverage. In fact, he was on the podium when we won the Pulitzer for that coverage because of his expertise about the Jewish community. He lived in Squirrel Hill, about two blocks away from where the synagogue shooting happened, and he knew the people who went to the congregations. Amid everything going on right now, he's said he remembers condemning white supremacy on Twitter.
So am I biased because I'm Black? Is it biased because I'm talking about a Black issue? Also, what sides are there to racism? What sides are there to police brutality? We're literally watching men and women of the Black community die in front of our very eyes in the hands of this system. I said to the managers that I don't think that talking about racism is a political issue. They begged to differ.
Over the past few years, I think society has really come to question one of the core tenets of journalism, which is to remain objective. Because who does objectivity serve? And who gets to decide what's objective?
I think you hit the nail right on the head, because what is objectivity? I think there's a difference between objectivity and fairness, and none of us are objective. We all develop implicit bias over time; we walk into our jobs and our professions with bias because our race, our gender, our sexual orientation, our environment, and our geography affect how we see the world. That's why you diversify newsrooms: so people with different biases and perspectives can tell the stories of the people that they represent. That's how you bring nuance to a story and open the eyes of people who don't think like them. You bring a side of the story to people who could never think like you, because they don't have the same experiences as you.
What has it felt like to be barred from covering — to quote your colleague — "one of the most important civil-rights stories that is happening across our country" as a Black woman?
Every day that I wake up and I see my friends and my family and my community out there being a part of this movement. I had a real internal battle about whether I should be out protesting. At first, I told myself I had to miss out on the moment because of my profession — and now, after this whole controversy, I definitely can't because I'm under a microscope. Before all of this, I told myself that at least I could report on what was happening, and I can make a difference that way. I could have told stories that could've been overlooked by the 90 percent of my newsroom that isn't Black. And that has been the most difficult part about this whole entire process.
If it wasn't for my union, who got involved almost immediately, I wouldn't have been able to be so public about how I feel. Oftentimes, employees — of all backgrounds — feel like they've been slighted in the workplace, and particularly Black people in corporate America. They feel microaggressions, or feel like they've been subjected to instances of discrimination, but are afraid to say anything out of fear of retaliation or losing their jobs. But I'm protected by my union, and I have a contract that says what can and cannot be done. The way my union was able to rally around me and get the #IStandWithAlexis hashtag trending was superpowerful. When I saw everybody start tweeting that, I started crying — I really did. That is what true allyship looks like. That is what it means to make minorities feel seen and feel heard when they're facing these kinds of situations.