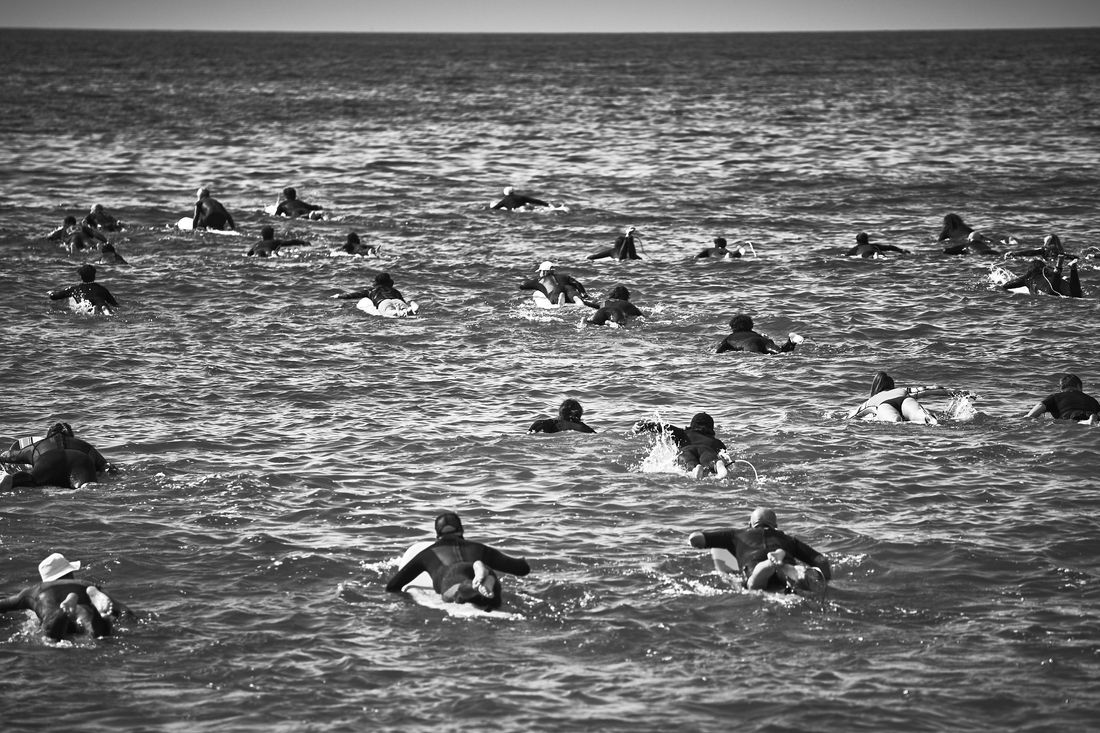 On Saturday, June 6, and again last weekend, over a hundred surfers and onlookers gathered at Rockaway Beach near 109th street for a paddle-out in solidarity against police injustice.
The event was organized by Louis Harris, founder of the East Coast chapter of the Black Surfing Association — a nonprofit organization first established in 1975 by California surfer Tony Corley. "I wanted to do something peaceful," Harris explained. Traditionally, paddle-outs are floating wakes, or memorial services for watermen and women who've passed away. Friends and family will paddle out and form a circle by holding hands. They'll chant, splash water up to the sky, and in some cases, spread ashes. In recent years, though, paddle-outs have also been used as a form of protest, and to honor those who weren't surfers. Harris described the June 6 gathering as a "show of solidarity." On the beach, attendees held signs with quotes like, "White supremacy is not the shark, it's the water." Meanwhile, out in the water, the group sang "Happy Birthday" for Breonna Taylor, who would have turned 27 years old the day prior had she not been shot and killed by police.
The ocean may seem like a far-off place to make a statement about police brutality, but systemic racism has historically reached beyond the shore. Surfing, a sport with indigenous roots, became increasingly gentrified as its popularity grew, largely excluding those who weren't well-off white men. When Harris moved to the Rockaways in 2006, he remembers seeing only one other Black person in the water — that man being Brian "B.J." James, author of The Nautical Negro.
"I'm sure every Black surfer in the U.S. has a story about being called derogatory slurs, or names in the line-up," said Kwamé LaBassiere, a BSA member who's been surfing for about 20 years. "But it's a sport that we love, so we just keep going."
Every year, Harris sees more and more Black surfers in the Rockaways, but the demographics of the water still don't reflect the population of the peninsula. A 2016 report found that Blacks or African-Americans made up the majority of Rockaway residents at 35 percent, but also that the area was significantly segregated, with locals in beach-side neighborhoods mostly identifying as white. Since officially starting the BSA East Coast chapter in 2016, Harris has made it his mission to foster a community within a community, and get more Black people in the water, in part through youth education programs. "I want kids to see that surfers aren't just the blonde-haired, blue-eyed guys from Hawaii and California," he said. "African-Americans can surf, too."
The paddle out on June 6 was one of the first times all the members of the Rockaway surfing community were in one place. "It was empowering to see so many surfers, who were generally not people of color, come and support Black people in fighting oppression and police brutality," said BSA member Niahlah Hope. "Especially in Rockaway," she added with a laugh. "We don't really get to see the other side, even though we live on the same small island."
LaBassiere described both paddle outs as an eye-opening experience for the community as well. "I think people saw a couple of things," he said. "One, it showed the lack of diversity among surfers in the United States — that there aren't that many of us, and it could be a lot better." Secondly, he found himself with a megaphone to share his personal experiences. "I was explaining to people how much goes into a Black man like me just leaving the house," he said.
LaBassiere also connected with other Black surfers, some of whom he'd never met before. While floating in the circle, he found himself next to an older gentleman. "The group started chanting, 'Say his name!' and we said George Floyd's name. And then they said, 'Say her name!' and we said Breonna Taylor. And then when they went back to 'Say his name!' he and I just looked at each other and started going back and forth," LaBassiere recalled. "He said 'Trayvon Martin,' and I said 'Ahmaud Arbery,' and then he said 'Amadou Diallo.' Back and forth. And then he said, 'All the people who weren't filmed, who didn't make the evening news, or have their name made into a hashtag.' And at that point, he and I just broke down into tears. We were grateful, definitely, but it was also really emotional, just having all this build up inside you."
"I had tingles the whole time, like total goosebumps," said Stephan Maze Georges, who's been surfing in the Rockaways for about 18 years. "To hear all these people screaming 'Black lives matter' definitely made me get choked up in the water."
On top of these overwhelming, complex feelings of solidarity and sadness, most surfers will tell you that the ocean gives off an energy of its own, even when there's no one else in it — one that carries them through difficult times. "When you're surfing and you're in that water, there's no bills you have to pay; there's no rent; there's nothing," said Harris. "When you get out, of course, you go back to reality. But when you're in the water, the main thing is that board and that wave. It's very therapeutic for me."
"There's just also this really good feeling that surfers have," Georges added. "Surfers are very, very grateful. We're just so happy that the ocean is giving us waves. It's a happy feeling, like walking into a family cookout. You think: I'm totally safe."