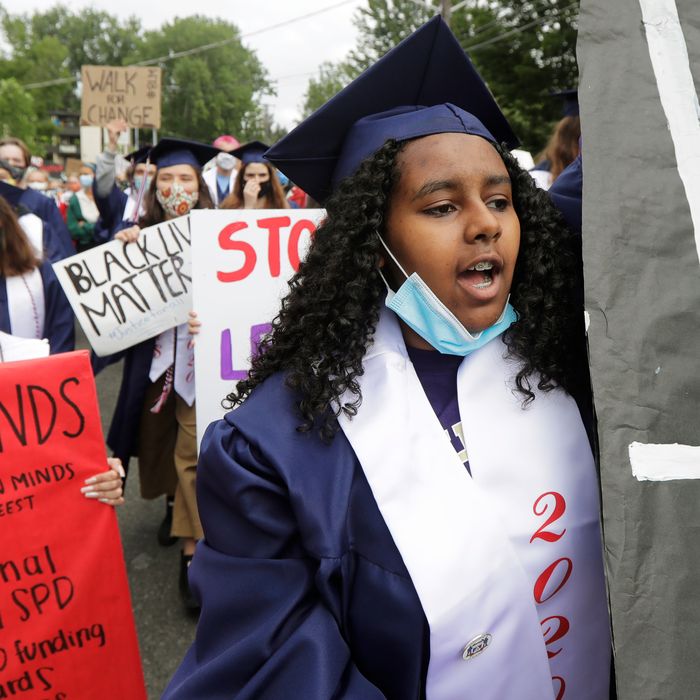 The reckoning on racial justice in the United States, touched off by protests after the death of George Floyd, has now reached some of the most elite classrooms in New York City.
Black and nonwhite students around the country are taking to social media to share stories about what it's like to attend majority-white high schools and colleges, reports the New York Times. Not unlike the 2015 "#StudentBlackOut" social-media campaign, where Black students at more than 25 colleges demanded their schools respond to racism on campus, "Black at" accounts have popped up on Instagram, Twitter, TikTok, and Snapchat to call out more than 50 private schools nationwide. In New York, teens are taking aim at very white, well-endowed, Gossip Girl–esque institutions like Brearley, Spence, Chapin, Dalton, and Grace Church School, administrators of which are scrambling to respond to the outrage and exhaustion conveyed by these stories, some of which are anonymous.
"This is not meant to be trauma porn that you can consume comfortably and gossip about with your friends," a post on @blackatbearley reads. The account has shared dozens of upsetting recollections of being mixed up by white teachers, being discouraged from applying to elite colleges, being made an example of in class, and even being blamed for criminal behavior. Some of them describe hurtful comments from white peers about being on financial aid, or living in boroughs other than Manhattan. The account continues, "This is meant to be a platform for black students to share their stories after years of being silenced by a white supremacist institution."
The memories, some shared by parents and teachers as well as students, and the comments that pour into each post, sum up decades of microaggressions and anti-Blackness, on the grounds of the institutions that were supposed to make students feel appreciated and supported. The voices in the posts are fed up, and are no longer holding back their pain.
"All my years at Grace I have felt this quiet pressure that seemed to stop me from mentioning every time I was hit with micro aggression after micro aggression," writes Abisola Fashakin, in one post on @blackatgrace. "I witnessed, first-hand, the cult mentality at Grace of protecting those in the wrong, simply because they were white and rich … At the end of the day it seemed like the whole rise of 'racism awareness and prevention' conversations were only held to keep us quiet until we left."
All five heads of the aforementioned New York schools are white. Their administrations have released statements that support the students running the accounts and those sharing their experiences. Jane Foley, the head of Brearley, apologized directly to students in an email sent to the community on June 9, according to The Wall Street Journal. But the demands of the students in their care go far beyond pledges to do better: The @blackatbrearley account lists several specific demands, including proportional representation of Black faculty, revised anti-racist curricula, mandatory assemblies, staff training, and including Black women in conversations about feminism. With dozens more accounts like it everywhere, and growing, there are likely lists like this one for every school.
Fashakin, the Grace Church alumna, writes on @blackatbrearley that she feels like commitments from schools to change are part of a "repetitive cycle because it's easier to stay silent about race issues when the students who spoke up are gone. But there will always be more students speaking up and this account is a reflection of that."