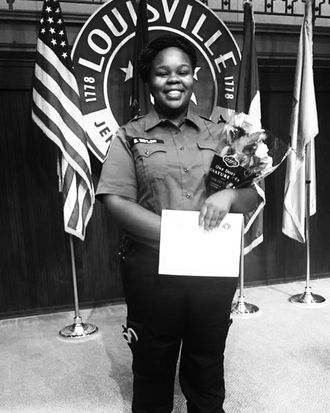 EMT and aspiring nurse Breonna Taylor, 26, was shot to death by police in her own home on March 13. In what's been described as a "botched raid," officers barged into Taylor's apartment in Louisville, Kentucky, as she lay sleeping, and fired multiple rounds. Three months after she was senselessly killed, Taylor's name has been chanted all over the country at mass protests against racist police brutality, which erupted after the death of Minneapolis resident George Floyd, also at the hands of police.
Taylor was shot eight times by police. According to a lawsuit filed by her family, her killing was the result of a botched drug-warrant execution. No drugs were found; the warrant in question targeted another person, who lived miles away and had already been detained by the time police entered Taylor's home.
Taylor's case languished for weeks before attracting national attention. Her family has retained lawyer Benjamin Crump, who is also representing some family members of both Arbery and Floyd, in a lawsuit accusing police of wrongful death, excessive force, and gross negligence. "They're killing our sisters just like they're killing our brothers, but for whatever reason, we have not given our sisters the same attention that we have given to Trayvon Martin, Michael Brown, Stephon Clark, Terence Crutcher, Alton Sterling, Philando Castile, Eric Garner, Laquan McDonald," Crump told the Washington Post in April. "Breonna's name should be known by everybody in America who said those other names, because she was in her own home, doing absolutely nothing wrong."
"I just think she was destined to be great," Taylor's mother, Tamika Palmer, told the Cut. "Breonna just loved life, and people gravitated towards her. She lit up a room and had this aura about herself."
Here's what we know about Breonna Taylor's case:
What happened to Breonna Taylor?
According to the Taylor family's lawsuit, plainclothes police officers arrived at Taylor's apartment at around 12:30 a.m. on March 13. Taylor and her boyfriend, Kenneth Walker, were asleep in a bedroom and woke up suddenly, believing that someone was breaking in. Police officers — later identified as Jonathan Mattingly, Brett Hankison, and Myles Cosgrove — entered "without knocking and without announcing themselves as police officers," the lawsuit says. LMPD insists they "knocked on the door several times and announced their presence as police who were there with a search warrant." The lawsuit contends that multiple neighbors gave statements contradicting this claim.
On May 22, county prosecutor Tom Wine held a press conference in which he played audio from Walker's police interrogation. Walker said that "there was a loud bang at the door," but no one said they were police. Walker said Taylor asked multiple times "at the top of her lungs," "Who is it?" "Nobody announced themselves or anything," Walker says in the audio. "If I would have heard at the door, 'It's the police,' it changes the whole situation. There's nothing for us to be scared of … We could have opened the door like, 'What's the problem, what's going on?' … The only reason I had the gun was because we didn't know who it was, if we knew who it was that would have never happened."
"While police may claim to have identified themselves, they did not. Mr. Walker and Ms. Taylor again heard a large bang on the door," Walker's attorney wrote in a motion. "Again, when they inquired there was no response that there was police outside. At this point, the door suddenly explodes. Counsel believes that police hit the door with a battering ram." In the interrogation audio, Walker said the door "came off its hinges."
Taylor's mother told the Washington Post that she had received a call from Walker, who said someone was trying to break into the apartment before shouting, "I think they shot Breonna." According to his attorney, Walker fired a shot in self-defense and struck an officer in the leg. Walker is a licensed firearm carrier. In response, police opened fire, shooting more than 20 rounds into Taylor's home, striking objects in the living room, dining room, kitchen, hallway, bathroom, and both bedrooms. Taylor was shot at least eight times, and was pronounced dead at the scene.
Walker was arrested and charged with assault and attempted murder on a police officer. Later in the month, he was released from jail on home incarceration, and on May 26, the charges against him were dismissed. The three officers involved in the shooting were placed on administrative reassignment pending the outcome of an investigation in May.
Why did police come to Taylor's apartment?
The lawsuit raises questions about why police targeted Taylor's apartment in the first place; her family maintains that it was a botched search-warrant execution. According to the Courier-Journal, Taylor wasn't the main subject of the investigation that prompted police to enter her home. Records show that the narcotics investigation focused on a suspect named Jamarcus Glover, who was believed to be connected to a "trap house" more than ten miles from Taylor's apartment. Police believed that Glover was receiving mail and keeping drugs or money earned from drugs at Taylor's home, and a judge signed off on a search warrant that included Taylor's address just before 1 a.m. on March 13. The warrant included a "no knock" provision, which allowed law-enforcement officers to enter Taylor's house without identifying themselves; the "no knock" was deemed necessary because "these drug traffickers have a history of attempting to destroy evidence, have cameras on the location that compromise detectives once an approach to the dwelling is made, and have a history of fleeing from law enforcement," according to police records.
But the Taylor family attorneys say that Glover, the main target of the investigation, was already "located and identified by LMPD prior to the warrant being executed at Breonna's home." In May, the Louisville postal inspector told local Fox affiliate WDRB that "no packages of interest" had been sent to her home. "Breonna had committed no crime, posed no immediate threat to the safety of the defendants and did not actively resist or attempt to evade arrest prior to being repeatedly shot and killed by the defendants," the suit argues. The Taylor family's lawsuit is seeking compensatory and punitive damages, as well as legal fees through a jury trial.
Have any of the officers who killed Breonna Taylor been arrested?
On May 21, the Federal Bureau of Investigation announced it had opened an inquiry into Taylor's death, but so far none of the officers involved in Taylor's death has been arrested or charged with any crime. Louisville police chief Steve Conrad was fired on June 1, after police killed another Black Louisville resident: David McAtee, a local restaurant owner, who was shot to death when police "returned fire" into a group of people gathered outside his restaurant. None of the officers had their body cams turned on.
On June 23, Detective Brett Hankison was notified in a letter by the Louisville Police Department that he had been terminated. "I find your conduct a shock to the conscience," the city's new police chief Robert Schroeder wrote in the letter. "I am alarmed and stunned you used deadly force in this fashion." Lonita Baker, an attorney for the Taylor family, said that they were happy with the development but added, "This is just one step, though … We're waiting for the other officers to be held accountable and for additional charges to be filed." The two other officers remain on the force.
Hankison had also been the subject of an investigation into allegations of sexual misconduct from five women, who recently took to social media to say Hankison had acted inappropriately with them while on duty. He also reportedly was accused of coercing a suspect into giving him oral sex in 2008, and of attempting to coerce a second suspect into sex "in exchange for not taking her to jail" in 2015, though both claims were marked "unfounded" by the LMPD's Public Integrity Unit. Hankison has also denied accusations in a federal lawsuit filed in 2019 by a man named Kendrick Wilson that Hankison planted drugs on him while working off duty as a security guard at bars.
What is Breonna's Law?
On June 11, the Louisville City Council voted unanimously in favor of a ban on no-knock search warrants like the one officers used to barge into Taylor's home, and named the ordinance "Breonna's Law." The measure also mandates the use of body cameras, which have to be activated no later than five minutes prior to all searches and remain on for five minutes after. Kentucky senator Rand Paul introduced a similar bill called the Justice for Breonna Taylor Act that would ban the use of no-knock warrants by federal law enforcement.
This post has been updated with more information.