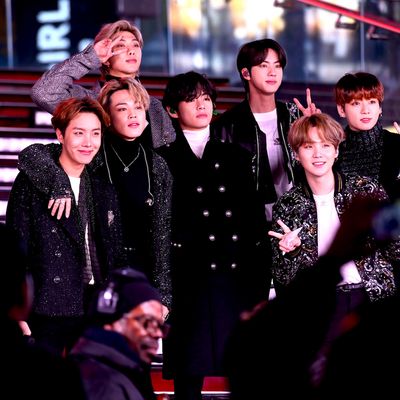 BTS.
Photo: NOAM GALAI/Getty Images
Mere days after K-pop stans united against the Dallas Police Department, absolutely drowning its request for civilian footage of "illegal protest activity" with fancams, members of BTS ARMY are mobilizing once again. BTS fans — whose acronym stands for Adorable Representative M.C. for Youth — are using their considerable Twitter power and influence to match a $1 million donation their idols made to Black Lives Matter. As of Sunday morning, they were halfway there, having raised $500,000 in a single day.
On Saturday, BTS's agency, Big Hit Entertainment, confirmed the donation to Variety without comment — although on Thursday, the group tweeted its support of Black Lives Matter, writing, "We stand against racial discrimination. We condemn violence. You, I and we all have the right to be respected. We will stand together."
Now, one thing about ARMYs is, they throw themselves wholeheartedly behind causes that BTS promotes. In 2018, they raised $1.4 million for UNICEF Korea after the band appeared in a "Love Myself" campaign to end violence against children and teens. In 2019 — after BTS rapper J-Hope requested donations for his 25th birthday — they raised enough money to "adopt" and protect 37 red squirrels in Scotland, because according to one organizer, "J-Hope looks like a squirrel, especially when he eats and his cheeks puff out!" In February, after BTS announced that it was canceling Korean tour dates due to coronavirus concerns, ARMYs pooled their refunds to make a $333,000 donation to the Korea Disaster Relief Association.
And now, ARMY is using the hashtag #MatchAMillion to track donations, using ActBlue to allow fans to split funds between different organizations or allocate to a specific organization.
The Beyhive — as in, Beyoncé's ardent internet fan base — also got involved, and as of June 7, the initiative had officially raised half a million U.S. dollars. Behold the staggering power of a highly motivated online stanship.