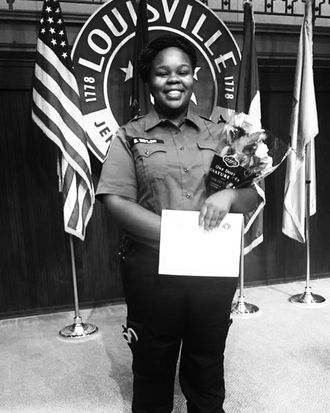 The police department in Louisville, Kentucky, has launched an investigation into sexual-assault allegations against one of the officers involved in Breonna Taylor's death, according to the Louisville Courier Journal.
Over the past week, at least five women have posted on social media about being sexually assaulted or harassed by officer Brett Hankison. Their stories follow a similar pattern: After leaving the bar, they say Hankison lured them into his car with the promise of a safe ride home. Instead, he made unwelcome advances or sexually abused them, according to their posts on Instagram. (The Cut reached out to all the women, who declined to be interviewed at this time due to an ongoing investigation, but gave us permission to quote from their social-media posts and publish their names.)
Margo Borders said that in April 2018, she was about to call an Uber from a bar when Hankison offered her a drive home. She had met the 44-year-old multiple times and that night, he was wearing a uniform and driving a police vehicle. Borders said he then invited himself up to her apartment and sexually assaulted her while she was unconscious.
For months she blamed herself for accepting the ride, according to her Instagram post. "I never reported him out of fear of retaliation," she said. "Who do you call when the person who assaulted you is a police officer? Who were they going to believe? I knew it wouldn't be me. ‬
When Emily Terry got in his car last year, she said Hankison began "rubbing my thigh, kissing my forehead, and calling me 'baby.'"
"Mortified, I did not move," she said. "I continued to talk about my grad school experiences and ignored him." As soon as they pulled up to her apartment, Terry said she ran from the car.
In December, Emilie Green said the officer also rubbed her thighs and tried to touch her inappropriately on the way back from a bar in Saint Matthews, Kentucky. When she accepted the ride, Hankison said he had to "cut his car cameras off so he didn't get in trouble," Green wrote on Instagram. She thought no one would believe her story "over a man in uniform" and didn't file a report.
Kelsey Fell was standing outside of a bar with a group of friends, smoking and waiting for their Uber drivers, when she said Hankison made sexual remarks and asked to take them home. Morgan Miller posted that one night the officer asked for her phone, took her number, and weeks later sent her "videos of himself masturbating via snapchat."
"I have no doubt that if I got into his car that night that my story, like many of the women coming forward, would be much worse," said Miller.
The Louisville Metro Police Department did not return the Cut's request for comment, but a spokesperson told the Louisville Courier Journal that the LMPD is "aware of these allegations and investigators are looking into them. If anyone has information about these cases, we encourage them to call (502) 574-7144."
The five women went public with their stories after realizing that Hankison was one of the officers involved in Breonna Taylor's death. They all wrote about wanting to see justice for the 26-year-old EMT, who the police shot dead after busting into her apartment on March 13.
Taylor's murder, along with the murders of George Floyd and Ahmaud Arbery at the hands of current and former cops, have led to mass protests across the U.S. But while Taylor's name is being chanted in the streets, the cops who shot her have yet to face any criminal charges. Instead, almost three months after Taylor's death, Hankinson, Sergeant Jon Mattingly, and Myles Cosgrove have been put on leave while Kentucky's attorney general and the FBI review her case.
"Hankinson needs to be held accountable and the LMPD needs to be held accountable," said John Olash, the lawyer representing Terry. "For reasons unknown, the LMPD has seemed to feel the need to protect Hankinson." The women who have accused the officer of harassment and assault are meeting on Thursday to discuss their legal options.
"Hankison will not use his badge to prey on women any longer," his accusers said in a joint statement released to the Cut. "LMPD's culture of protecting officers who prey on our community must end."
Hankinson's lawyer did not return emails or phone calls from the Cut.
The three cops showed up to Taylor's house after midnight to investigate her supposed ties to a drug dealer, even though the main suspect had already been located, according to an attorney involved in the case. Taylor and her boyfriend Kenneth Walker were asleep at the time. They woke up and thought someone was trying to break in since the officers did not knock or announce themselves, according to Walker. Scared for his life, he says he fired his legally owned gun in self-defense, which prompted the police to shoot more than 20 rounds in the apartment. Eight of those bullets hit Breonna, and she died on her hallway floor.
"What happened to her should never happen to anybody," Tamika Palmer, Taylor's mom, previously told the Cut. "We want justice." Palmer described her daughter as a ray of light who "wanted to take care of and protect everybody." Hankinson, on the other hand, has a history of abusing his power.
While Hankinson has received accolades from the LMPD, he's also violated the department's policies multiple times, and has been accused of harassment and sexual misconduct.
In a federal lawsuit from October 2019, a man named Kendrick Wilson accused Hankison of planting drugs on him while working off-duty as a security guard at bars, as well as harassing and arresting him unnecessarily. Wilson called Hankinson a "dirty cop" with a "vendetta" against him. Hankinson has denied the allegations and the lawsuit is still pending, but two of the cases related to Wilson's arrests have been dismissed, according to the Louisville Courier Journal.
Hankinson has also been investigated twice for allegations involving sexual misconduct with suspects, but both claims were marked "unfounded" by the LMPD's Public Integrity Unit.
The comment section of the women's Instagram posts have been flooded with people saying they have heard rumors about or witnessed his inappropriate behavior while working as a security guard at bars.
"Not all cops are bad," wrote Terry on social media, "but this one is. I encourage more women to come forward."