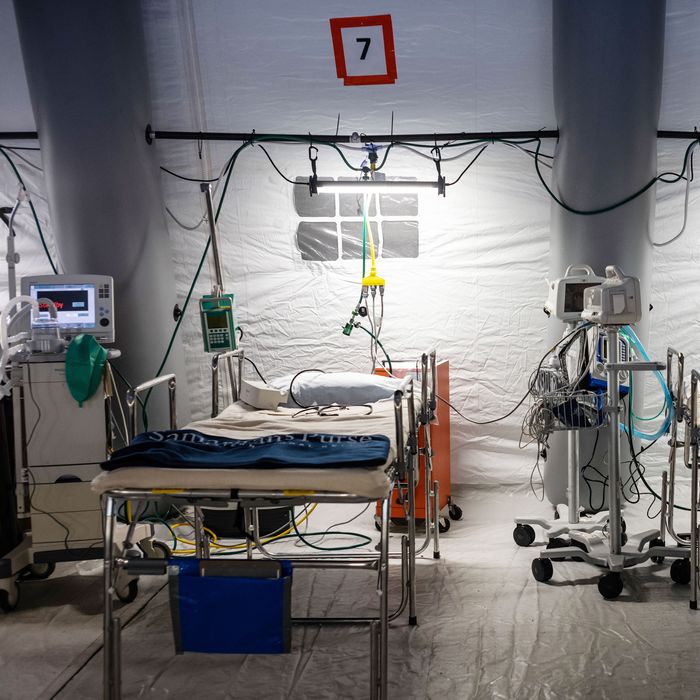 Photo: Misha Friedman/Getty Images
Coronavirus patients in the United States are, in theory, supposed to be close to fully exempt from their medical bills. Congress has passed over $175 billion in emergency taxpayer funding for hospitals and health-care providers, intended to help these institutions shoulder the costs of testing and treating the coronavirus so that everyone — even those without insurance — can receive care without having to worry about how they will afford it.
But stories of Americans experiencing the opposite are starting to amass: like this harrowing one, about a Seattle man, Michael Flor, aged 70, who was admitted on March 4 for coronavirus treatment at a hospital. He stayed for 62 days and almost died, saying good-bye to his family over the phone, before miraculously recovering. When he got home, the Seattle Times reports, he received a 181-page bill totaling $1,122,501.04.
Flor says he thinks his bill will be thankfully covered almost entirely by Medicare, for which he is eligible as an elderly patient. But many other coronavirus patients who have also received large bills are not so lucky. Despite efforts by Congress to reduce individual expenses, our labyrinthine, patchwork, and exhausting health-care system has left people vulnerable to loopholes in insurance funding and hospital billing, unregulated testing costs, and mind-blowingly confusing paperwork. Not to mention those who do not even have insurance, with over 35 million people out of work since the pandemic began.
A woman in New York named Janet Mendez also nearly died from the coronavirus, and when she got home from Mount Sinai Hospital received a bill for $31,165, according to the New York Times. Then she got an invoice for $401,885.57. The bill "noted that the hospital would reduce the bill by $326,851.63 as a 'financial assistance benefit.' But that still left a tab of more than $75,000." Mount Sinai has received $63.7 million in federal funding.
Mendez is insured by Cigna, through her job as an administrative assistant at a Domino's franchise, but she told the Times that she still believes her share of the cost will only be "under $10,000." Before submitting to Cigna, she received harassing phone calls from the hospital, she told the paper. A representative from Mount Sinai responded that her bill in that amount was a mistake, due to Mendez recently changing insurers, and that, "to be clear, neither this patient nor any Mount Sinai patient should receive a bill or be expected to directly pay for their COVID-19 care."
In cases like these, it seems apparent that there's a disturbing breakdown in communication happening somewhere between the funding being meted out by the government and what people who are admitted to hospitals are actually experiencing — even when they have insurance. Neither Flor nor Mendez have had to pay their exorbitant bill in full, but both had to sort through mountains of complicated paperwork while recovering from the coronavirus, and both will likely have to pay some out-of-pocket costs. The authors of one study estimate that even those with private insurance who become seriously ill with the coronavirus can expect to pay over $1,300, and will be forced to contend with a host of challenges on top of that due to the fact that the United States has a "fragmented health-insurance system and decentralized regulation process." There is the distinction between in-network and out-of-network care, for example, which cannot always be taken into account when a patient is rushed to a hospital. Even if you make sure to be admitted somewhere in network, you can be treated unknowingly by an out-of-network doctor there. There are also deductibles and co-pays that remain; at the onset of the pandemic, several of the country's largest insurers, including Cigna, announced they were waiving those cost-sharing fees for coronavirus patients, but many of these forgiveness measures have or will soon expire, despite infection rates rising in many states.
For the uninsured, the situation is even worse. FAIR Health estimates that an uninsured patient (or even an insured one who receives out-of-network care) can expect to be charged anywhere from $42,486 to $74,310 if they have to go to the hospital. Imad Khachan, the owner of a chess shop in Greenwich Village who stopped being able to afford insurance in December 2019, was billed almost $50,000 for a three-night hospital stay due to the coronavirus in March, including a $788.50 ambulance bill. Business Insider reports that Khachan was admitted before a federal fund was launched through which hospitals can apply to be reimbursed for treating and testing uninsured patients. (A spokesperson for the hospital said they would be seeking reimbursement and Khachan would be refunded $5,000 that he already paid.)
Even the lawmakers responsible for handling coronavirus relief have had to deal with this widespread confusion: California representative Katie Porter just got a bill for an additional $56.60 from her insurer for a coronavirus test, despite helping to pass the CARES Act, one of the coronavirus stimulus packages that says insurers must waive cost-sharing for COVID-19 tests. Her insurance company said her provider likely "used the wrong billing code for her visit," and she should contact them to fix it.