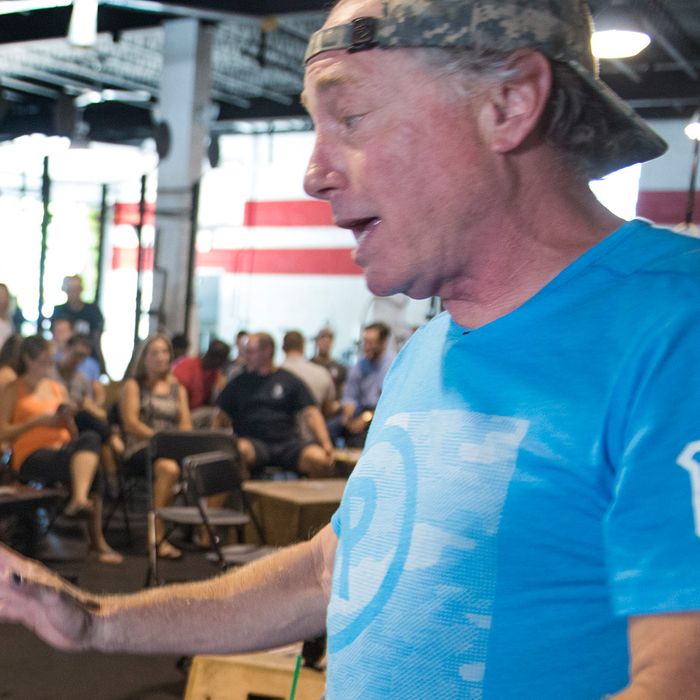 Photo: Linda Davidson/The Washington Post via Getty Images
CrossFit's founder and CEO Greg Glassman resigned on Tuesday after going on a lengthy tirade in a Zoom call with employees and affiliates of the company, in which he expressed doubt that systemic racism exists, insisted that no one on his staff was mourning for George Floyd, and shared wild conspiracy theories about Floyd's killing and the spread of the coronavirus. The New York Times reports that Glassman will be succeeded by current CrossFit executive David Castro.
Glassman's public troubles began on Saturday, when he responded to a tweet framing racism as a public-health crisis with the insensitive remark "It's FLOYD-19." The backlash to the tweet prompted Reebok to end its partnership with CrossFit and the company to apologize on Glassman's behalf, saying the words were "not racist but a mistake."
According to BuzzFeed News, hours before the tweet was posted, Glassman had already upset affiliated gym owners on a private 75-minute-long conference call in which he declared, "We're not mourning for George Floyd — I don't think me or any of my staff are." Glassman went on, "Can you tell me why I should mourn for him? Other than that it's the 'white' thing to do? Other than that, give me another reason." The executive went on several rants throughout the call — in one, he questioned the motivation of Black Lives Matter protesters; in another, he suggested that the term systemic racism has no meaning. "It's really neat to have a problem that can't be defined because then it never ends," he said. "You know, you can always wear it proudly."
"On Saturday I created a rift in the CrossFit community and unintentionally hurt many of its members," Glassman said in a statement on Tuesday. "I cannot let my behavior stand in the way of HQ's or affiliates' missions. They are too important to jeopardize."
The Times reports that Glassman had been hosting calls with a handful of affiliated gyms (CrossFit had 14,000 at the time of the call) for the past few months to check in on businesses that had been temporarily closed amid the pandemic. More than a dozen people, including employees of CrossFit's corporate office and gym owners, were on the call Saturday. In the days preceding the virtual meeting, many people had been asking Glassman on social media to release a statement in support of the Black Lives Matter movement amid nationwide protests against racist police brutality, sparked by the killing of George Floyd, a black man who died in Minneapolis police custody after a white officer knelt on his neck for several minutes.
On the call, Glassman said he didn't trust a CrossFit community member who'd complained publicly about the company's silence on Floyd's death. BuzzFeed reports that the member he'd spoken of was Alyssa Royse, who owns Rocket CrossFit in Seattle. Royse had written a post on her gym's blog that contained an email exchange she'd had with HQ on June 5, letting them know she would no longer associate her gym with the company due to "CrossFit's failure to take a stand in a time of moral crisis in the US." Glassman had responded to that email personally, writing, "I sincerely believe the quarantine has adversely impacted your mental health." He went on, "You're doing your best to brand us as racist and you know it's bullshit. That makes you a really shitty person. Do you understand that?"
The Times reported Glassman also addressed a gym owner in Ithaca, New York, on the call. The owner was frustrated that reopening was taking so long when his area wasn't badly hit by the virus. In response, Glassman parroted an unsubstantiated conspiracy theory: "The Chinese let this virus get out of the laboratory, and that indeed did happen." He also espoused the unproven theory that Floyd was killed as part of a cover-up over counterfeit money, and belligerently questioned the idea that his killing was "racially motivated."
Mike Young, owner of a fitness center in Morrisville, North Carolina, which includes a CrossFit affiliate, told BuzzFeed, "It turned into a shitshow, really, where the guy is just — conspiracy theory after conspiracy theory." Young went on, "My first thought was, I thought maybe I was being punked."