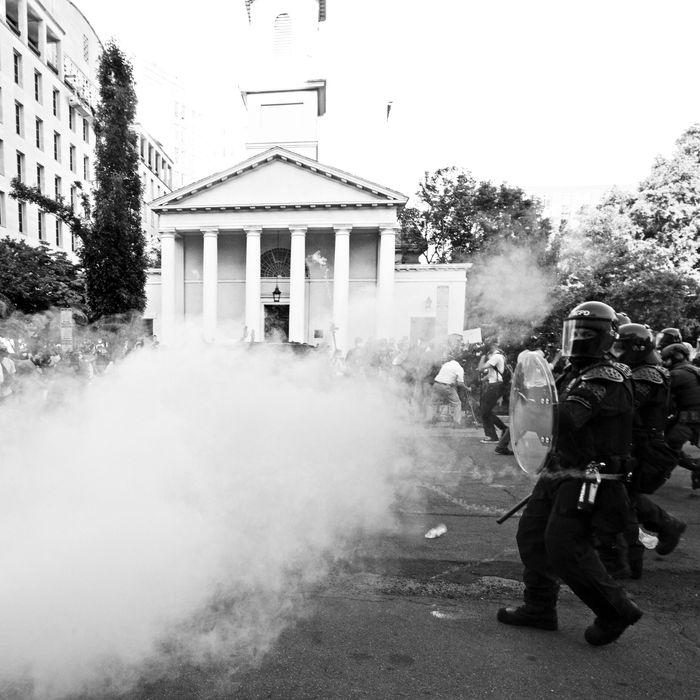 Photo: JOSE LUIS MAGANA/AFP via Getty Images
Amid demonstrations against police violence and impunity in Washington, D.C., Monday night, officers blockaded a group of about 70 protesters inside a private home. Multiple reports indicate that just prior to the blockade, police had trapped protesters in an alley on Swann Street in the Dupont Circle neighborhood, where they used tear gas and flashbang devices on them. Police often justify such violent tactics as dispersal techniques, but in this case the protesters were trapped, until a resident on the street opened his doors to them. Journalists and protesters described a tense scene, with protesters getting arrested outside and police helicopters hovering above.
The altercation occurred around 10 p.m., hours after D.C.'s unprecedented curfew went into effect at 7 p.m. on Monday. The homeowner who sheltered the protesters, a 44-year-old man named Rahul Dubey, described the scene to a Washington Post reporter Derek Hawkins as a "human tsunami," adding, "If people like us aren't going to open a door, then who the fuck is?"
A protester named Meka told DCist that the group began demonstrating near Lafayette Square shortly before the area was teargassed — ahead of Donald Trump's appearance at a church for a photo op — an act which many witnesses described as another case of sudden, unprovoked aggression by law enforcement. A witness who saw the group being corralled on Swann Street a few hours later told NBC News4 that cops "charged all the way up to this man's door and maced everybody coming into this house." Dubey told ABC affiliate WJLA that as he was yelling at people to get in his house, cops "were spraying pepper spray into people's backs and the side of their head. It was pandemonium and mayhem inside for about an hour and a half." Hawkins tweeted that once inside the home, protesters who'd been injured by the pepper-spray attacks were taken to the basement, where they were treated with milk applied to their eyes. WTOP reporter Ken Duffy posted images of cops trapping protesters in an alley on Swann Street, before briefly taking refuge in the home.
Protesters also documented their accounts on social media. Allison Lane tweeted from inside Dubey's home, "lots of people are hurt but not terribly. They chased us away from the White House with flashbangs into a residential neighborhood. Nobody is really sure when we'll be able to leave." Lane also wrote that some police officers were "trying to say we broke into the house," and later that "the owner just said the cops aren't even letting them out of the house." At one point the cops reportedly allowed pizza delivery to make its way into the home.
Dubey told DCist on Tuesday morning that eventually the police relented and protesters have safely returned to their homes, with volunteers and strangers offering them rides home after the city's curfew lifted at 6 a.m.