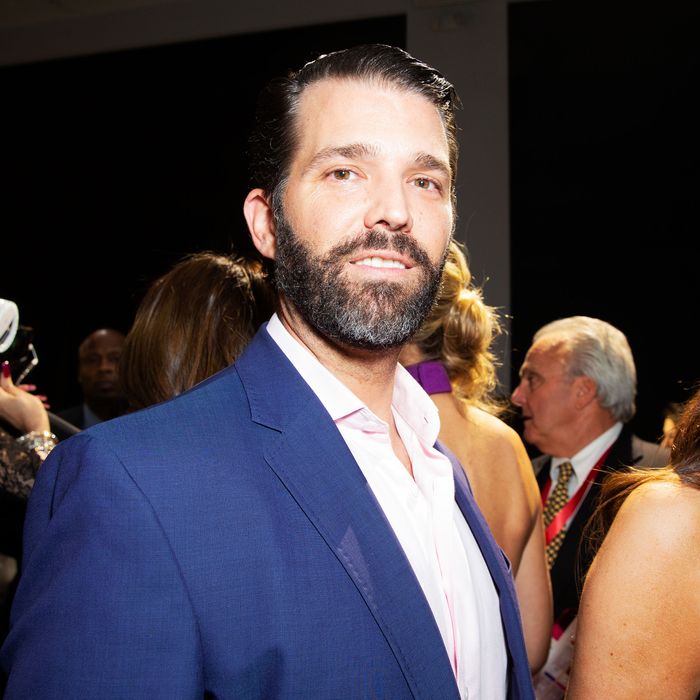 All of it.
Photo: Pacific Press/LightRocket via Getty Images
Donald Trump Jr. showed his face — yes, I'm sorry, his entire face — at a crowded Hamptons party over the weekend, doing none of his fellow attendees the favor of covering up. To be fair, the "Hamptons insider" who reported this news to "Page Six" did note that none of the roughly 100 people at Saturday's gathering masked up, and that the whole thing looked "as if COVID had never happened."
But COVID is, of course, still happening; in many parts of the U.S., the case count is rising. We can attribute some of that surge to premature reopenings and the renewed potential for socializing they brings: In Florida, for example, 16 friends recently tested positive for the coronavirus after a night out. Shortly before that, 12 college students tested positive after attending a Jersey Shore house party. Long Island, where the mansion party took place, entered phase three of reopening on June 24.
A source close to Don Jr. told "Page Six" that the event took place on a rooftop, and that Don and his girlfriend, Kimberly Guilfoyle, left after an hour; multiple other sources reportedly said it was an indoor-outdoor affair. The risk of spreading coronavirus outdoors does appear to be much lower than the risk of spreading it indoors, but also, masks are proving a highly effective tools for containing transmission.
It seems safe to assume that as the eldest of the president's large adult sons, Don Jr. knows all about the pandemic's status and the CDC's recommendations. "I don't think that it's too complicated to wear a mask or wash your hands and follow basic hygiene protocols," Don Jr. previously told Fox Business, addressing safety precautions for the upcoming Republican National Convention. Don's dad, though, has pointedly refused to put on a dang mask for months now. Despite pleas from even his trusty stooges at Fox & Friends, the president insists on baring his whole naked face for every public appearance. Like father, unfortunately, like son.