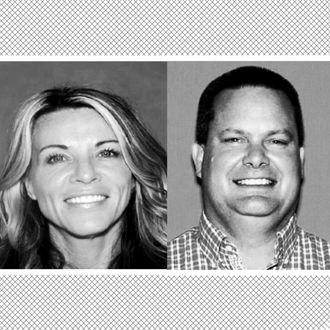 Lori Vallow and Chad Daybell.
Photo: Rexburg Police Department
Last fall, Idaho officials started looking into the mysterious disappearance of two children, 7-year-old Joshua "JJ" Vallow and 17-year-old Tylee Ryan, who haven't been seen since September. In the months since they were reported missing, officials have been unable to locate the children, and the case became increasingly convoluted.
In November, law enforcement visited the home of Lori Vallow and her husband, Chad Daybell, to perform a welfare check on JJ and Tylee, Vallow's children who had been reported missing, according to the New York Times. The couple told police the children were living in Arizona, leaving authorities suspicious; when law enforcement arrived the next day with a search warrant, they discovered that the couple had abruptly fled. The couple was later found in Hawaii, but they ignored court-ordered deadlines to bring the children to authorities. On February 20, police in Kauai finally arrested Vallow. In the past week, the case has developed rapidly: Daybell was charged, and police found human remains on his property, which police have since confirmed belong to JJ and Tylee.
Here's everything we know about the case.
Vallow's children went missing in September.
Last November, extended family notified law enforcement in Rexburg, Idaho, that they hadn't been able to get in touch with JJ and Tylee since September. In response to the alert, Rexburg police visited Vallow's home, where she was living with Daybell, to question them about the minors' whereabouts. According to police, the couple claimed the children had moved to Arizona, where they were living with other relatives, and requested that law enforcement return at a later date. When investigators showed up the following day, the couple had fled.
In a statement in early January, Rexburg police said, "We strongly believe that Joshua and Tylee's lives are in danger."
In late January, the couple was discovered in Hawaii.
On January 25, police located Vallow and Daybell driving near a beachside resort in Kauai. Police searched their car but found no trace of the children, and served Vallow with a court order demanding that she bring the children to the Idaho Department of Health and Welfare by January 30 or face legal action. According to the Times, Vallow missed the deadline.
"The only word coming to mind right now is 'monster,'" Kay Woodcock, Joshua's grandmother, said during a news conference on January 30. "All this has just been very disheartening … I'm a lot less optimistic at the moment."
In February, Vallow was arrested on an Idaho warrant.
On February 20, Kauai police arrested Vallow on a $5 million warrant from Madison County, Idaho. She has been charged with two felony counts of desertion and nonsupport of dependent children; arrests and seizures — resisting or obstructing officers; criminal solicitation to commit a crime; and contempt of court — and willful disobedience of court process or order, per the Kauai police department.
On February 26, Vallow appeared before a Hawaii judge in an unsuccessful attempt to get her bail reduced. Although her attorney argued that she does not present a flight risk, prosecutor Justin Kollar pointed out that Vallow "has a history of digging out when the chips are down." Her bail request denied, Vallow agreed to be extradited to Idaho for the trial.
In early June, police charged Daybell and found human remains at his house.
On the morning of June 8, local law enforcement and the FBI traveled to Daybell's home, where they executed a search warrant, East Idaho News reported. In the ensuing hours, police took Daybell into custody and confirmed that human remains had been found on his property.
The next day, Daybell was officially charged with two felony counts of concealment or destruction of evidence, which, per the criminal complaint, stems from the human remains on the property. During a press conference, Madison County prosecutor Rob Wood said that the human remains belong to two children and that one was concealed in a "particularly egregious" manner. According to KMTV, a judge set Daybell's bail at $1 million, and his preliminary hearing is scheduled for July 1.
Family members said the remains belonged to JJ and Tylee, which police have now confirmed.
On June 11, JJ and Tylee's family members released a joint statement saying that the missing children had been found dead. "We are filled with unfathomable sadness that these two bright stars were stolen from us, and only hope that they died without pain or suffering," reads the statement from JJ's grandparents Larry and Kay Woodcock, and Tylee's brother and his wife.
On June 13, police confirmed the deaths of JJ and Tylee. "The remains were taken to the medical examiner's office, where an autopsy and positive identification was performed," Assistant Chief Gary Hagen of the Rexburg Police Department said in a statement. "It is with heavy hearts that we now confirm that those remains have now been officially identified as those of JJ Vallow and Tylee Ryan."
Lori Vallow now faces more charges.
According to CNN, a probable cause affidavit filed on June 29 in Fremont County, Idaho, described JJ's body as "well-preserved," wrapped in a double-layer of plastic and buried under rocks. Tylee's body was "too damaged by fire and dismemberment and no longer had any recognizable features," per the affidavit, and identified through an x-ray of her jawline. Results of a DNA test are pending.
As such, Vallow now faces additional charges: two counts of conspiring to destroy, alter, or conceal evidence. Neither she nor Daybell have been charged with murder.
Amid the police investigation, suspicious texts and video footage emerged.
On February 4, an Idaho storage company released security footage showing Vallow visiting a storage unit in October and November, where she and a man — presumed to be her brother, Alex Cox — left behind items that reportedly belong to the two children. According to the East Idaho News, the belongings included photographs, clothing, bicycles, and blankets.
On February 10, CBS News reported that Idaho police had found Tylee's cell phone with Vallow and Daybell, and that it had been used after the 17-year-old's disappearance. In October, a month after Tylee disappeared, two small Venmo payments were made from Tylee's phone to a family member. Also, on October 25, a text was allegedly sent from the phone to a concerned friend: "hi. miss you guys too … luv ya." According to the report, the friend found the text suspicious.
A number of other people close to the couple have mysteriously died.
While JJ and Tylee were reported missing in September, bizarre occurrences involving the couple date back to July, when Vallow's brother, Alex Cox, shot and killed Vallow's estranged husband, Charles Vallow. At the time, detectives ruled the shooting a self-defense. In August, Vallow, her children, and Cox moved to Rexburg, Idaho, where Daybell joined them at the end of the month. Then, in December, Cox died of what the Times refers to as "unknown causes."
There was a mysterious death on Daybell's side of the family as well. On October 19, Daybell's wife, Tammy Daybell, died of natural causes, according to her obituary. Approximately two weeks after her death, Daybell and Vallow were married. According to the Times, law enforcement has since exhumed Tammy's remains, and has also performed tests on Cox's. However, authorities have not yet released the results of either test.
The couple's doomsday beliefs have come to light.
As the couple came under investigation, some of their beliefs raised eyebrows — notably, their involvement in Preparing a People, a doomsday-prepper group. In fact, one of Vallow's friends told Fox 5 that Vallow was "100 percent into the end of times," and found herself drawn to Daybell through the fictional doomsday books he had written.
Additionally, in divorce documents that Charles Vallow filed before his death, he claimed that Vallow believes she is "a god assigned to carry out the work of the 144,000 at Christ's second coming in July 2020," according to the Times.
This article has been updated.