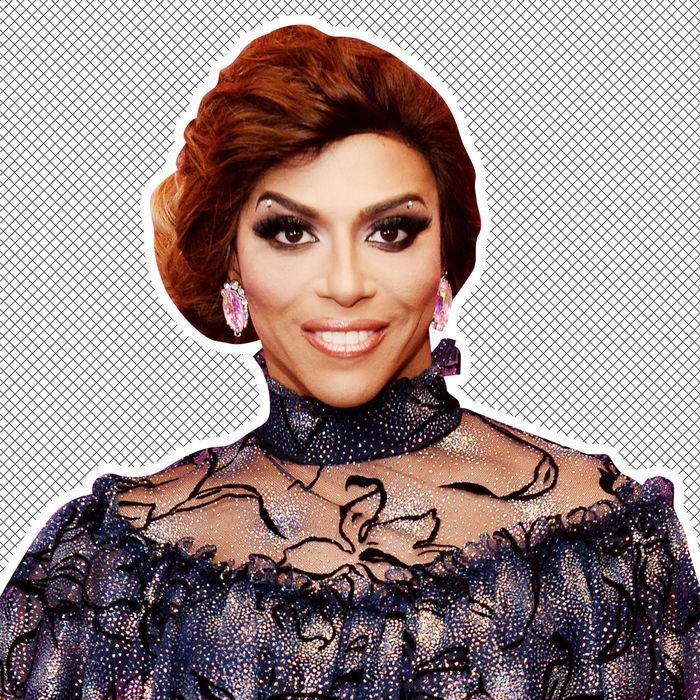 Pride Essentials asks our favorite LGBTQ+ artists to share the influences that have made them who they are today. 
Shangela easily ranks among the most famous superstars to emerge from RuPaul's Drag Race. In addition to appearing on multiple seasons of the show, she's made an appearance in A Star Is Born, collaborated with Ariana Grande on the song "NASA," and, more recently, was featured in the HBO docuseries We're Here.
She has also launched Feed the Queens, a new initiative in partnership with The Actors Fund, which helps support drag performers who've been hit hard by the shutdown of nightlife during the coronavirus pandemic. The campaign's goal is to raise over $100,000 to distribute grocery gift cards to 1,000 or more performers, with a designated portion of those funds allocated to performers of color.
Shangela spoke with the Cut from her hometown in Paris, Texas, about the movies, TV shows, and mentors that have influenced her as a queer person.
To Wong Foo, Thanks for Everything! Julie Newmar
I have to go with the obvious, come on: To Wong Foo, Thanks for Everything! Julie Newmar. It was one of the first times I saw the way my friends and I talked to each other reflected in film. I wasn't even performing in drag yet, but I always had a love for drag. And I loved seeing how the characters had such confidence in themselves, and that they walked with their heads held high even though they were discriminated against in a small town. I loved the glamour and the beauty and the comedy, and that they were people who were impacting people in a beautiful, emotional way.
America's Next Top Model
You know what? I love America's Next Top Model. Tyra was fabulous, but she was so inclusive with her buddies too. When Mr. J and then Miss J came on, my family would bring that up around the dinner table: "She was calling that man Miss." And I loved it because I thought, "This is shaking America up," especially conservative spaces that aren't accustomed to seeing a man with a big flower, or in a dress, teaching runway walks. I thought Miss J. Alexander was so fabulous and amazing and really, not only was he intelligent, but also was just so true to Miss J.
It wasn't even a thing. They didn't have to explain why she called him Miss J. He was just Miss J. And that was her homegirl. And Mr. J with all the makeup, super done, he was always beat. And I thought, "Wow look at these gay people on TV." We're not even explaining them as gay people. They're not called, "My gay bestie." It was just "That's Mr. J, and that's Miss J."
"Oh child, please, every piece of music I listen to is gay, even if it wasn't a gay singer."
Gaga's "Born This Way" was something. But even Diana Ross's "I'm Coming Out." Gloria Gaynor's "I Will Survive." I'm a classics kind of girl. I love the music of the '70s and Sylvester. I love RuPaul's music, and I'll never forget when I first found RuPaul's Supermodel album. My mom had it. And I didn't want to ask any questions. At the time I wasn't out yet. So I was like, "I'm just going to pretend I didn't see this, but I'm going to sneak and listen to it all the time." And I totally did. To see him in full drag on the cover, and just be like, "It's one of my mom's CDs. Okay!"
Torch Song Trilogy
I ran across Torch Song Trilogy my freshman year of college, and I remember seeing [Harvey Fierstein] falling in love with this younger guy. I had just come out, and I was dating and falling in love all the time. I'd probably fallen in love with 20 straight people. Seeing how he was tortured, falling in love with someone who was still battling with their own identity at times, and having that tumultuous relationship and being emotional — I was an emotional 19-year-old — I really connected with his character. And he expressed himself through song a lot of times in his feelings. I love that.
Jenifer Lewis
My biggest mentor, who has always been a queer ally, is actress and activist Jenifer Lewis. When I first met Jenifer, I was, and still am to this day, a super fan. I love the way that her character and her voice can jump off of a screen and right into your soul. And it resonated with me so much because she was one of those very boisterous, loud, hilarious characters — a place where I always found my comfort, in being an entertainer. As luck would have it, I ended up meeting her in New York and then became her assistant when I first moved to Los Angeles. I worked my way up from being her second assistant to her first assistant, and then when I got on Drag Race she said, "All right, you've got too famous to be my assistant, but you can move into the house." So I ended up living in her basement. I've lived there for the last ten years.
I've learned so much from watching how she navigates a room, how she puts together a show, how she relates to different people and makes everyone in the room feel seen and entertained. Listening to her, listening to her lifetime story, with all of the gay boys that she loves — it's that kind of thing that a lot of us queer boys, and queer people in general, I think, are attracted to from the divas that we celebrate. Larger than life characters that really live their experience with total truth. When she found out that I was a drag queen, she just wanted to play in my boa. Even better than playing in my boa, she had extra boas in the garage to give me. And everything that I did, she'd say, "Oh honey I did that. '86. Look it up. Come look at YouTube. This is me. Now see when you do that, then you are a star darling."
And also hearing her whole struggle with the AIDS pandemic and crisis. She would literally break into tears sometimes at night, telling me, "You remind me so much of some of my friends who didn't make it. All of my choreographers, dancers, best friends, they dropped like flies. And I was a diva, so all these people said, 'If I die, I want Jenifer Lewis to sing at my funeral.' And so I was singing at two funerals a week sometimes in New York." She said, "You know it's not about being a star always, it's about what you're leaving for the next generation, even with as young as you are, you have to think about that."
If you buy something through our links, New York may earn an affiliate commission.