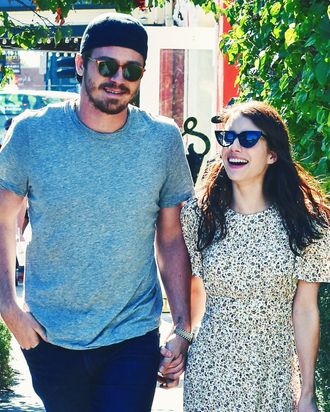 Garrett Hedlund and Emma Roberts.
Photo: BG015/Bauer-Griffin/GC Images
It looks like there's another celebrity baby on the horizon: Actress Emma Roberts is apparently expecting her first child with a man named Garrett Hedlund, an actor best known for his role in Country Strong, and whom Roberts has been quietly dating for a little over a year now.
Yesterday, Us Weekly reported that Roberts, 29, and Hedlund, 35 were expecting their first child, compelling delighted fans to flood Roberts's mom Kelly Cunningham's Instagram with comments about the baby. While the remarks were largely congratulatory, one skeptical fan went looking for Cunningham's confirmation (neither Roberts nor Hedlund have yet confirmed the pregnancy). "Kelly is emma pregnant?????" the fan asked, to which Cunningham responded, "Yes!! ❤️ "
While Roberts's fans have responded to the reports quite enthusiastically, the baby news has also been met with some surprise, seeing as many — myself included — were unaware that Roberts and Hedlund were serious about each other. When the couple was first spotted holding hands in public in March 2019, Roberts had just ended her engagement with her on-again-off again fiancé, and a source told E! that Roberts and Hedlund were simply "exploring a relationship." And, since then, Hedlund has only appeared on Roberts's Instagram once. (Hedlund abstains from all social media).
Congratulations to the couple for exiting the exploration phase of their relationship and entering one that's significantly more binding. Seeing as the pair is partly bound by their love of books, I envision many forthcoming baby reading lists.